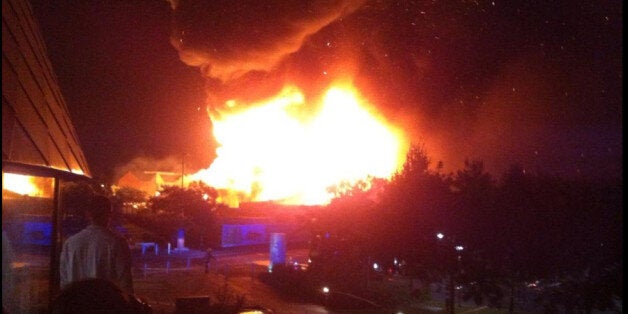 A landmark chemistry building has been severely damaged by a huge fire at a university campus.
The wreckage of the fire-blackened multi-million pound laboratory on the University of Nottingham's city Jubilee Campus was all that remained today, after a blaze was first reported at 8.30pm yesterday.
A university spokesman said the fire had been centred on its timber-framed GlaxoSmithKline (GSK) sustainable chemistry lab, which was still under construction at the time.
About 60 firefighters battled the blaze throughout the night and said they had successfully prevented its spreading to nearby industrial buildings, which include a large car showroom.
Dr Geatrix added the university's open day for prospective students today was still going to go ahead. The building was partly funded by a £12 million grant from GlaxoSmithKline in 2012 to establish a sustainable chemistry laboratory and was due to be completed by 2015, according the the University of Nottingham website.
Pictures on Twitter showed a huge blaze lighting up the night sky with plumes of smokes coming from the building. The cause of the blaze is unknown as yet, a fire spokesman said.
Group manager Joanne Wooler-Ward, of Nottinghamshire Fire and Rescue Service, paid credit to the scene crews "who pulled out all the stops to prevent this fire spreading".
She said specialist fire investigators would start working out what may have caused the blaze once it was safe to do so, with crews still dampening down at the Triumph Road site.
"There is a lot of damage to the building and it won't be in use in the near future," she said.
Fire chiefs described the blaze as "significant" and there were reports it could be seen from several miles away across the city, with burning debris being sent into the sky.
Ms Wooler-Ward said: "When we arrived, the fire was a significant size and there was a smoke plume spreading towards the campus area so we sent out a message for people to keep doors and windows closed.
"The firefighters have worked hard to contain that fire and stop it from spreading to any other buildings.
"Members of the public might have been quite alarmed when they heard a loud bang that some thought was an explosion, but that's something which happens to buildings when they're exposed to extreme heat and pressure.
"That's a risk we manage and are trained to deal with."
She said the fire was under control by 1am.
People have been asked to note road closures around the site and follow signed diversions.
The university's website describes the lab as being carbon neutral, built with natural materials, powered by renewable energy and incorporating "state-of-the-art teaching and research laboratories".
It is billed to be a "centre for excellence", with the building work backed by a £12 million grant from pharmaceutical giant GSK.