England cricket star Moeen Ali has urged young British Muslims thinking about joining the Islamic State (IS) terror group "not to go".
"As Muslims we need to understand the ruling behind [whether] guys can go [to fight]. From my understanding.. we're not allowed to go and fight.. We've got to be patient as Muslims.."
Security services in the UK estimate up to 500 British Muslims have gone out to fight with IS (formerly known as ISIS), the Al Qaeda-aligned Jabhat al Nusra and other extremist groups in Syria and Iraq. Ali says such reports are "a little bit worrying" and says he "would strongly advise them not to go".
"I obviously understand they're in a situation where they're quite hurt about seeing these sorts of things," the England cricketer told HuffPost UK, referring to the killings carried out by the Bashar al-Assad regime in Syria. However, "you could be on your way there and get caught and be in jail for so long... It's a shame."
Speaking about IS atrocities against Christians and Yazidis in northern Iraq, Ali said: "I try and say, 'This is not Islam, this is just being people brainwashed or whatever'.. If you look at Islam, it condemns this sort of thing."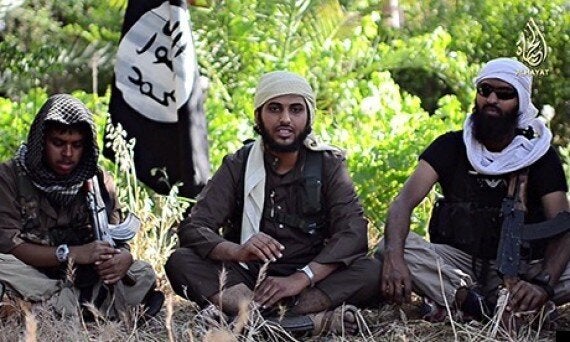 Nasser Muthana (centre), a British student from Cardiff, has appeared in IS recruitment videos
In a wide-ranging and very personal interview, Ali, who is of Pakistani descent, said: "I am a Muslim, yes, but I am also very English. People don't realise how proud I am to be representing my country or being from Birmingham."
And, referring to the so-called Tebbit test, the all-rounder urged Muslims born in England to back the national team, rather than teams representing their parents' countries of origin. "Being English, being born in England, this is our home and we should be supporting our home country."
However, Ali accused the media of treating Islam "unfairly" and said Muslims "get given more of a bad name. If something happens with Muslims, it's always 'This Muslim has done this' and never 'This person has done this'. The word 'Muslim' has to be in there. If it was a non-Muslim, it wouldn't matter what religion he was. [The media] is a little bit biased."
The England all-rounder also had a message for Scots who are considering voting 'yes' to independence in next week's referendum: "Stay with us. Definitely. It'd be nice."
He said the break-up of the union would "be a shame. Only because.. in my lifetime we've always been one. It's always been the UK – Scotland, England, Wales, Northern Ireland. It'd be a shame if it happens."
You can read Mehdi Hasan's full interview with Moeen Ali, on sport, faith, terrorism and identity, here.
Related