And the Antipodean has had his own moments of dishing it out, once being brought to book for throwing a telephone at a hotel worker, and allegedly roughing up a fellow BAFTA guest.
But it seems there's one person who can put the Oscar-winner firmly in his place - his son.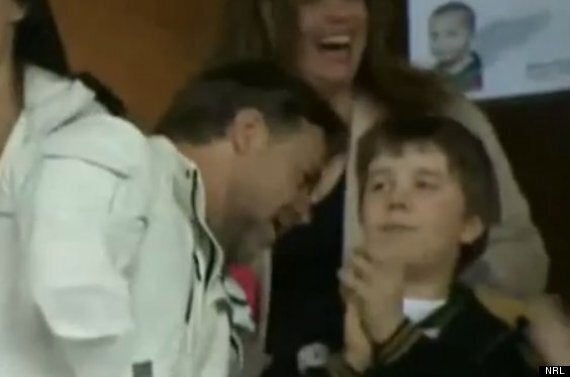 Russell Crowe and son Charles enjoy a boys' night out
10-year-old Charles told Crowe firmly where to go in a moment caught on live television, while the pair were watching a NRL match between South Sydney Rabbitohs, which Crowe co-owns, and Manly Sea Eagles in Sydney this week.
Crowe didn't seem too put out, proving family life may have mellowed the actor somewhat.
And there was a happy outcome to the evening, with the pair's team walking off with a 40-24 victory.