Luxury resorts on Mexico's Baja California Peninsula have taken a fierce battering by Hurricane Odile.
Hotel and vehicle windows have been smashed and lobbies have been left swamped and teeming with debris.
The storm, which made landfall near Cabo San Lucas on Sunday night as a powerful Category 3 hurricane, toppled trees, power poles and road signs along the main highway, which at one point was submerged by rushing floodwaters.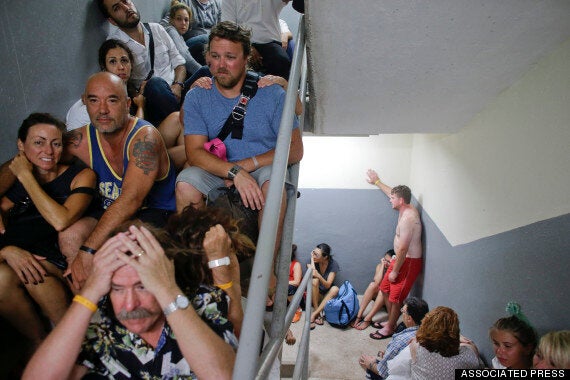 Tourists sit on the concrete stairs in the service area of a resort after the designated area for shelter was destroyed by winds in Los Cabos, Mexico
Room windows at the Westin hotel were blown out, mud and rock blocked the entrance to the Club Regina and workers said the Hilton was seriously damaged.
"It's the entire corridor" between San Jose del Cabo and Cabo San Lucas, said Deneb Poli, a medical worker at the Melia Cabo Real.
She said all the hotel's guests and employees were fine, but electricity and phone lines were cut and mobile phone coverage was spotty.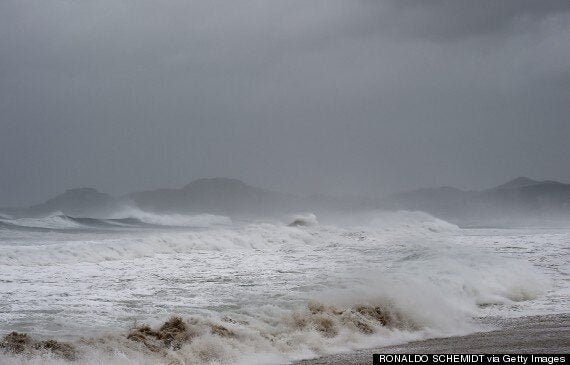 View of waves in San Jose del Cabo, Baja California State, Mexico
"There are parts of hotels that are completely collapsed. ... The damage is pretty extensive."
Poli said the plan for now was to stay put. By morning the rains had stopped and winds had died down, and residents and tourists emerged from shelters to assess the damage.
The newspaper Tribuna de los Cabos reported people being injured by flying glass, power lines and traffic signals down throughout the city and a fire at the Cascadas resort on Medano Beach. No details about the blaze were immediately available.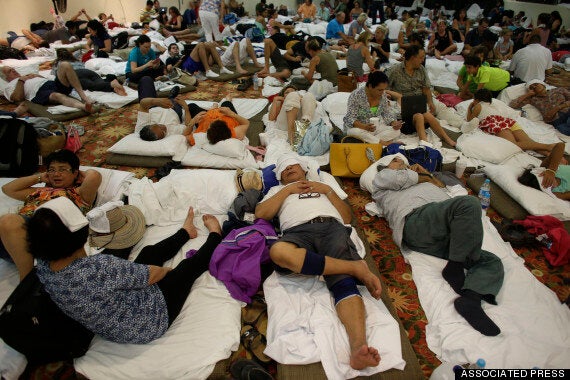 Tourists rest inside a shelter at a resort in Los Cabos, Mexico
Odile continued to rake the state of Baja California Sur as it marched northward with strong winds and heavy rains.
The storm's maximum sustained winds were near 110 mph (175 kph) as it moved over the peninsula as a Category 2 hurricane. It was based about 40 miles (60 kilometers) west of La Paz and moving to the north-northwest at 16 mph (26kph).
Odile is forecast to slow down and lose intensity over the next day or so.
Besides the gleaming mega resorts, Baja California is home to tiny fishing communities and low-lying neighbourhoods of flimsy homes.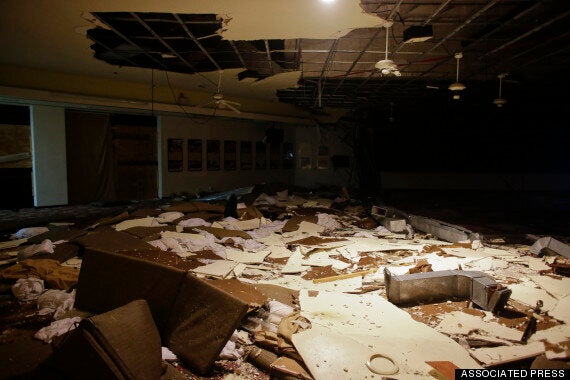 The designated area for shelter at a resort lays partially destroyed by winds in Los Cabos, Mexico
Forecasters warned of a dangerous storm surge with large waves as well as drenching rains capable of causing landslides and flash floods.
Across the region, people hunkered inside overnight to ride out the storm's wrath. In one hotel near San Jose del Cabo, guests moved from a makeshift shelter into crowded basement storage areas after the boarded up windows failed.
The U.S. hurricane centre warned of possible coastal flooding and rainfall of 5 to 10 inches, with isolated amounts up to 15 inches.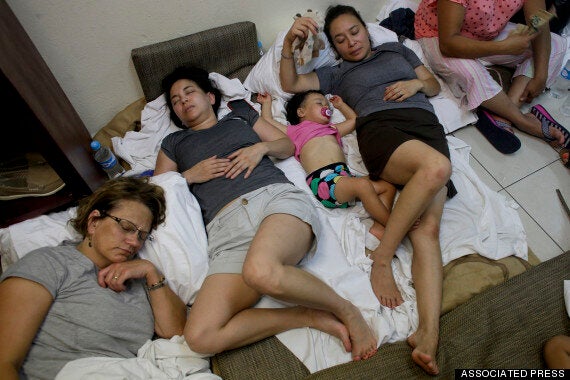 A Mexican family hunker down after their resort's shelter was demolished by Odile
A hurricane warning was in effect from Punta Abreojos to Santa Rosalia.
Meanwhile in the central Atlantic, Hurricane Edouard strengthened to a Category 2 storm on Monday with maximum sustained winds near 105 mph (165 kph), although it was forecast to remain far out at sea and pose no threat to land.
The U.S. hurricane centre said Edouard's center was 655 miles (1,055 kilometers) east-southeast of Bermuda and was moving northwest at 14 mph (22 kph).
Popular in the Community