In the second serialisation of his forthcoming autobiography, Ferdinand revealed Moyes "had me doubting everything" and brought an "embarrassing" "small club" mentality to the 20-times champions.
And the Queens Park Rangers defender, who became an increasingly peripheral figure under Moyes and was the first United player to publicly undermine him, has revealed just how badly the squad responded to the managerial transition.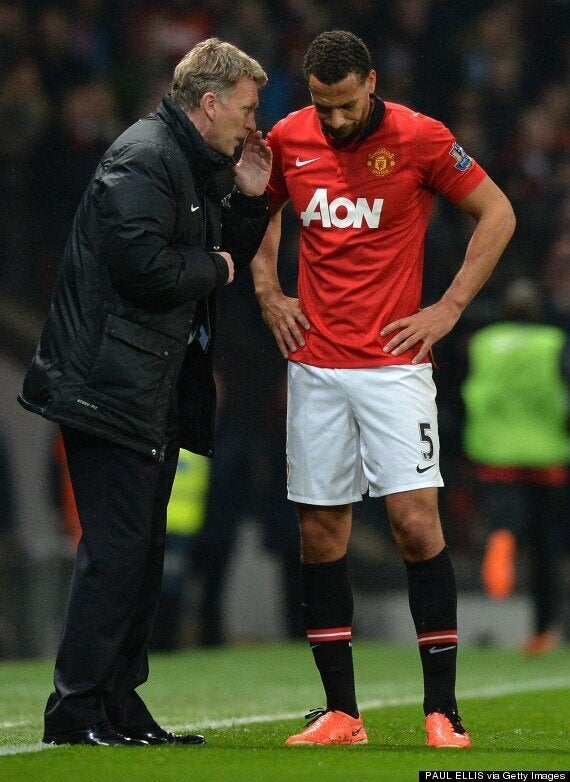 Moyes did not enjoy a good rapport with Ferdinand
"But Moyes comes in and, after his first week, he says we can't have chips any more.
"We weren't eating badly. In fact, you'd struggle to find a more professional bunch of players than the ones at Manchester United in the summer of 2013.
"Then suddenly, for no good reason we could see, it was "no chips". It's not something to go to the barricades over. But all the lads were pissed off.
"And guess what happened after Moyes left and Ryan Giggs took over?
"Moyes has been gone about 20 minutes, we're on the bikes warming up for the first training session without him and one of the lads says: 'You know what? We've got to get onto Giggsy. We've got to get him to get us our f***ing chips back.'"
Ferdinand on Moyes: The Best Quotes

"On our pre-season tour he told me and a couple of others that he wanted us to play a narrow 4–2–2–2 with the wide players coming inside. I remember thinking: 'Have you not read up on this club's history? This club was built on wingers. It only goes back about 100 years! Cristiano Ronaldo, David Beckham, Ryan Giggs, Steve Coppell, Willie Morgan, George Best... that's quite a tradition."
On a video session with Moyes: "Me and Vida [Nemanja Vidić] came out of there and looked at each other. 'I don't know what the f*** he just asked us to do,' I said."
"The whole approach was alien. Other times Moyes wanted lots of passing. He'd say: 'Today I want us to have 600 passes in the game. Last week it was only 400.' Who cares? I'd rather score five goals from ten passes!"
"On the morning of a game we'd spend half an hour on the training ground, drilling to stop [opponents]. There was so much attention to the subject it suddenly became a worry — they must be fucking good at this to have us spend all this time on it."
"The mixed messages were even worse. Sometimes he'd say, 'I want you to pass the ball.' Other days it was: 'I don't want you to pass the ball.' What the fuck do you want us to do, man?"
Ferdinand described Moyes' management as "amateurish" and said his demotion for the Champions League quarter-final tie at Bayern Munich "killed" him.
"Travelling to Bayern Munich (in the Champions League, having being dumped out of all of the domestic competitions) I was desperate to play and I knew I must be in the team — but on the morning of the game everything seemed wrong," Ferdinand said.
"To practise our set pieces and stuff we went to a public park. It was bizarre! Local people started coming from all over to watch us and take photos and videos. It was amateurish. I mean, why not just send Bayern an email or a DVD? But worse was to come.
"As we're standing there in public on this bit of grass, the manager just taps me on the shoulder and says: 'Rio, listen, I'm not going to play you. I feel we need a bit more pace in the back line.'
It killed me. Inside I wanted to scream and grab him. I'm a team player, so I just had to bite my tongue and stand there. But it was probably the worst single moment I ever had at United.
"I'd never been dropped for a big a game like that — and to drop that on me in front of everybody. Several teammates told me later that my reaction was something they'd never seen from me before.
"I went into a daze and even took my anger onto the coach as we waited for him to finish set pieces with the first 11. I'd never shown my feelings like that in front of my teammates so openly before. I knew my time at United was coming to an end.
"Not being involved in the game, at least I had the chance to watch how it all went wrong."
Moyes focused too much on negating opponents, according to Ferdinand, who claims United would spend half an hour on the training ground on the morning of games "drilling to stop" opponents.
"There was so much attention to the subject it suddenly became a worry — they must be fucking good at this to have us spend all this time on it," Ferdinand added.