The extremist-held Iraqi city of Mosul is set to usher in a new school year. But unlike years past, there will be no art or music. Classes about history, literature and Christianity have been "permanently annulled."
The Islamic State group has declared patriotic songs blasphemous and ordered that certain pictures be torn out of textbooks.
But instead of compliance, Iraq's second largest city has — at least so far — responded to the Sunni militants' demands with silence.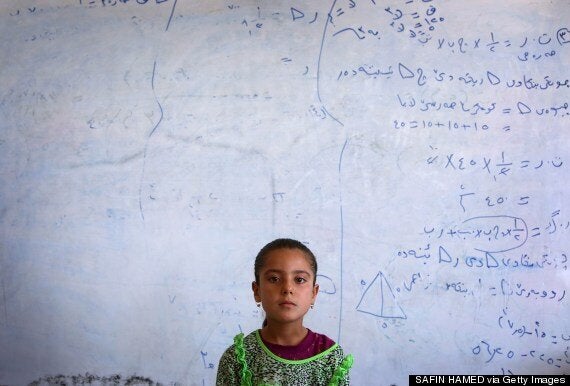 An Iraqi Yazidi girl who fled with her family the violence in the northern Iraqi
Although the extremists stipulated that the school year would begin early in September, pupils have uniformly not shown up for class, according to residents who spoke anonymously because of safety concerns.
They said families were keeping their children home out of mixed feelings of fear, resistance and uncertainty.
"What's important to us now is that the children continue receiving knowledge correctly, even if they lose a whole academic year and an official certification," a Mosul resident who identified himself as Abu Hassan told The Associated Press, giving only his nickname for fear of reprisals.
He and his wife have opted for home schooling, picking up the required readings at the local market.
Part of the Islamic State group's core strategy is to establish administration over lands that it controls to project an image of itself as a ruler and not just a fighting force.
In parts of Syria under its control, the group now administers courts, fixes roads and even polices traffic.
It recently imposed a curriculum in schools in its Syrian stronghold, Raqqa, scrapping subjects such as philosophy and chemistry, and fine-tuning the sciences to fit with its ideology.
In Mosul, schools have been presented with a new set of rules, advertised in a two-page bulletin posted on mosques, in markets and on electricity poles.
The statement cheered "good news of the establishment of the Islamic State Education Diwan by the caliph who seeks to eliminate ignorance, to spread religious sciences and to fight the decayed curriculum."
The new Mosul curriculum stresses that any reference to the republics of Iraq or Syria must be replaced with "Islamic State."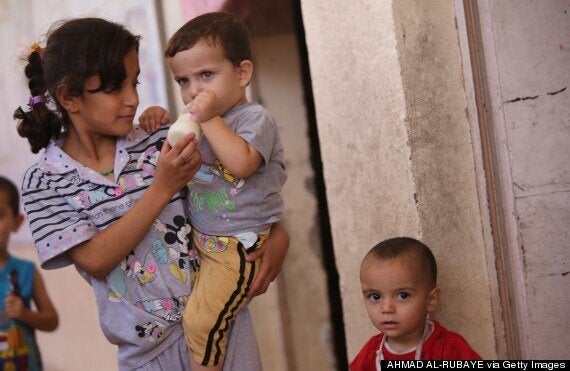 Iraqi Turkman Shiite children displaced from the northern Iraqi area
Pictures that violate its ultra-conservative interpretation of Islam will be ripped out of books. Anthems and lyrics that encourage love of country are now viewed as a show of "polytheism and blasphemy," and are strictly banned.
The new curriculum even went so far as to explicitly ban Charles Darwin's theory of evolution — although it was not previously taught in Iraqi schools.
Abu Hassan and his fellow residents acknowledge the risks involved in keeping the children at home, but say that protecting their minds is equally important. "They will brainwash them and contaminate their thoughts," he said.
In a statement posted across Mosul, the "caliph," calls upon professionals in Iraq and abroad "to teach and serve the Muslims in order to improve the people of the Islamic state in the fields of all religious and other sciences."
Gender-segregated schools are not new to Iraq, which legally prohibits co-ed classes beyond age 12, with some segregating from a much younger age. However, in Mosul, the new guidelines declared that teachers must also be segregated, with men teaching at boys' schools, and women teaching girls.
The Education Ministry in Baghdad says it has virtually no contact with Mosul and other towns and cities in nearly one-third of the country ruled to some degree by the Islamic State group.
"The situation in Mosul is so difficult because it is far too dangerous for us to know exactly what is happening," said Salama al-Hassan, a spokeswoman for ministry.
Students also face hardships elsewhere across Iraq amid growing pressure to cater to more than 1.8 million people people displaced by the militants' advance.
The education statement put out by the militants in Mosul ends with a chilling reminder of its willingness to use brutal force. "This announcement is binding," it concludes. "Anyone who acts against it will face punishment."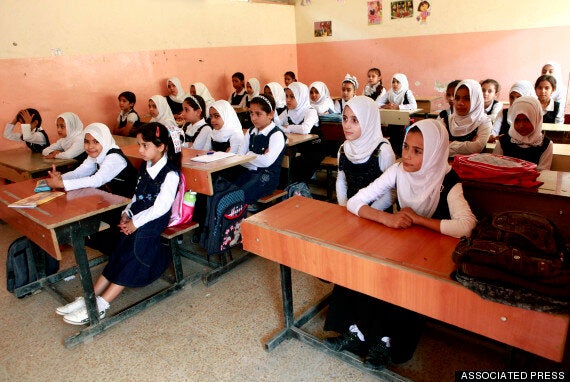 Iraqi children listen to their teacher in a classroom of a primary school
Back on UK soil meanwhile, children under the age of ten are being "trained as jihadists", London's Deputy Mayor said as he issued a stark warning on the threat to the nation's capital.
Stephen Greenhalgh told the Evening Standard that both he and London Mayor Boris Johnson have been shown examples of primary school children having been subjected to propaganda and "extremist ideology" by their families in a bid to radicalise them as "junior jihadis."
Although Greenhalgh insisted to the paper that Londoners should not be "panicked" by recent reports of British terrorists returning to the UK from Syria and Iraq, he branded the indoctrination of children in the nation's capital as "horrendous."
"The threat of radicalisation of young people is real and this is a problem that is going to be with us not just for a couple of years, but for the next generation," he said.