Rugby has long been perceived as a sport played by public-schooled youths with trust funds and Oxbridge futures. But, thanks to a couple of sporting stars and a psychologist, it's now helping unemployed, disadvantaged youths into work.
School of Hard Knocks (SOHK) has just finished its seventh series, which has aired on Sky since its creation in 2007. Fronted by rugby legends Scott Quinnell and Will Greenwood, and aided by The Pitch Doctor - psychologist Paul Boross - the team took to Birmingham to help a group of 30 unemployed young men get their lives back on track.
How? By playing rugby, of course.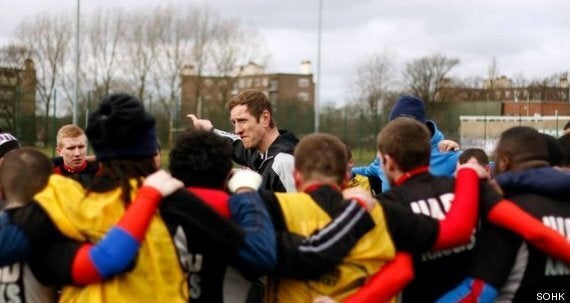 Will Greenwood gives the new recruits some direction on the field
If you're sceptical about the link between landing tackles on a muddy field and landing jobs during a slowly recovering economy, then you're not alone.
"There is a tremendous amount of scepticism," Will Greenwood tells HuffPost UK. "Sceptism is a massive in SOHK and a huge word for us to overcome early, because in life, Twitter and the news, there are false promises around every corner.
"Our biggest battle in the first three or four weeks is generally, [the men] don't believe us that there will be any light at the end of the tunnel."
But Greenwood and his team has found honesty is the best policy: "We don't pretend there is a magic wand we can wave.
"We talk about the importance of good communication, tidiness, respect for time - simple life rules that can get lost when you fall into a rut and lose track of the job market."
Nor does Greenwood pretend to be able to empathise with the youths' situation. Instead, he offers a ladle of sympathy with lashings of motivation.
"I live my life by the old Dr Pepper advert; what's the worst that can happen? I try and get that across to the guys. What is the worst that can happen by filling out a job application?
"No-one wants to become a preacher, especially when they haven't lived in deprived areas. It's much more about trying to find an emotional connection with the guys.
"I don't pretend to live in their world. But what we have learnt from our experience having worked with them is trying to give them the energy levels not to give up when they receive a no. To keep banging on doors."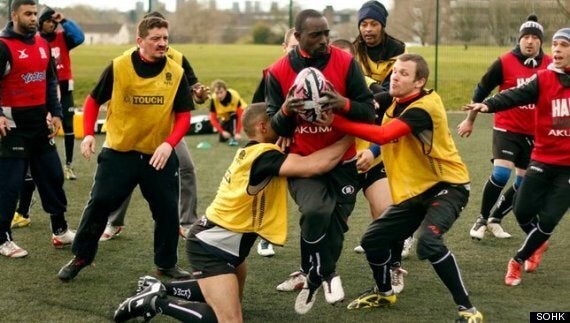 John Paul, also known as JP, was one of the participants in this year's series. He says Greenwood was "always expecting more, better, challenging you every second to strive further".
"After the first day I knew that it was working already. It had been such a long time since I had felt good and I as I ached walking home - after a day of training in atrocious conditions - I felt as if I was bursting with joy. It was working, I wasn't going to question why, at least not at that point, I was just going to carry on and hope it continued."
JP says he is "unrecognisable" to what he was before the course. "I had been struggling through life from crisis to crisis for approximately ten years, finding myself unconsciously following patterns of self-destructive behaviours that were progressively getting worse and worse.
"I couldn't bring myself to do things I knew I should do for no logical reason that I could see. I would sit there knowing I could act to improve my immediate existence or long-term future and yet simply couldn't do it. I was spending all the little money I had on getting wasted as an escape, for a momentary change in how I felt.
"Sometimes I just felt so overwhelmed that I couldn't actually move. I helped care for my Nan while she bravely battled with Alzheimer's and Parkinson's. Yet when the day came to spread her ashes after she had passed I could not make it. I wanted to, every part of me wanted to be able to say goodbye for a final time, but I found myself frozen.
"I had no job, no prospects of finding one and had no ambition. I was at the lowest point of my life."
Now, JP has been employed for the longest period in six years and moved away from home.
"By far and away the biggest impact the course had was to accept personal responsibility for my circumstance. I am constantly happy, excited and confident; three things which at times I had thought I would never feel again.
"That's not to say bad days don't come, of course they do, but the difference now is I know how the handle them, that they will pass."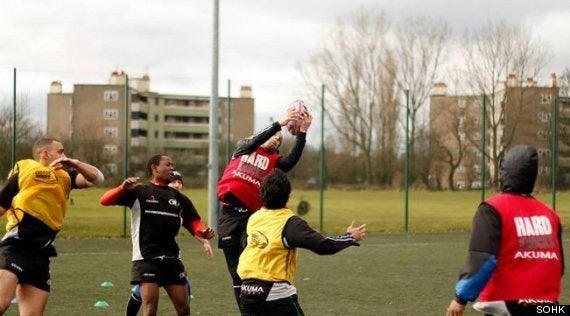 SOHK teaches young men discipline, respect and team work
Many of the youths have come from disadvantaged backgrounds and are unemployed through no fault of their own. According to Paul Boross, drug addiction, mass unemployment, depression and homelessness are recurring themes in the areas the team visits which have included Tottenham and Glasgow.
"We'll have people who have been in prison for long periods of time. I have to do a lot of work on changing their belief system."
With one in four unemployed adults in the UK suffering from depression, mental health is also a huge factor in the youths' wellbeing.
"Young men suffer in particular because of their tendency to hide those kind of problems from their friends and family," Boross explains. "There's a lack of support, a stigma of depression for young men. Social pressures and the stereotype of 'man up' and dealing with their personal problems."
It's not an easy task; many of the young men who start the programme arrive staring at the ground, shoulders slumped and with negative attitudes. One participant says: "If I hadn't have got sent to prison when I did, I would've killed someone."
"Their self-belief system is shot. They have no character or confidence and they don't believe that they can get jobs.
"It shows in their body language, they can't look someone in the eye, they can't get their words out, and when people are acting like that, who is going to employ them?"
So where does rugby come in?
The SOHK team uses the values of the sport combined with motivational psychology to help the often disillusioned group.
"One of the things we know is that if you change someone's physiology then you can change someone's psychology," Boross says. "So playing sport and rugby is a really good part of this because they start to physically feel good. Our job is to anchor that feeling so they can utilise this in other situations."
"They go from people who can't catch a ball to someone who can successfully throw a pass. They go from somebody who is scared to approach someone else unless they have a knife in their hand to somebody who will tackle a charging 20st bull of a man.
"That affects the way you think in life. It's overcoming hurdles and fears. We're building their confidence to a state where they can say 'if I can tackle this person and turn up every day and go through all that I can go in and sit on an interview panel and be interviewed by five people' - and that's what they do by the end of it."
And if you're wondering why rugby is so special, it's all in the respect. "Unlike football, everyone on a rugby pitch calls the referee sir. Rugby is filled with respect. A lot of these young men have no real role models around them and so suddenly we put them in positions where they are surrounded by successful people."
Both Boross and Greenwood agree sport is hugely undervalued in the role it can play in turning an individual's life around.
"Sports and youth clubs are vital crutches for people to get themselves back on their feet when they've fallen on hard times," Greenwood says. "Sport is drifting down the academic syllabus. While maths and English is crucial, I do believe sport, no matter what your level, has a fantastic role to play in the development of young men and women."
"Sport changes the state you are in," Boross concludes. "We have a lot of people with drug and alcohol problems and we're trying to give them a new drug - sport."
Popular in the Community