Angry Ukrainians think their politicians are rubbish, so much so they threw one of them in a bin.
Vitaly Zhuravsky, a politician with "a history of authorising bills placing restrictions on anti-government protests," was met by an angry mob waiting outside of Ukraine's parliament this week.
Reports suggest the former member of the political party of former president Viktor Yanukovych was targeted because of his role in the passing of restrictive bills, which ultimately limit freedom of speech.
"We live in a country where blood flows because of you," shouted at least one protester, Reuters reported.
The Economic Development Party member was promptly snatched up by the crowd and mercilessly dumped in a nearby skip where he was pelted with water and a spare tire.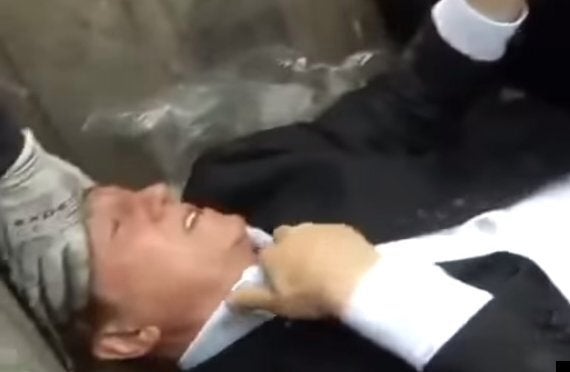 Vitaly Zhuravsky in the skip
It is believed the mob were angered this week after Zhuravsky was among politicians who granted an amnesty to pro-Russia rebels.
Shelling killed six people and wounded 15 others in the rebel stronghold of Donetsk, the city council said Monday — the worst reported violence since a cease-fire between Russian-backed rebels and Ukrainian troops took effect on September 5th.
Fighting around the eastern city's government-held airport has left its northern neighbourhoods in the crossfire.
Loud blasts could be heard from the direction of the airport all day Monday, and gunfire intermittently rang out downtown in the afternoon.
The Ukrainian government blamed the militants for the civilian casualties.
Both the rebel and government sides have said they are rearming in case the fighting starts anew.