British Muslims have urged Briton Alan Henning's kidnappers to "show him some mercy" as he remains under threat of beheading.
Various representatives of the Muslim community have issued pleas to Islamic State (IS) fighters to release the 47-year-old aid worker.
Mr Henning is shown in a video ahead of his trip to Syria last December saying the dangerous journey is "worthwhile" to help those in need.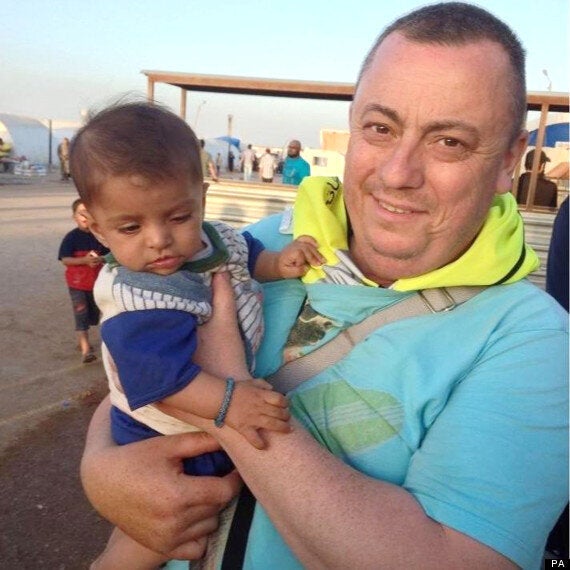 The former cab driver from Manchester appeared at the end of a video last weekend in which fellow aid worker David Haines was beheaded.
In the December footage, released by advocacy organisation CAGE, he is shown with other aid workers on the Greece-Turkey border.
Of the journey to Syria he said: "It's all worthwhile when you see what is needed actually get to where it needs to go. That makes it all worthwhile."
Majid Freeman, who travelled to Syria with Mr Henning, made a direct appeal to his captors.
"Please show him some mercy and understand he is a humanitarian aid worker. He's not a fighter, he's not come there for no political reasons, he's come there strictly to help the people," he said in a BBC interview.
And now more than 100 Muslim leaders have signed a statement to IS pleading for his release and criticising them as "monsters" for the brutal murder of Mr Haines.
"We, the undersigned British Muslim Imams, organisations and individuals, wish to express our horror and revulsion at the senseless murder of David Haines and the threat to the life of our fellow British citizen, Alan Henning," said the leaders in a letter published in the Independent.
They said those holding Mr Henning hostage must accept that what they are doing is against the Koran and "constitutes the worst condemnable sin".
In another appeal online, a man calling himself Abu Abdullah, representing British Muslim aid workers, made an appeal to IS leader Abu Bakr al-Baghdadi to be merciful.
He told of the various ways Mr Henning had raised money to bring to Syria, having been moved by the plight of people there.
In an emotional speech to the camera, he said: "You have the ability to spare the life of this innocent man. We beg you to tread the path of justice and show him the compassion that Allah has placed in the hearts of the believers and in your heart."
Related