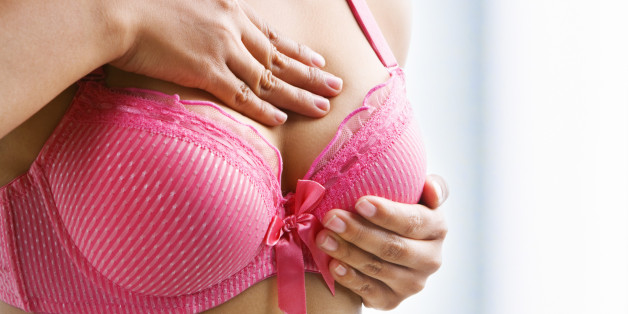 Rudyanto Wijaya via Getty Images
Underwear shopping is, let's face it, every woman's nightmare. Firstly, you have to find something that actually looks nice. Then there's the matter of getting it to fit properly.
For women who have undergone a mastectomy following breast cancer, this arduous task is multiplied further.
Where do you shop for this kind of underwear? Will it look nice? How will it fit my shape? Will it still be supportive? The questions go on...
SEE ALSO:

Breast Cancer Awareness: Lingerie Boss Reveals What Goes Into Making Mastectomy Underwear

Breast Cancer Survivors Prove There's More To Life Than Worrying About Your Bikini Body
Thankfully, there's more and more choice available when it comes to mastectomy bras, particularly as popular retailers (Debenhams and Marks & Spencer included) are opting to sell the specially-designed underwear.
That's choice sorted, but how do you find a good bra which will fit properly?
Experts at Anita have put together a selection of tips and tricks for selecting post-surgery styles:
:: Wide, comfortable and adjustable straps are crucial for reducing the risk of Lymphodema developments.
:: Good separation between the cups, with a deeper centre that sits against the breastbone will ensure the breast form is secured firmly and cannot be visible if the wearer bends forward. Deeper cups are also preferable.
:: Opt for deep side wings under the arms and no stiffeners to avoid rubbing or chafing on the scar tissue from lymph gland removal.
:: Appropriate depth in the cup will accommodate the breast form.
:: Pocketed bras are best for housing the breast.
:: For optimum comfort, opt for bras with soft fabrics and seams.
:: As advised by surgeons, we have found that wire free bras are, generally, better.
:: Multi-sectioned or pre-formed cups generally give a better and fuller shape.
Did you find this advice useful? Tweet us @HuffPoLifestyle