With plus-size retailer Evans debuting its first runway show at London Fashion Week 2014, we thought we'd reached a glorious new era of fashion with health and diversity at its heart.
So needless to say, we were a little disappointed when Emporio Armani used what some described as "ultra thin" models to star in their Milan show on Wednesday.
While we're totally against skinny shaming (yes, some women are naturally thin), by using these models, Armani risks promoting a body type that cannot be achieved healthily by the majority of women.
Such images can also put pressure on existing models to lose weight.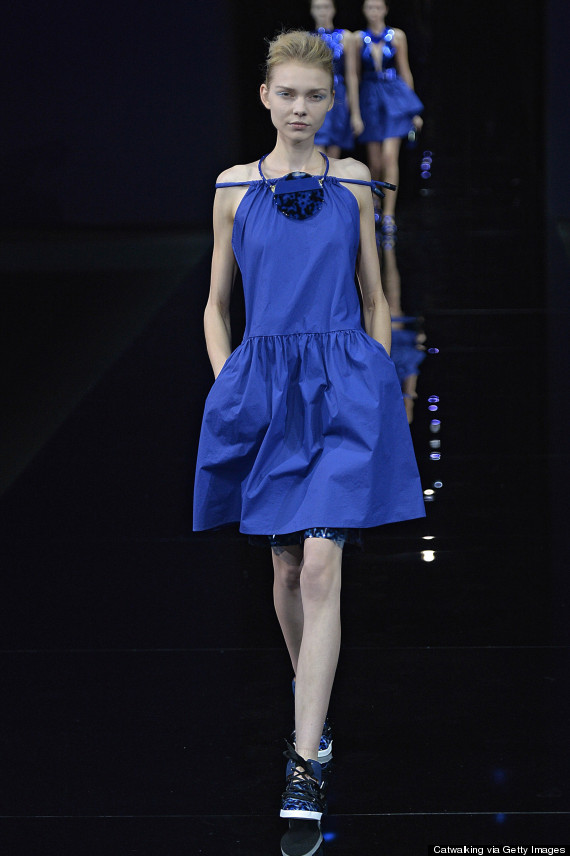 An image Tweeted by The Sunday Times Style shows two models whose ribs were clearly on display through the slits in their dresses.
#emporioarmani goes sporty and gets in on the fashion trainers game @armani #MFW pic.twitter.com/Azyodtu5n0

— Sunday Times Style (@TheSTStyle) September 18, 2014
The image, and the tweet itself, received much criticism online, with many Twitter users saying it marked a step backwards for the "fit not thin" campaign.
@TheSTStyle @armani all the 'fit not thin' promo there has been in STS and then you applaud this?! They look ill, what a horrible picture

— Victoria (@VickiBean) September 18, 2014
The @armani models are so painfully thin. How are they letting this happen?

— Phoebe Davies (@PhoebeBDavies) September 18, 2014
@TheSTStyle @armani nothing sporty about these girls, thin, unhealthy, untrained... Unattractive bad advert

— Katie (@katielouparker) September 18, 2014
Back in 2006, 22-year-old Uruguayan model Luisel Ramos died from heart failure minutes after stepping off the catwalk. It has been widely reported that anorexia may have led to the model's heart problems.
Since 2006, we have seen less and less size zero models on the catwalk - Armani, we'd like to keep it that way.
H/T: The MailOnline