Jennifer Lopez and Iggy Azalea have unveiled the video for their collaborative effort 'Booty' - however, not everyone is happy with their efforts.
The video has already notched up over 2 million views on YouTube, but it seems as though the duo's sexy moves have left a number of people disappointed.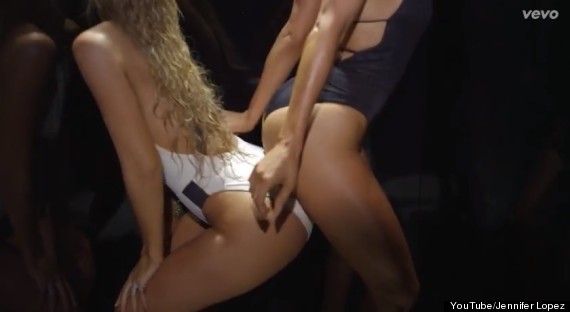 The music vid includes a lot of this
'Booty' - the clue as to the video's content really is in the title - sees J-Lo and Iggy celebrating their curves, so it's not exactly a total surprise that the single's music video sees them flashing the flesh.
Also, as if the title wasn't enough, J-Lo also gave fans a flavour of what to expect when she unveiled the single's cover in August.
Nevertheless, these fans really aren't happy…
Jennifer Lopez has officially lost it! Don't get me wrong she looks amazing for her age but really that video was a little too much lol

— Nancy Marie❤️ (@ayy_nancy_marie) September 19, 2014
@JLo J LO your talented but come on really ? Your playing the BUM card to sell records! Its not about the voice anymore

— MAMMA G !! (@PacinoPassion08) September 19, 2014
I am all for looking at Jennifer Lopez's bum but that video with Iggy Azalea is a bit much for a 45 y/o with kids old enough to see it 😕

— Claire Louise (@WhatClaireSays_) September 19, 2014
@JLo @shortee88 @RapUp Your a awesome singer and actress, but please stop with all the sexual stuff. Have some respect for yourself.

— richard smalley (@richard_smalley) September 19, 2014
It hasn't exactly been an easy month for 'FANCY' rapper Iggy, who is currently at the centre of a huge dispute over an alleged sex tape.
While the star initially denied ever creating an x-rated film, her reps later claimed that any clips showing Iggy must have been made while she was under the age of consent.
Is Jennifer and Iggy's video a little too much? Watch it below and decide for yourself…
LIKE US ON FACEBOOK | FOLLOW US ON TWITTER