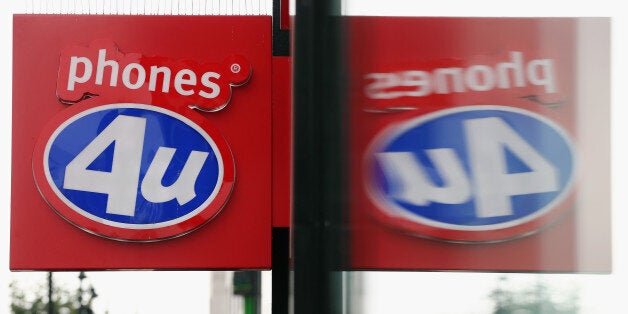 Nearly 900 jobs at collapsed retail chain Phones 4u were saved tonight after network operator Vodafone struck a deal to buy 140 stores.
However, administrator PwC said it had failed to prevent 628 redundancies among head office and telesales staff at Phones 4u's Staffordshire offices.
PwC is continuing talks with other parties regarding the purchase of assets and said it planned to retain a further 400 head office staff to assist with its work. It will release details of the 140 stores in the Vodafone deal on Monday.
The collapse of Phones 4u, which went into administration on Monday following EE's decision not to renew its contract, affected 5,600 workers at 560 Phones 4u stores and a further 160 concession outlets.
Dixons Carphone said on Wednesday it would take on the 800 staff who worked at 160 Phones 4u sites within Currys/PC World stores.
And following an approach from PwC, Vodafone UK said tonight it had decided to make an offer to buy 140 of the stores in order to accelerate its retail expansion programme and save hundreds of jobs.
It said: "Our offer was accepted by the administrator and we are pleased to report that approximately 900 former Phones 4u employees will keep their jobs and join our dynamic retail business.
"Subject to court approval, we will start engaging with these employees and begin the rebranding of the stores to Vodafone as soon as possible."
Store staff have been asked to remain at home while talks take place with parties interested in buying some of the estate.
PwC partner Rob Hunt said: "We have worked rapidly over the course of the week following our appointment to explore interest in the Phones 4u business and we are very pleased to secure a future for a significant number of stores and continued employment for 887 of the Phones 4u people.
"We wish the transferring employees all the best with their new employer and would like to thank all the Phones 4u staff for their support since our appointment as administrators."
With buyers only interested in the store estate, PwC said it was necessary to restructure the Newcastle-under-Lyme offices in order to cut costs.
Hunt added: "It is with great sadness and regret that we have today made the difficult decision to make 628 head office and telesales staff redundant.
"Our thoughts are with those employees at this difficult time. We will make every effort to help the affected staff, working with the Phones 4u HR team over the coming days to support employees."