Mads Mikkelsen – yes, THAT Mads Mikkelsen… Bond villain, prize-winning actor, global star and one of the godfathers of the current vogue for all things Nordic – has got his eye on an altogether bigger prize, it turns out.
The star of 'Casino Royale', 'The Hunt' and returning TV show 'Hannibal' admits that he's still crossing his fingers for a call from… Ricky Gervais – yes, you read that right – to ask him if he can be an extra in the feature film Ricky's got planned for David Brent.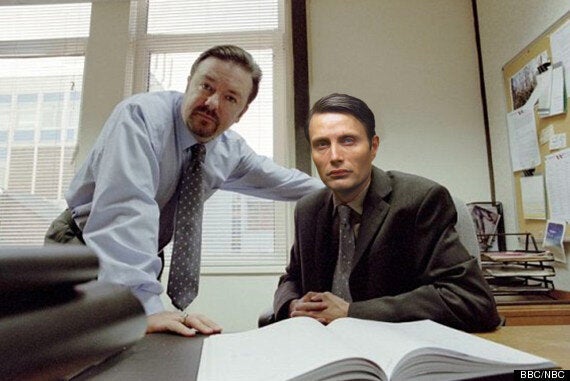 David Brent could easily have a new sidekick... go on, Ricky, make it so!
"I'm not sure what role he could find for me, but I'd do anything," says Mads. "I could be a Polish cleaner in the back of the office or something.
"It's just a brilliant, brilliant show, and I'd love to be part of it."
In the meantime, Mads, whose brother Lars played the media mogul villain in the most recent outing for Benedict Cumberbatch's 'Sherlock' tale, has got plenty to keep him busy. He plays the title role in 'Hannibal', the NBC TV series now gearing up for Season 3. The second season, released this week on DVD, finds Lecter and his fellow doctor Will Graham (Hugh Dancy) engaged in a deadly pavotte, following Will's realisation that his close colleague and mentor has some deathly recreational appetites.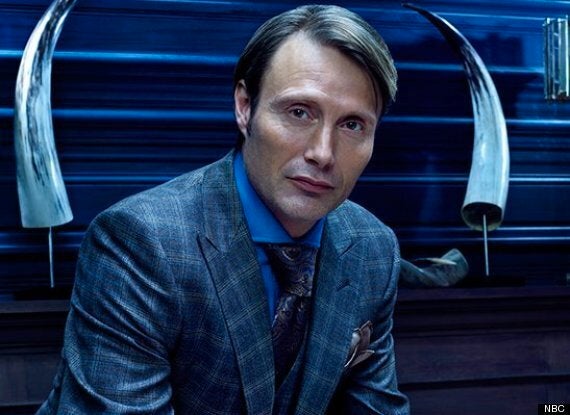 Mads Mikkelsen has been forced to eat his words about the small screen - "it's braver than film"
Mads is a big defender of his sociopathic character – "he's not two-faced, he just behaves slightly differently with different people," he says with a chuckle – and, despite his prize-winning turns on the big screen, is convinced that roles like this will only be found now on television.
"Hannibal is radical and brilliant," he muses. "It has a lot of things you want in film but rarely get. When I first read the script, I realised it sounded better than any film I'd heard of in the last five years. TV is braver than film these days – not all of it, but definitely most."
'Hannibal: The Complete Season 2', featuring 13 episodes, is available on DVD and Blu-ray now.