New 'standalone' Avengers adventure featuring Marvel Super Heroes
Three included characters (Thor, Iron Man, Black Widow) in the starter pack
Expanded and refined 'Toy Box' mode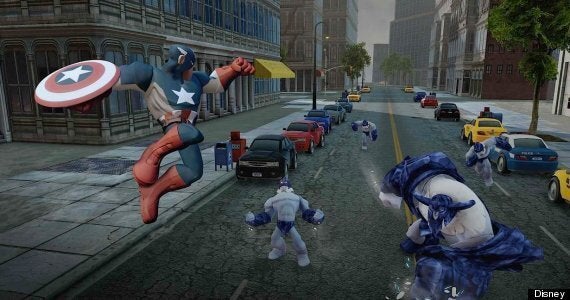 Disney Infinity has been around for a full year, but despite its own financial success it's still easier to compare it directly to the brand which pioneered the genre: Skylanders. For this is another in the increasing number of physical toy/digital game hybrids, which encourage kids to buy actual toys in order to unlock new content in a relatively straightforward video game. And which end up with your living room covered in plastic figures and your bank empty of pounds sterling.
Yes, this is a pocket money-eating machine. But it's also ridiculously good value when you consider you're effectively getting a two-in one - toys for the playroom, and toys for the PS4 or Xbox.
As with last year's instalment, Disney Infinity 2.0 provides you with full adventure games for the main character toys (though you only get one this year, versus three 'mini' games last time around), while also allowing you to make your own fun (even your own games) in the 'Toy Box' mode.
The main bundle comes with the Infinity portal, power discs to unlock new accessories in-game, and three attractively made (though static) toys of Iron Man, Thor and the Black Widow.
As with last year, the toys are consistent with the overall Disney Infinity aesthetic, but are subtly designed so as to retain the character of their own worlds and backstories. They're really lovely. They're inaction figures, but they're good enough to stand alongside anything Disney puts in its stores. And for being able to bring characters as diverse as Woody from Toy Story, the Hulk and Captain Jack Sparrow together into the same game, it really shows a high level of polish.
However, also as before, it's true that in this year's edition the Adventure 'Playset' is slightly one-dimensional, involving fun but fairly straightforward action-orientated gameplay, without the invention you'd expect from a 'real' standalone game. It's improved over last year - offering levelling-up mechanics and better combat for the Avengers, for instance - but it's standard fare.
Far better (again) is Toy Box, which is a sort of riff on Minecraft and Lego where you can run around as any character you choose, build entire sets, worlds, theme parks or video games, and play with a surprisingly deep logic system before uploading your creations to the rest of the world. This is where you can use your old Infinity figures too. There's more terrain and options than last year, and it's more carefully designed.
Disney Infinity is an increasingly well-designed and consistent package for kids to play, and adults to invest in on their behalf.
There are a few problems though - and one is compatibility with last year's game (illustrated by this confusing chart):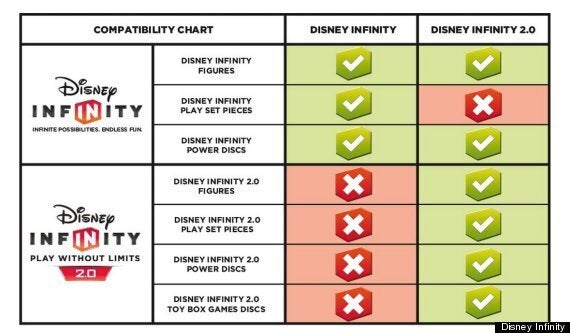 The other problem is complexity - arguably of lingo alone. To get the hang of the game you have to understand Playsets and Toy Box, and the difference between them. There are Power Discs and Portals, expansion packs and how they all combine. It's exhausting.
On the plus side, it looks fantastic, benefits from a new tutorial mode and clearly has lots of potential. It's just there still is a feeling that Infinity might be trying too hard, and that while it can do more and is a deeper game than Skylanders in many ways, it's just not as… cool. And while we're not 8 years old, something tells us that might matter more to the intended audience that Disney fully appreciate.
Popular in the Community