Due to air this Sunday, the long-awaited 'The Simpsons-Family Guy' crossover episode is already causing quite a stir over the inclusion of a joke about rape.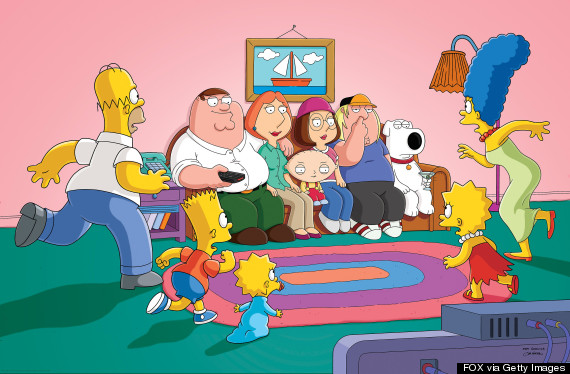 The episode will be aired this Sunday
One of the scenes features Bart showing Stewie his timeless gag of phoning Mo's Tavern and asking for someone whose name is a double entendre.
Liking what he sees, Stewie then attempts his own gag which is a little... blunter than Barts. Check out the video to see what we mean (0:50 in).
While 'Family Guy' is well known for its risqué jokes that poke fun at practically everyone, some have been surprised that 'The Simpsons' has allowed to feature such a sensitive subject.
Although the joke was in the trailer released earlier this summer, Fox's response has been to not comment on the criticism or whether they've had any second thoughts about the joke.
A rape joke on The Simpsons. Let that go ahead and sink in: http://t.co/dzBLLdOwlQ

— Neetzan Zimmerman (@neetzan) September 24, 2014
rape is not funny. yet a joke about it appears in 9/28 episode of @familyguyonfox when the simpsons drop in 2 visit. http://t.co/E6Vsnm5uwR

— Kristen Sze (@abc7kristensze) September 24, 2014
Some suggested it displayed a level of desperation by the show's writers.
Simpsons Family Guy crossover in "tiresome attempt at controversy" shocker. Pretty desperate stuff http://t.co/JIJyX6U0T8

— Robin Parker (@robinparker55) September 25, 2014
Others however, have pointed out the scene is far from glorifying such jokes.
Oh my god, the point of this joke is that rape jokes ARE NOT ok. People are stupid. http://t.co/PnH6b0Us3f

— Tony Inglis (@TonyInglis1) September 25, 2014
Tim Winter, president of the advocacy group Parents Television Council, said he's a longtime fan of Matt Groening, creator of "The Simpsons," and sought out the trailer when it was released.
"I was blown out of my shoes when I saw the scene with the rape joke in it," Winter said. "It really troubled me."
He said he found it particularly offensive in the context of stories about sexual assaults on college campuses and, most recently, talk about abusive treatment of women by some players in the National Football League.
Story continues after the slideshow...
He said when rape is accepted as a punch line for a joke in entertainment, "it becomes less outrageous in real life."
'Family Guy' creator, Seth MacFarlane, brought up the line during a recent interview with Entertainment Weekly, predicting he will get attacked for it in the media. "But in context," he said, "it's pretty funny."
Winter said he didn't think the subject was worth joking about, and said he was particularly concerned about its exposure to younger viewers who may be fans of "The Simpsons," but are not familiar with the "Family Guy" style of comedy.
"We don't mock certain groups because we realize that it is highly insensitive and morally wrong," he said. "Why wouldn't we do the same thing about sexual assault?"