Everyone in the world knows of the tragic fate, or what they believe of it, of British exchange student Meredith Kercher, who met her untimely end in the beautiful Italian town of Perugia in 2007.
Just in case there was any chance of forgetting, the details of her murder, the ensuing trial, then appeal, then fresh trial of American Amanda Knox and her associates have been pasted on newspapers and websites across the world
So, when it emerged director Michael Winterbottom had optioned a book about the murder, one on-the-ground journalist's account of the events in Perugia and her opinion of what really happened - you might be forgiven for thinking there was little more to be said, in feature film at least, and cinema-goers would be faced with unforgiving images of glamorous teenage students moving swiftly from hedonism to hell on a balmy Italian night.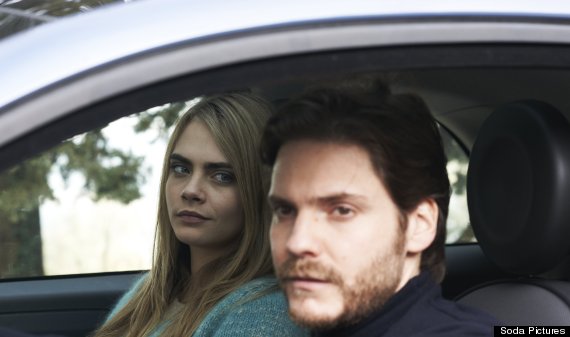 Cara Delevingne and Daniel Bruhl co-star in 'The Face Of An Angel'
But, of course, this is Winterbottom we're talking about, the man who brought us 'The Road To Guantanamo', 'Tristam Shandy: Cock and Bull Story', '24 Hour Party People', most recently 'The Trip', known for his sleight of hand with both script and camera, as keen to explore the method of story-telling as he is about any plot, to poke at what authenticity really means on screen, and how can cast and crew best get there. His projects have been varied, eclectic, united by one aspect – he never gives us what we expect.
As with his previous work, so it is here. 'The Face of an Angel' is inspired by the events of the Knox trial, and based on 'Angel Face', by journalist Barbie Latza Nadeau (the basis for the character in the film, Simone, played by Kate Beckinsale), but it's no coincidence the title has been inverted. The names of victim and defendants have been changed, their faces kept mostly out of sight lest they distract, the trial is included almost in passing, the central figures are blurred, indistinct, emphemeral. The protagonist, and we, cannot get a proper hold on them, and he goes nearly mad trying.
So, if the film isn't a rehash of everything we think we already know about the notorious 'Foxy Knoxy' and co, what IS it about?
The answer is a whole bunch of stuff, reflecting Winterbottom's many musings on what Meredith's murder, the circus of a trial, and our tireless interest in these tragic events, might reveal about us all.
The protagonist of the film is not the murder victim, nor the girl accused of her death. It is instead, Thomas (played by 'Rush' star Daniel Bruhl) an ordinary man in crisis. He is a film director in decline, separated from his unfaithful wife, desperately searching for a new creative outlet, presented to him in the form of this murder trial. Daniel Bruhl says of his decision to participate, "I was sometimes disliking myself for being so interested and attracted by this gossipy case, which is the basis of the script. But I soon realised that it's actually not about this case at all – it's a story on its own."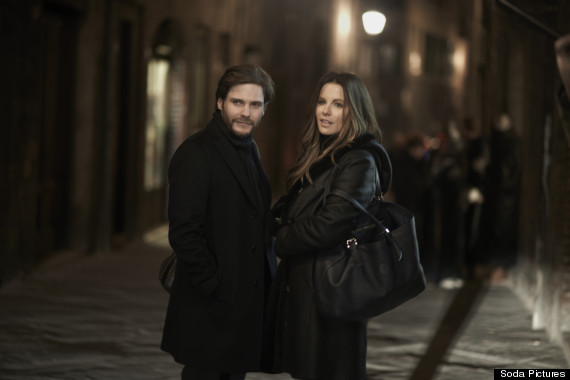 Kate Beckinsale plays Simone Ford, a journalist based on the author of 'Angel Face' Barbie Latza Nadeau
Through Thomas's eyes, we see the media circus that inevitably springs up around such an event, a big deal in a small town, and how foreign journalists sent to cover such an event turn into a cloistered, incestuous bunch, drinking, flirting, musing, not dissimilar at all from the students whose lives they are dissecting. They've long lost interest in the victim, her face has long been supplanted by that of the girl on trial, but they're tired of all of it – just waiting for the story to take another turn.
Thomas challenges the other journalists, and it could be Winterbottom asking, why are we so interested in the macabre details of the tragic end of a stranger, the minutiae and motive behind one person's violence to another? Why do we care so much more when either person, preferably the one in the dock, ideally both victim and perpetrator, are telegenic, complex characters? (The trials of not just Amanda Knox, but Oscar Pistorius, OJ Simpson inevitably come to mind.)
Thomas becomes obsessed with trying to find the real heart of the story. Where is the victim in all of this? Of course, it's no coincidence that he's simultaneously missing his daughter and desperate to stay in regular, everyday contact with her. Modern technology – Skype, messages - help him do this, but also make his isolation all the starker, particularly as he realises he may never get to grips with the story he believes he should be telling about the murder case.
Winterbottom's inspiration for this part of the film was Dante's Divine Comedy, his journey through Hell, Purgatory and, ultimately, Paradise. Actor Daniel Bruhl explains, "The film Thomas is making is very linked to the world of Dante and the Divine Comedy in his head, so at night, in his dreams, it all becomes mixed up. The nightmares are becoming worse and worse, partly because he's in crisis, but also because he's getting lost in that strange world in Tuscany, being a stranger among all these journalists."
We see his despair, his demons (proper on-screen monsters, really), but also hope for new connections, new friendships, in the form of guileless student Melanie, played by Cara Delevingne. Michael Winterbottom calls her "the emotional core of the film. She's a student, just like the girl who was murdered or the girl who's on trial, (but) she embodies youth, optimism, hope and life – having everything in front of you."
Of course, the model's celebrated looks provide a lot of light, too, but it is Cara's naturalistic performance that is most convincing. Here is someone full of life that Thomas can cling to, just as it seems the ghosts of the girls in his story may be lost to him.
Cara says of her role, "They have this love for each other, which is very sweet. The relationship between them is very innocent. There is love there, but it's a platonic love. He just knows that she's having a good effect on him, and he has to follow this path."
Of course, Michael Winterbottom is a father, too, with the anguish at the prospect of losing a child central to his motives. He says, "Journalists are very aware that when they write about a murder trial, they don't really write about the tragedy of someone being killed. They write about what they think sells: who did it, what happened, the most sensational details.
"The central idea – someone's been killed, someone's lost a loved one – gets lost in all the other stuff."
In the film, though, the question of why we are drawn to a murder trial as to a burning fire doesn't really get answered, by the director's own admission.
"What must it be like to be the parent of someone who's been killed, or the parent of someone accused of being the killer, and what it must be like to be those people, it's all mediated, two or three steps away, and that's what the film's about. Thomas is trying to find a way of dealing with the story that gets back to that, which, in a way, is what we were trying to do. We wanted to focus on the importance of love."
Watch the trailer for 'The Face Of An Angel' below...
LIKE US ON FACEBOOK | FOLLOW US ON TWITTER