Islamic State cannot be defeated by airstrikes alone and "boots on the ground" are needed to take them on, a former senior British general has said.
Lord Richards, who retired last year as chief of the general staff - Britain's most senior soldier, said you "can't possibly defeat" IS, also known as ISIS or ISIL, in Iraq alone and have to take them on in Syria as well.
The RAF has bombed IS but only in Iraq - while Cameron has said another parliamentary vote would be needed for them to attack targets in Syria.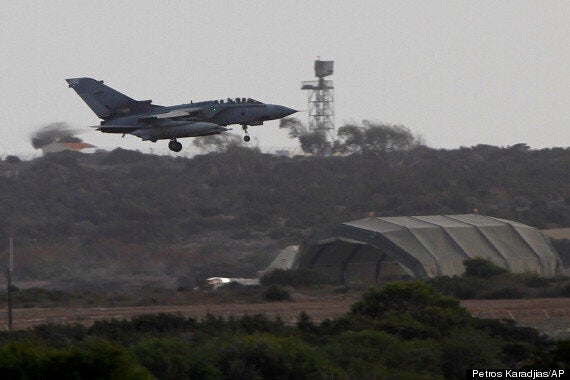 Airstrikes are not enough to defeat Islamic State, Lord Richards said
"You can't possibly defeat Isis by only attacking them in Iraq. How the hell can you win the war when most of your enemy can end up in a country you can't get involved in?" Lord Richards told The Sunday Times (£).
"Even if you are successful in Iraq, which I doubt, they will just go into Syria, and what will you have achieved? They will just have tighter lines of communication."
He said: "Isis is not a terrorist organisation. It might commit acts of terror but it has tanks, artillery, huge wealth, courts, justice of its own kind, and is administering large areas, so the idea that this can be seen as a counterterrorism campaign is a key error.
"We have to view it as a conventional campaign, which means you have to have boots on the ground.
Lord Richards, whose daughter is an advisor to David Cameron, also said: "Politicians have a tendency to think you can sort things out militarily. I've always been leery of going to war. Secondly, if I've learnt anything in 42 years' military experience, much of it in command, it's that you don't do it if you're not going to do it properly."
Meanwhile, Lord Dannatt, another former chief of the general staff, said airstrikes would deal with "half a problem, not all of it".
"The US has correctly concluded that carrying the fight against Isil into Syrian air space is right; we may yet come to the same conclusion.
"If Parliament has to be recalled to make that strategic decision I hope that that is the last vote for some time, as military operations and tactical decisions cannot be conducted by the occupants of the green and red benches. The Prime Minister, Defence Secretary and Chiefs of Staff must act subsequently as they see fit, albeit keeping Parliament informed.
Popular in the Community