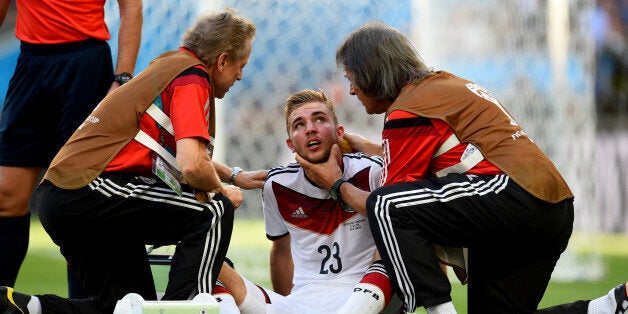 Christoph Kramer's World Cup final was cruelly curtailed by a bout of concussion after a collision with Ezequiel Garay and his Germany teammates have revealed the full extent of his injury.
Kramer, a late replacement for the injured Sami Khedira, banged his head on Garay's shoulder and looked like he didn't know what day of the week it was. Well, that is an understatement, according to his international colleagues.
Manuel Neuer, Philipp Lahm and Thomas Müller appeared on the comedy chat show ZDF Sportstudio at the weekend and joked about Kramer's bizarre behaviour.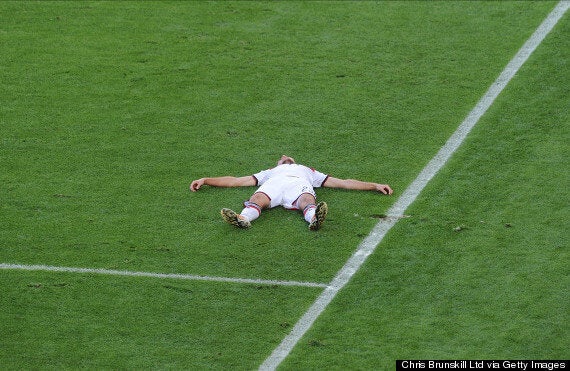 Kramer came off in the 32nd minute of the final
Neuer said: "He was fine until I saw him acting strange. Then he came to me and said 'Manu, let me play as the goalkeeper'."
Lahm added: "I wasn't worried at first, he played normally. But things started when he came to me and said he wanted to take the captain band from my arm.
"I thought 'what's going on here'. When he wanted to trade shirts with the ref I thought 'it's enough now'."
And then Müller said: "Until now you only know that he asked me if this is the final, but sadly that's only the most harmless thing that happened.
"He called me 'Gerd' and congratulated me on the '74 final. Then, when the crowd was really loud he told me: 'Great atmosphere here in the Ruhr stadium!'
"It was important that he was subbed off because nobody knows what else he would've done – maybe take off the ref's panties!?"
Kramer was replaced by André Schürrle in the 32nd minute but was well enough to collect his winner's medal after Mario Götze's extra-time winner.
Related