From entertaining friends and playing family games to watching the TV or reading a book, we demand more of the living room than any other room in the home. But being all things to all inhabitants, means it's also the space most likely to be used as a dumping ground.
This is why decluttering the living room is the first place to start when it comes to turning your home into a calm and relaxing environment.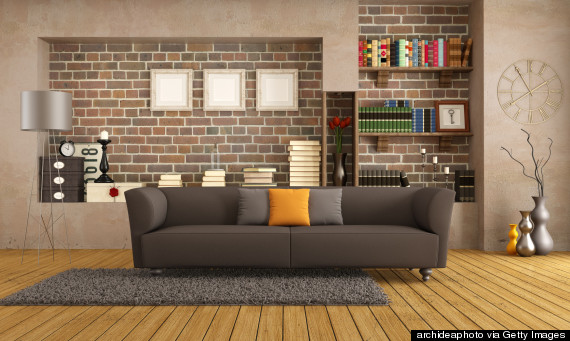 "The living room should be a tranquil space, so it's important to get rid of the things you don't need to bring the zen back into your evenings," says Vicky Silverthorn, founder of professional decluttering company, You Need A Vicky.
SEE ALSO:
But keeping your main living space clutter-free can be easier said than done.
"Your living room is probably the most frequented room in your home. And – particularly if you have children – it's only a matter of time before things start to accumulate," says Rebecca Tucker, interior designer and co-director or Suna Interior Design.
"The first step is to remove your excess items, such as books, ornaments, even furniture and plants. But there are also all those items that find their way into our living rooms because they are used on a regular basis and its 'just easier' to have them to hand."
For those items, Rebecca says it's important to ensure you have enough storage in the room to conceal them. Here she offers her top living room storage solutions:
Be practical with your furniture. Use an ottoman that doubles up as storage. That way, you give yourself the option of easily accessing items that may otherwise make your living room more cluttered.

Use a coffee table with built-in storage. If you're struggling to find a home for various bits and pieces around your living room, use a coffee table that contains storage space – either drawers to tuck everything away, or an open shelf for your collection of books and magazines.

Use a mix of open shelves and cupboards. This gives you the option of adding personality to your living room by having prized items on display, but also being able to close away storage items that make a room look too full.

Hang collections of items on the wall. Instead of restricting your walls to photographs and the odd coat hook, hang baskets from your wall. Stylish baskets can be filled with items that would otherwise cause your living room to look chaotic.

Re-decorate, or rather, de-decorate. If there are too many colours in your living room, it will make it look overcrowded. A good rule of thumb (although rules are made to be broken) is to keep small rooms light, with darker colours restricted to larger rooms.
Before you start purchasing storage pieces, it's important clear out all the superfluous items from your living space. And that means being ruthless. Here are a few of the most common offenders to get you started...