The Phuket Vegetarian Festival in Thailand has reached new heights of extraordinary self mutilation as men pierce their faces with razor blades, knives and guns.
As if this wasn't enough, these men also walk across lit coals, bathe themselves in hot oil and climb an eight metre ladder covered in sharp blades. Oh - and this is all without anesthetic.
The annual festival celebrates the small Chinese community's belief that abstinence from meat will help them obtain good health and peace of mind. The yearly turn to vegetarianism only occurs during the ninth lunar month of the Chinese calendar.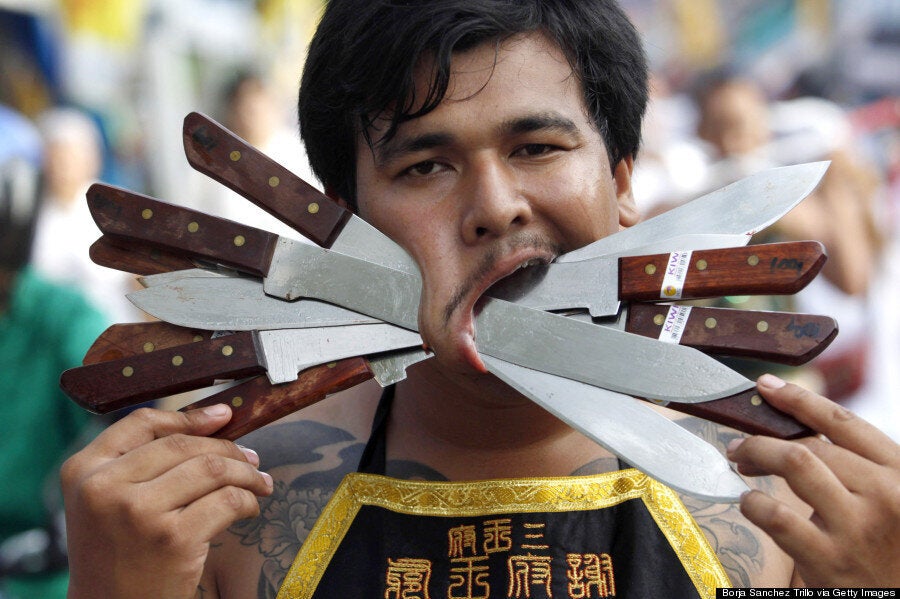 It promotes food hygiene, brightness and inner peace by invoking the gods and wading off evil spirits.
A festival with the word 'vegetarian' in it doesn't quite have the same ring to it as 'Bestival' or 'The Burning Man' may have but do not be fooled - this festival is not for the faint hearted.
Men called 'mah song' (meaning a man possessed by a god) perform rituals of self mutilation, including piercing their mouths, ears, cheeks and arms. It is believed that the god residing within the mah song will protect the body from pain, injury, bleeding and scarring. The mah song conduct the acts in a trance like state to shift the evil from himself and the community.
Throughout the event, fireworks are let off and drums beaten as loud as possible. What would only look like chaos to the observer is actually another way evil spirits are beaten away.
Thousands now attend including Thai's and locals in adjoining communities. According to annual goers, the mah song are becoming more elaborate and more daring every year. In 2011, there was one reported death and 74 injured. There have not yet been reports of any severe injuries from this year but the event continues until Thursday.
See below photos from the 2014 Phuket Vegetarian Festival. Be warned - they may make you squirm.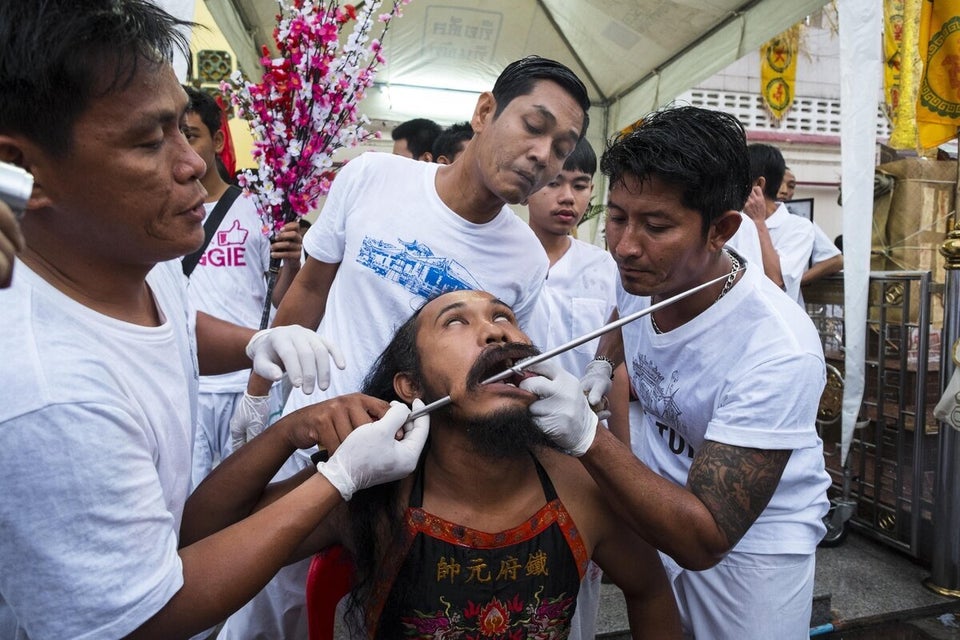 Vegetarian Festival