If you haven't yet heard about Chanel's Paris Fashion Week grand finale then let us ask you something: WHERE HAVE YOU BEEN?
On Tuesday, Karl Lagerfeld led a protest like no other (translation: it was jam-packed with models and held in the impressive Grand Palais). The theme? Feminism, which is totally en trend at the moment.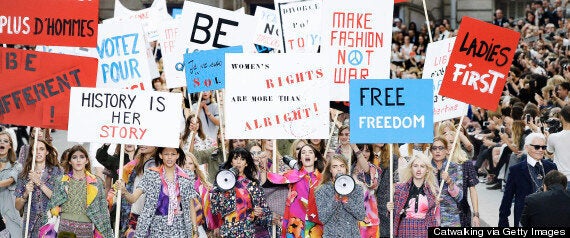 But in the aftermath of the feminist finale, reactions have been mixed.
Some are questioning Karl's feminist credentials (he once dismissed concerns over size zero models as the cries of "fat mommies with bags of crisps"), while others welcome the bold statement - "It's true Karl is a feminist," tweeted Elle's Rebecca Lowthorpe.
While there may be a divide in opinion, here at HuffPost UK Lifestyle we think the protest is a pretty big deal.
Thanks to the work of Karl and co, fourth generation feminism has well and truly reached the mainstream. And as a result, more and more people are becoming aware of the need for gender equality.
Here's why the Chanel protest couldn't be more relevant right now...
We Need Men To Fight For Gender Equality, Too
And it seems to be doing the trick, there are currently 165,216 men in the UK who have shown their support for HeForShe. You can too, here.
It's Okay To Be Different
Or should we say "Bey Different"? Yep, screw it, we're devoting Karl's "Be Different" placard to Beyoncé.
Queen Bey has been fundamental in showing the rest of the world that it's okay to label yourself as a feminist.
Her performance at the VMAs, complete with the word 'FEMINIST' plastered across the large screen behind her, was pretty poignant and has started thousands, if not millions, of conversations about what it means to be a feminist.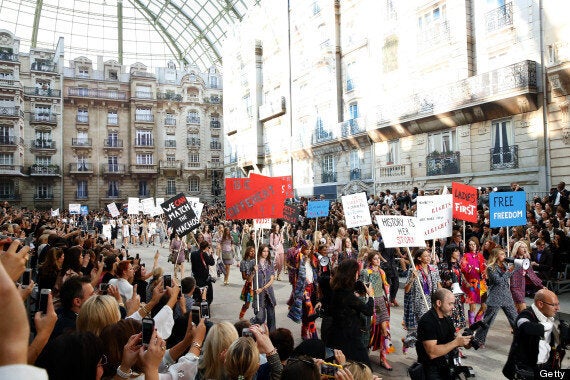 We Need To Emancipate Women's Bodies
Earlier this year, everyone's favourite supermodel Cara Delevingne joined the #FreeTheNipple campaign - an anti-censorship movement designed to liberate women's bodies on social media and beyond.
After the show, she was pictured holding a blue 'Free Freedom' placard. A coincidence? We think not.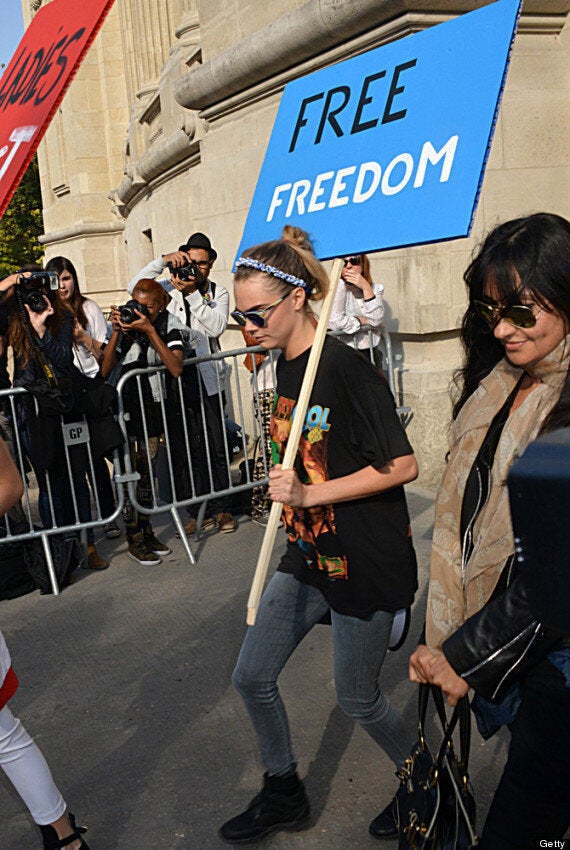 For too long our history has been jam-packed with stories about men, for men, and by men.
'Herstory' is history written from a feminist perspective - it focuses on the role of women or recounts events from a woman's point of view.
It's safe to say that this moment will go down in herstory. Conversations have been had. Definitions have been changed. Ideologies have been challenged.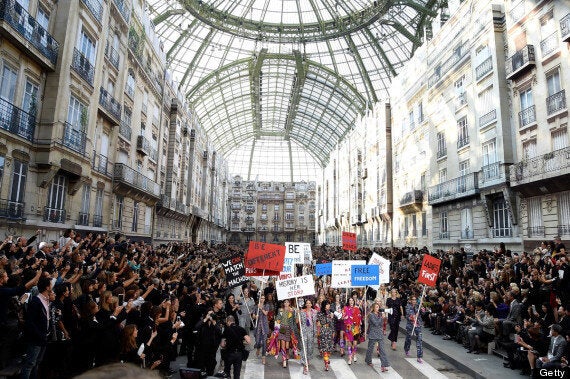 Feminism is well and truly back in fashion, but this time it isn't a passing trend.
Related