A puppy that fell into a pool of hot tar would certainly have died had it not been for the efforts of these animal rescue volunteers.
The dog's body became smothered in the warm substance, which upon cooling left the animal "rock-solid" and unable to move.
A passer-by came across the sad sight and contacted a local rescue centre based in Udaipur, India.
Scroll down to see a gallery of his remarkable journey back to health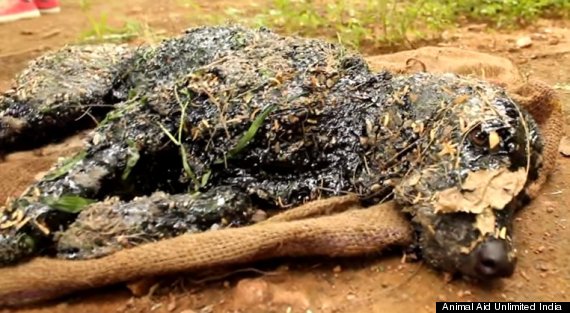 The puppy was described as 'rock solid' when rescuers got to him and was stuck fast to the ground
Workers arrived to assess the dog and spent hours massaging the terrified animal's body with vegetable oil to soften the tar and gently pull it away from his fur.
Though he was unable to move during the early stages of the rescue, the animal can be seen blinking as the process – which carried on over the course of two days - unfolded.
Video footage shows the dog after all the tar has been removed – bounding happily and accepting food from one of his rescuers.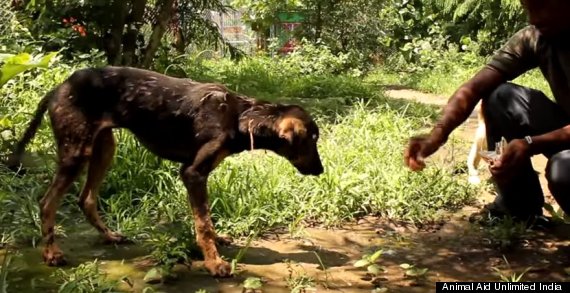 Just look at him now! Two days later the pup is back to normal
The organisation behind this incredible story is Animal Aid Unlimited – a charity set up in 2002 which works to rescue and treat the un-owned street animals of Udaipur who have become ill or injured.
The centre has rescued more than 45,000 injured or ill dogs, cows, donkeys, birds and cats to date.
SEE ALSO: Elephant Raju Weeps With Gratitude As He Is Released From 50 Years In Shackles
A statement on the website reads: "Our ultimate goal is equality and protection of all animals and a complete end to the use and abuse of animals. We are working for the day that every dog, donkey, cow, pig, fish and mouse can live their lives in freedom."
You can support their great work by making a donation here.