A missing British girl believed to be heading to join extremists in Syria could become a "jihadi bride" when she gets there.
Yusra Hussien, 15, from Bristol, is thought to have met up with a 17-year-old girl from London, who has not been named, and headed to Turkey, where they are trying to cross the border into the neighbouring war-torn state.
It is unclear how the teenagers met, but they both vanished from their homes last week amid fears they have been radicalised online. Yusra Hussien
Extremism expert Haras Rafiq from the Quilliam Foundation said the girl, if she joined up with IS, would most likely become a bride of one of the fighters.
"She's not a professional — she's not a doctor, she's not an engineer etc," he told The Sun (£).
"It's more than likely that she will become a jihadi bride.
"She at the age of 15 will marry somebody who she considers to be a holy warrior and that's how she will play a part in the jihad."
Safiya and Mohammed Hussien, her parents, made an emotional plea for her daughter to "please come home" at a press conference on Wednesday.
They said: "Yusra, our daughter, is a very young bright bubbly girl who is loved by not only her family but her peers, teachers and her community.
"She's a typical teenager - she loves to play table tennis and to ride her bicycle and she used to run with her brother, who's the next Usain Bolt.
"Our family is very heartbroken and we are struggling to come to terms with this situation.
"The pain that we as parents feel, at not knowing her safety, is very distressing, and is something we believe every parent can relate to.
"There have been many assumptions and speculations claiming that Yusra is travelling to Syria, that she may be an extremist, or that she is planning to become a jihadist bride, all of which have not, as yet, been proved with any concrete evidence.
"We would like to make a request to the media to not state anything which is both incorrect and not backed by evidence.
Family friends described her as an aspiring dentist and grade A* student.
However, they said the girl had recently become tied to her mobile phone and computer after apparently viewing extremist material on chat rooms and forums online.
Afzal Shah, a Labour councillor in Bristol, said it appeared the girl had "self-radicalised" rather than been exposed to such material through local institutions.
"The understanding that I have is that it was self-radicalisation as opposed to having anything to do with any institutions," Mr Shah said.
"There may possibly be other individuals involved but that's something the police are looking into. There are so many forums and chat rooms on the internet, it is very easy to get led astray.
"We don't know how she got to that stage, I don't know how long it has been going on for but certainly not long from speaking to the family.
"This is a young girl, she was an A* student, nobody had any indication of it whatsoever. She was very focused in her studies.
"Even when she would go to any reading circles she would be accompanied by a family member. She is a very intelligent individual.
"Her family are loving individuals who always put their children first. They are completely shocked."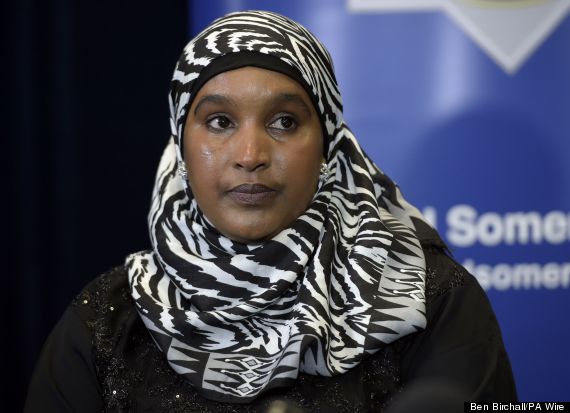 Yusra Hussien's mother Safiya speaking at a press conference on Wednesday
Mr Shah said the family had noticed the girl was "always on her phone and computer" but assumed it was normal teenage behaviour.
The teenager left for school at The City Academy, Bristol, as usual on the morning of her disappearance but was not there when her father went to collect her that afternoon.
She is not believed to have left any note or message for her family, who have not heard from her since.
In a statement, the girl's family, who are Somali, said: "Please come back. We miss you very much. You are not in any trouble. We just want you to be safe and to come home as soon as possible."
Officers are investigating whether the two girls travelled together from Heathrow Airport to Istanbul, Turkey, on their way to Syria.
The girls' disappearance follows that of twins Zahra and Salma Halane, 16, from Manchester, who are thought to have travelled to Syria in July.
British authorities have expressed increasing concerns about hundreds of UK-born would-be jihadis who have gone to join Islamist forces in the Middle Eastern state.
Melanie Smith, a research associate at the International Centre for the Study of Radicalisation, has previously said women are not actually fighting alongside male jihadis yet.
"There are pictures of them with an AK47 or in tanks but so far we think that's more of a status symbol," she told HuffPost UK last month.
SEE ALSO:
Home Secretary Theresa May has already removed the passports of 25 Britons attempting to reach there, while 103 people have been arrested in relation to terrorism in Syria.
Of those arrested, 24 have been charged and five convicted.
But Mr Shah called for further measures to be enforced to ban children from travelling abroad, apart from with parental consent or in exceptional circumstances.
He said police and the girl's family are examining how she came to board a flight to Turkey and it is not yet known how that was funded.
"But this also begs the question, how could a 15-year-old child be allowed to board a plane, just like that," he asked.
"My understanding is that the Border Agency staff have discretion or in fact the airlines have discretion. Well I think that discretion needs to be taken away from them.
"We need a lot clearer guidance from the Government and I would call on Theresa May to actually bring that within the new guidelines - to say that children, unless expressly given permission or unless there are exceptional circumstances, should not be able to board on their own."
Louisa Rolfe, assistant chief constable of Avon and Somerset Police said the force were retracing the 15-year-old's footsteps from the time she left home to her arrival in Turkey.
The London teenager, from Lambeth, is also of Somali descent and was last seen at around 7am on September 24 when she left her home.
Ms Rolfe added that the priority was finding the Bristol girl before she crosses the border from Turkey to Syria.
"We're giving every support we can to her family; we want to find out where she is and encourage her to return safely," she said.
"Our officers are working closely with the Metropolitan Police and their network of international liaison officers to find her.
"There are indications she may have been radicalised but at the moment our priority is to find her before she crosses the border to Syria and make sure she is safe."