Raqqa is a town said to have been founded by Alexander the Great, although in reality it was probably his less glamorous deputy.
But now, the city, which had a population of around 220,000 before the civil war began, is the capital of a new Caliphate, which its rulers say is a paradise of pure Islamic living.
Even Wikipedia describes it as a city in "north central Islamic State" rather than Syria.
Close to the dam on the north bank of the Euphrates River in the heart of Syria's cotton-producing region, Raqqa is the headquarters of the radical extremist group Islamic State (IS), also known as ISIS and ISIL. From the city, IS runs its operations across Syria and Iraq.
Thousands of tons of the region's cotton crop were burnt in the war in 2013. Raqqa's busy streets are now patrolled by masked men with assault rifles. And this week, it was the key target of American air strikes.
Before the Syrian civil war, Raqqa was a place few in the West would have heard of, though it gains a cursory reference in the Lonely Planet guide to Syria & Lebanon from 2004. The guidebook calls it a "dusty town with little to detain a traveller". Under 'Sleeping and Eating', the guide says "the options are unappealing, and unless you must, avoid staying in Raqqa".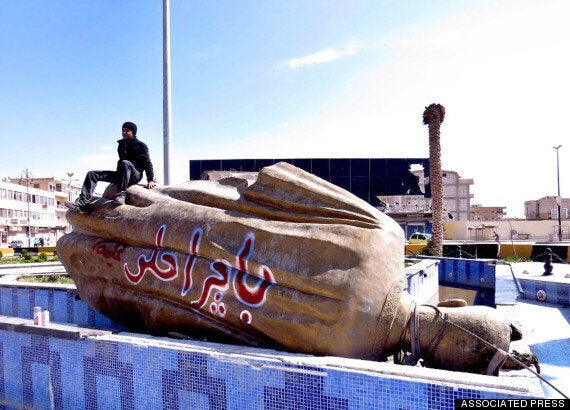 A Syrian man sitting on a fallen statue of former Syrian President Hafez Assad in a central square in Raqqa, where the words on the fallen statue read 'tomorrow will be better'
Footprints travel guide is more forgiving of Raqqa's sites, though it does caution that "you definitely couldn't call it pretty". It noted the "bustling main street is crammed with gold and textile shops and, in the cool of the evening, the whole place thrums with window-shopping families".
Those tourist who stayed in Raqqa were recommended the Karnak Hotel, with a swimming pool, satellite TV and friendly staff, "if you can get past the crazy coloured brickwork in the foyer, which looks as if the owner put a 5-year-old in charge of decoration," quipped a reviewer on TripWolf.
Raqqa was seized in the spring of 2013 by jihadists from the Al-Nursa front, an al-Qaeda affiliated group. Islamic State, then known as ISIS, took control of the city by the summer, and the two rebel groups, though not believed to be allies, currently have a truce.
Any tourist maps printed of the place will now be pretty useless, successive groups of rebels have renamed, and then renamed again, many of the streets because the names had had connections to the Syrian Assad regime, according to a report in Al Akhbar.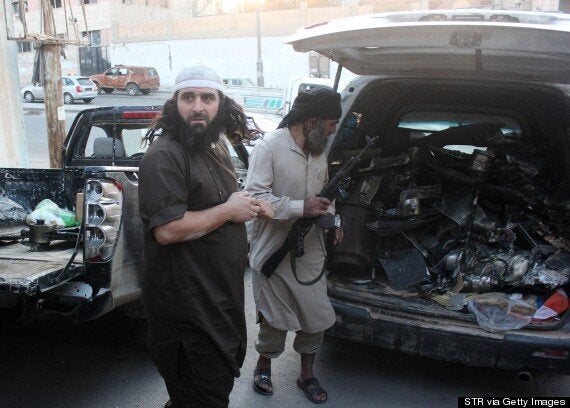 Fighters from the Islamic State group load a van with parts that they said was a US drone that crashed into a communications tower in Raqqa
Before the civil war, roughly 10% of the city was Christian but almost all of them have now fled the city, with the Armenian Catholic Church of the Martyrs now an ISIS headquarters. Supporters of president Assad and members of minority religions and sects have been killed, some stoned to death or beheaded.
Story continues below slideshow..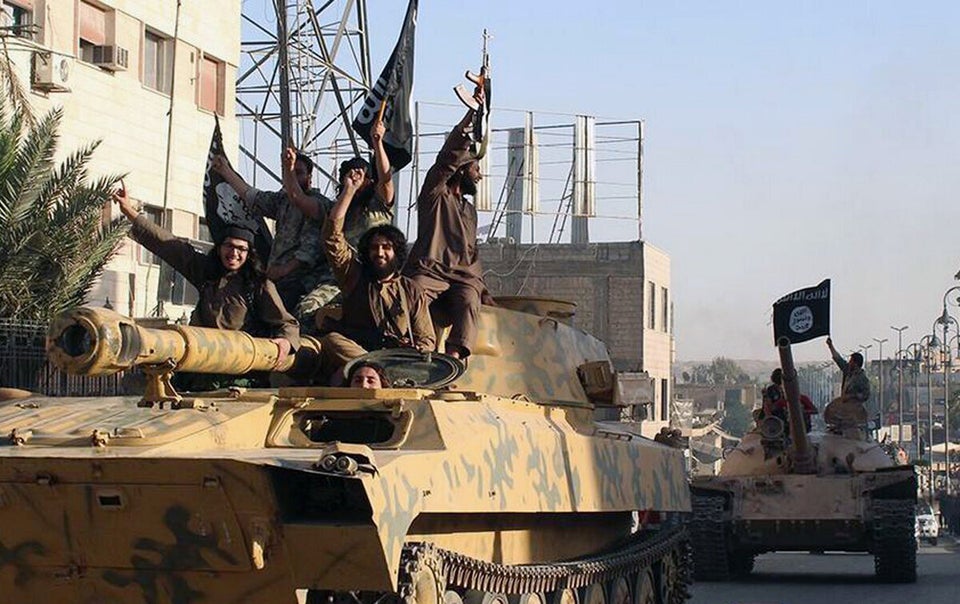 Raqqa, Syria
But Raqqa has in previous weeks been advertised by the Islamic State as a family-friendly place for Muslims to move to, with one promotional video showing a montage of Muslim fighters from around the world holding their children against the backdrop of an amusement park. A man, identified in the footage as an American named Abu Abdurahman al-Trinidadi, holds an infant who has a toy machine gun strapped to his back.
"Look at all the little children," al-Trinidadi says. "They're having fun."
For 24-year-old Muslim convert Asiya Ummi Abdullah, the bombarded city is the ideal place for her and her son, saying it offers them protection from the sex, drugs and alcohol that she sees as rampant in largely secular Turkey.
"The children of that country see all this and become either murderers or delinquents or homosexuals or thieves," Umi Abdullah wrote in one of several Facebook messages.
Living under Shariah, the Islamic legal code, means that her three-year-old boy's spiritual life is secure, she said. "He will know God and live under His rules".
More than 50 Turkish families slipped across the border to live under Islamic State, according to opposition legislator Atilla Kart, and this is backed by a Turkish villager, who told AP that his son and his daughter-in-law are among the group.
There is still a semblance of normality. Only a few weeks ago, locals were giving five-star Google reviews to the Al Baik restaurant.
But everyday activities now come with strict rules. Restaurants have begun advertising that female customers cannot enter unless they wear the niqab, or face veil, including the Hadari fast food place that is a "favourite" with militants.
Armed men are at every corner, some with several weapons, and most bare walls are hung with the black flag of the terror group.
Shops are busy and many children are seen on the streets with their mothers. Several times, the woman passes other women dressed in the black niqab, also carrying AK-47 rifles.
Once, the woman is pulled over by an armed man, and ticked off for her niqab being too transparent.
The undercover camera also captures scenes inside an internet cafe, where women in face veils converse with family members who are in France, some of whom are heard begging their daughters to return to France. "They exaggerate everything on TV," one tells her mother.
Despite the IS reign of terror, there is still a coordinated resistance to the violent extremists in Raqqa, documented on the Facebook group and website 'Raqqa is Being Silently Slaughtered', which was originally begun as an anti-Assad movement.
A former student who was smuggled out of the city a fortnight ago told Sky News he was in close contact with underground activists still operating in Raqqa, and revealed that dozens of IS militants had been killed by US strikes on the Syrian city.
"There are a lot of executions, secret executions and public executions, especially after the Friday sermons - crucifying, beheading and things like that," Abu Abrahim Raqqawi told Sky News.
"They say to the young people, those between 16 and 18, 'Okay, we will give you money if you say who are talking about us or are saying something bad about us,'" he continued.
"There is a camp for under-16 children. They took a lot of children without their families knowing, and it's very bad. It's just a special camp for young people. They make them like a bomb; a time bomb."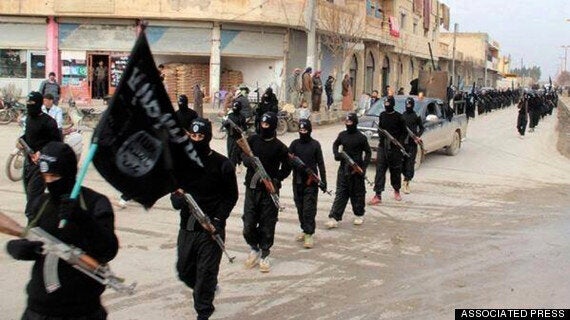 Fighters from the Islamic State in Raqqa, Syria
Airstrikes rained down on IS targets, including a military hospital, in the early hours of Tuesday and again on Wednesday. The Syrian Observatory for Human Rights' Rami Abdurrahman, based in Britain, said about 22 airstrikes hit Raqqa province in addition to 30 in Deir el-Zour province. At least 70 Islamic State group fighters were killed across the county, and more than 300 were wounded.
Abu Abrahim said that US airstrikes were like "a deal with the devil to get rid of IS", and said many were torn because of the imminent destruction of the city, and a feeling that Obama had not acted quickly enough to rid Syria of President Bashar al-Assad, and left IS to gain in strength.
"I think if the West wants to do something to kick ISIS [IS] out from Syria, they must bomb the Assad regime," he said.
"If the Assad regime gets bombed and down, then easily the ISIS regime will get out of Syria because the FSA and all the fighters will just fight ISIS and not both ISIS and Assad."
Other residents expressed relief at the bombing, and said it was already driving militants out of the city.
"I can already see the success of these strikes. ISIS fighters have already started leaving the city, following their families, who they evacuated a while ago," a student calling herself 'Hiba' told the Guardian. "It was a scene I wouldn't wish my worst enemy to face.
"I was on the balcony with my little sister and we could hear the sound of planes and I was joking with her and said: 'Comb your hair and smile, you are being filmed.'
"Later the bombing started and we all ran to the living room, everyone screaming and running in different directions. Most people who left their homes live near Isis headquarters. We won't leave our home. There is no point. We believe in destiny."
"Assad doesn't attack Isis, he attacks us," Reem said, "We want to get rid of Isis even if that means we will lose some of our people.
"This is the price we have to pay to have our freedom back."
Related