She's already worn an outfit made entirely out of leaves and a skirt made of a rainbow flag, so you'd be forgiven for thinking that Sinitta might have run out of ways to surprise us with her wardrobe choices - but apparently not.
This weekend, 'X Factor' fans can look forward to seeing Sinitta offer her totally valid opinion on which three acts Simon Cowell should put through to the live shows, all while wearing what must surely be one of her most bonkers outfits ever.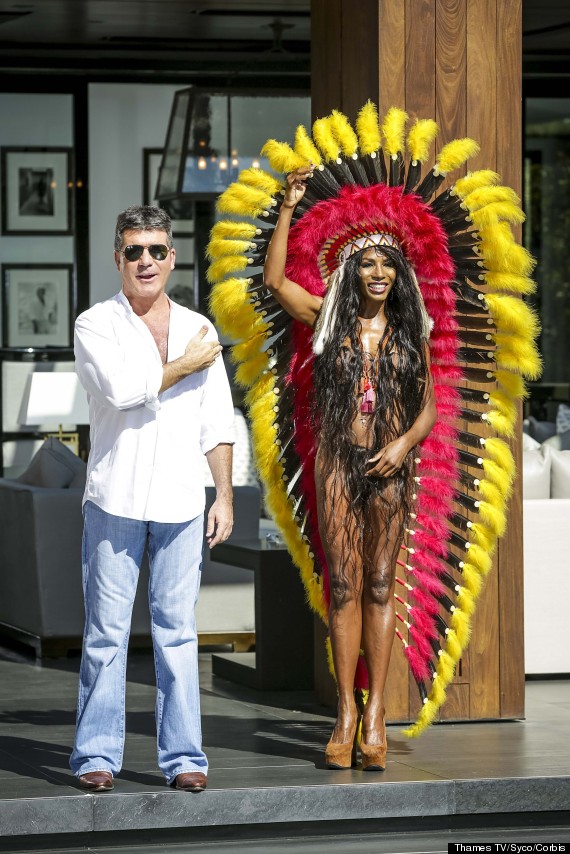 Simon Cowell and Sinitta
We don't even know where to start with this monstrosity of an ensemble. The oversized white shirt (almost unbuttoned to the naval), the pressed jeans, the brown shoes… oh, and Sinitta's outfit is pretty nutty too.
Seriously, though, as if the enormous Native American head-dress wasn't enough of an assault on our eyes, she made the unorthodox decision to pair it with a bikini made out of hair extensions.
The singer, most famous for her number two hit 'Toy Boy' and future national anthem (in our heads…), explained her outfit choice in an interview with The Mirror, saying: "Now there's some sort of expectation. So I had been thinking about it and I was like OK let's see and then my great grandmother was a native American Indian anyway, that's going back to America.
"The Xtra Factor presenter Sarah Jane Crawford described it as a hair-kini because I had to strategically glue it onto my body so that my hair was covering all the right places and I used hair wax and things like that to do it."
So there you have it. A hair-kini. Will it be a trend that's going to catch on? Watch this space.
To catch Sinitta and her hair-kini - oh, and the 24 remaining acts, if that's your sort of thing - in action, tune into 'The X Factor' this Friday, Saturday and Sunday night on ITV.
LIKE US ON FACEBOOK | FOLLOW US ON TWITTER