Soap fans, it's a sad day. Get your best black clothes out of the wardrobe and join us in mourning, as we're sad to announce that the 'EastEnders' omnibus has been cancelled.
From April 2015, you'll no longer be able to settle down on the sofa and binge on a week's worth of the show in one sitting.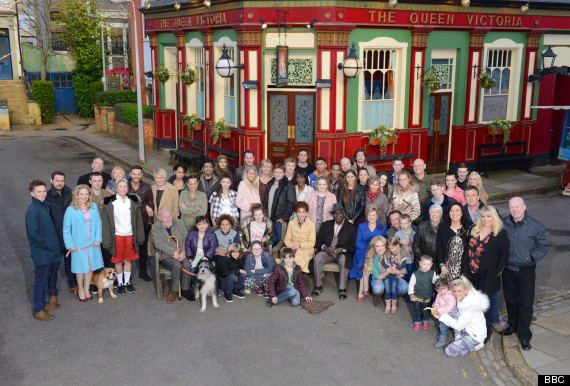 The current 'EastEnders' cast
According to the show's Executive Producer Dominic Treadwell-Collins, the viewing figures for the omnibus have been "steadily decreasing" over the years, thanks to newfangled recording gadgets and the BBC's online iPlayer.
In a letter published in The Writer's Guild, he writes: "The BBC is today announcing that the 'EastEnders' omnibus will cease from April 2015.
"This decision has been taken after much consideration and detailed analysis of the audience research."
Well, nobody asked us.
Fear not though, as the BBC are keen to emphasise that Albert Square and its residents are still a priority.
"'EastEnders' is a key part of the BBC One schedule but viewers are increasingly using their recording devices or iPlayer to catch-up on episodes they've missed rather than rely on the weekly TV repeat," a spokesperson tells Digital Spy.
Quite frankly, distraught doesn't even begin to cover it. It was bad enough when the omnibus moved from its Sunday afternoon slot to Friday nights.
The announcement is the second big chunk of 'EastEnders' news this week, following the details of the show's 30th anniversary plans, which were revealed a few days ago.
A special live week will be screened in February, during which Lucy Beale's killer will be revealed.
LIKE US ON FACEBOOK | FOLLOW US ON TWITTER