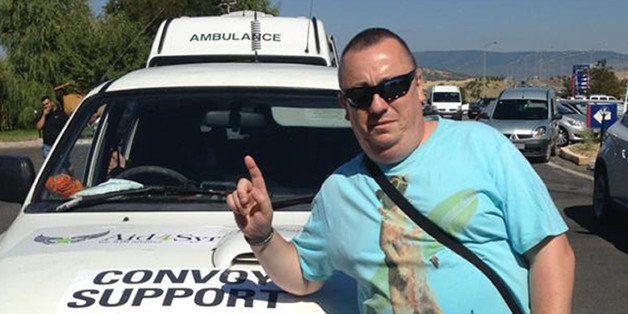 Press Association
"What a world," the president of the UN Security Council said late last night as the world reacted with horror and condemnation to the brutal murder of British aid worker Alan Henning.
Footage of the savage execution of the 47-year-old former taxi driver from Salford - who was kidnapped last December in Syria by IS militants - was posted on the internet by the group on Friday night.
Friends say Henning was never involved in politics or talked about current affairs or religion, and was a cheerful, happy personality, always eager to help others. Henning's family gave this picture to the Foreign Office
As the world reacted with shock to his beheading, Prime minister David Cameron vowed to "hunt down" the terrorists responsible, French president Francois Hollande spoke of his "outrage" at the killing and US president Barack Obama condemned the "brutal murder".
The UN Security Council's president, Argentine Ambassador Maria Cristina Perceval, also sharply condemned the video, calling the killing a "heinous and cowardly murder."
The video "once again demonstrates the brutality" of the Islamic State group, she said, stressing that council members believe that "such continued acts of barbarism perpetrated by ISIL do not intimidate them, but rather stiffen their resolve" that countries, especially in the affected region of Syria and Iraq, must come together to counter such terrorist groups.
It also stressed that the Islamic State group "must be defeated and that the intolerance, violence and hatred it espouses must be stamped out."
The council's rapid response to the video, within a few hours of its release, reflected the international community's growing alarm at the recent series of beheadings and a special concern over the death of a humanitarian aid worker.
The Prime Minister, meanwhile, said his killing "shows just how barbaric and repulsive these terrorists are", and promised to "do all we can to hunt down these murderers and bring them to justice".
The UK will use "all the assets we have" to hunt down the Islamic State terrorists responsible for the "senseless" murder Cameron said.
Speaking after meeting with intelligence and defence chiefs this morning, the Prime Minister said the killing of "a man of great peace, kindness and gentleness" showed that there was "no level of depravity to which they will not sink".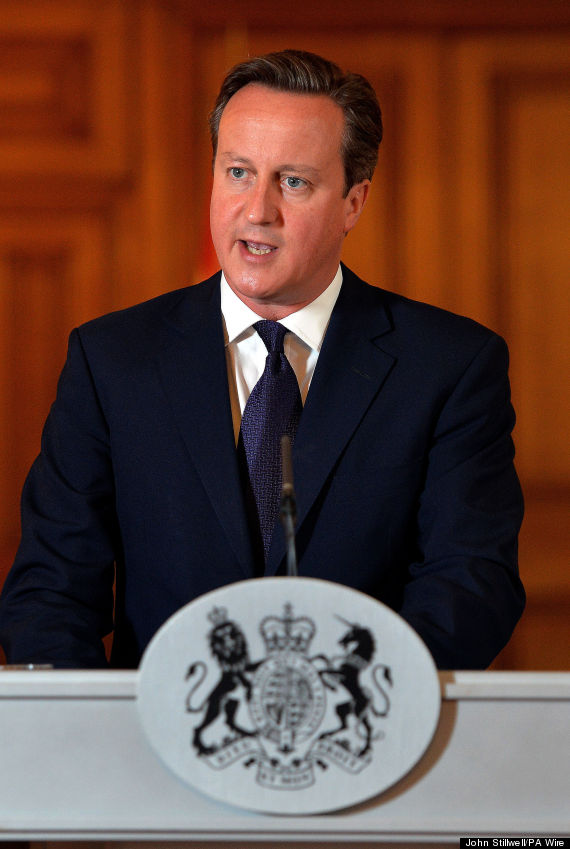 The distressing footage shows Henning kneeling beside a knifeman dressed in black in a desert setting.
It is the second such murder of a UK hostage after fellow aid worker David Haines was killed last month.
Two American journalists, James Foley and Steven Sotloff, were also beheaded by the terrorist organisation, which is also known as Isil. The video of James Foley sent shockwaves around the world
The Prime Minister, who last night arrived back in the UK after visiting British troops including those engaged in air strikes on IS in Iraq, said: "The brutal murder of Alan Henning by Isil shows just how barbaric and repulsive these terrorists are.
"My thoughts and prayers (tonight) are with Alan's wife Barbara, their children and all those who loved him.
"Alan had gone to Syria to help get aid to people of all faiths in their hour of need. The fact that he was taken hostage when trying to help others and now murdered demonstrates that there are no limits to the depravity of these Isil terrorists.
"We will do all we can to hunt down these murderers and bring them to justice."
The gruesome video appears to show Henning, who is dressed in orange, say: "I am Alan Henning. Because of our Parliament's decision to attack the Islamic State, I, as a member of the British public, will now pay the price for that decision."
The killer, who speaks with a British accent and is believed to be the man responsible for the previous beheadings, then makes a direct statement to the Prime Minister: "The blood of David Haines was on your hands, Cameron. Alan Henning will also be slaughtered, but his blood is on the hands of the British Parliament."
The video then apparently shows the jihadist alongside an American hostage identified as Peter Kassig.
Kassig first visited Beirut on a college spring break trip. What the former Army Ranger from Indiana saw there prompted him to return, the next time as a medical assistant and humanitarian worker hoping to offer blankets, food and medical care to victims of the region's conflicts.
He founded a nongovernmental organisation that provided aid for refugees fleeing the civil war in neighbouring Syria. But his work in Lebanon led to his capture by militants on Oct 1, 2013, while en route to eastern Syria.
Addressing the US president, the militant says: "Obama, you have started your aerial bombardment in Sham (Syria), which keeps on striking our people. So it is only right that we continue to strike the necks of your people."
In a statement, Kassig's parents Ed and Paula said: "The Kassig family extends our concern for the family of Alan Henning. We have read about his work and his generous character with great respect and admiration.
"We ask everyone around the world to pray for the Henning family, for our son, and for the release of all innocent people being held hostage in the Middle East and around the globe."
Washington said the killing of Henning "is again yet another just very clear example of the brutality of this group, and why the president has articulated and is moving out in a comprehensive way to degrade and destroy Isil".
Lisa Monaco, assistant to the president for homeland security and counter-terrorism, said: "Our hearts go out to the British aid worker who we believe is in that video and to the remaining hostages and to their families."
The Foreign Office said it was offering the Henning family "every support possible".
The latest video emerged a week after the House of Commons overwhelmingly backed the deployment of British military forces to bomb IS positions in Iraq.
With Labour support, MPs voted by a majority of 481 to endorse joining the US-led coalition confronting the extremists - although extending the mission into Syria is yet to be debated.
RAF jets began bombing missions at the weekend and Cameron earlier announced the deployment of two more Tornado fighter bombers as he visited the Cyprus base from where they are operating.
The two additional GR4s lift the number to eight engaged in raids to support local ground forces, especially Kurdish Peshmerga forces.
Henning was last seen at the end of a video released last month following the beheading of fellow British captive Mr Haines.
His wife Barbara earlier this week pleaded for him to be freed.
"I ask Islamic State: please release him, we need him back home," she said.
"Some say wrong time, wrong place. Alan was volunteering with his Muslim friends to help the people of Syria. He was in the right place doing the right thing."
Mrs Henning revealed she had received an audio message of her husband pleading for his life, and had been told that a Sharia court had found him innocent of being a spy.
Deputy Prime Minister Nick Clegg offered his "sincere condolences" to Mr Henning's family, saying: "We are resolved to defeat this evil."
Labour leader Ed Miliband called the murder "appalling and barbaric", adding: "We will do everything we can to support the efforts of the Government to bring those guilty of this terrible act to justice."
Respect Party MP George Galloway described the killing as "a depraved Satanic act committed by devils in human form".
He wrote on Twitter: "It is a desecration of all that is holy."
The ISIS murder of Alan Henning is a depraved Satanic act committed by devils in human form. It is a desecration of all that is holy.

— George Galloway (@georgegalloway) October 3, 2014
The release of the footage came just hours after the father of British journalist John Cantlie, who is being held by IS, appealed for his son's release.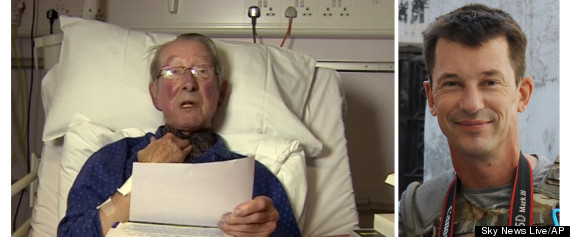 Paul Cantlie and his son, John
Paul Cantlie said in a video from his hospital bed: "To those holding John: please know that he is a good man.
"He sought only to help the Syrian people and I ask you from all that is sacred to help us to allow him to return safely to those he loves and those who love him."