SEE ALSO: Finally, Islamic State Get The Front Page They Deserve
A special church service will be held later for murdered British hostage Alan Henning in his home town.
People of all religions have been invited to attend a service of "reflection and solidarity" at Eccles Parish Church in Eccles, Salford, Greater Manchester.
The church will hold the service at 6.30pm tonight, in addition to its usual Sunday morning service.
The Church of England Diocese of Manchester said: "You are welcome to attend this service, whatever faith you have, or if you have no faith.
"It will be an opportunity for reflection and to show support for the Henning family at this tragic time."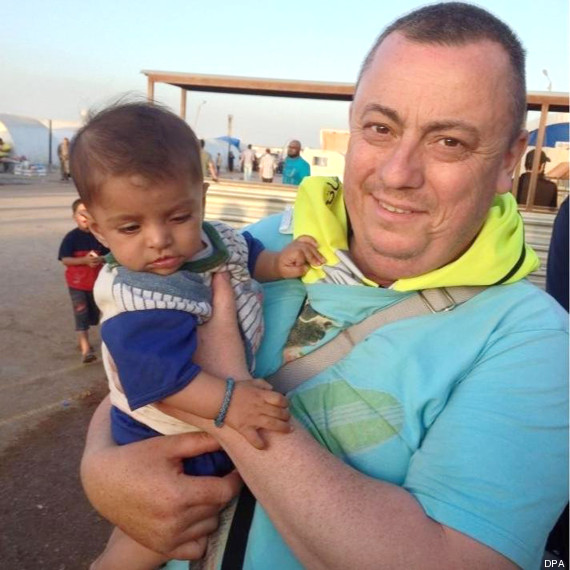 Alan Henning
The killing of Mr Henning, a 47-year-old former taxi driver, has left the community of Eccles in shock.
His widow Barbara has said his family and friends were "numb with grief" after receiving the news that he had been murdered by his Islamic State captors.
She thanked everyone who took part in campaigns and vigils at home and abroad for the aid worker's release but appealed for privacy after receiving "the news we hoped we would never hear".
A video showing the brutal murder of Mr Henning - who was kidnapped last December in Syria by IS militants - was posted on the internet by the group on Friday night.
SEE ALSO:
Mrs Henning - who had issued emotional appeals for her husband's release - said she was "numb with grief".
She said: It is the news we hoped we would never hear. As a family we are devastated by the news of his death. There are few words to describe how we feel at this moment. Myself, Lucy and Adam, and all of Alan's family and friends are numb with grief.
"On behalf of the entire family, I want to thank everyone who campaigned for Alan's release, who held vigils to pray for his safe return, and who condemned those who took him. Your efforts were a great support to us, and we take comfort in knowing how many people stood beside us in hoping for the best.
"Alan was a decent, caring human being. His interest was in the welfare of others. He will be remembered for this and we as a family are extremely proud of him and what he achieved and the people he helped.
Earlier, her brother Colin Livesey had accused the Government of doing too little to save his brother-in-law from the IS "scum" - who, he said, he prays "get what's coming to them".
"They could have done more when they knew about it months and months ago. Just the same with David Haines as well - I don't think they did enough for him either," he told BBC News.
Speaking of the militants behind the executions, he said: "For a person who went there to give aid, to help their kids, their people in Syria, and for them to do what they have done, there is just no sense in it at all. I just hope and pray they get what's coming to them."
Asim Hussain, an imam at Manchester Central Mosque, said those responsible for Mr Henning's death are "the most misguided individuals" who are "causing a huge amount of problems for the name of Islam".
He told BBC Breakfast: "They are not Islamic in any way, nor are they a state. Neither do we as Muslims ... consider them to be Muslims."
Eccles remembers Alan Henning