DHL has apologised after posting six photos on the Facebook page for its partnership with F1, and asking users to like the photos to send wishes of support to the critically-injured driver.
The 25-year-old driver, who underwent emergency brain surgery after crashing out in the rain-shortened Japanese Grand Prix on Sunday, is now intensive care with severe head injuries.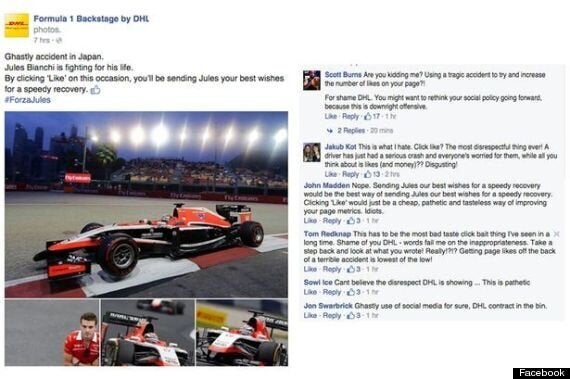 The Facebook post which sparked criticism
Bianchi lost control of his car and hit the back of the tractor that was being used to remove the car of Adrian Sutil, another driver who had crashed on the same turn, according to a report issued by FIA.
Some Facebook users reacted with disgust to the DHL post. Scott Burns said: "Are you kidding me? Using a tragic accident to try and increase the number of likes on your page?! For shame DHL."
Another, Tom Redknap, said "This has to be the worst click bait thing I've seen in a long time," while John Swarbrick posted: "Ghastly use of social media for sure, DHL contract in the bin."
John Madden called the move "a cheap, pathetic and tasteless way of improving your page metrics."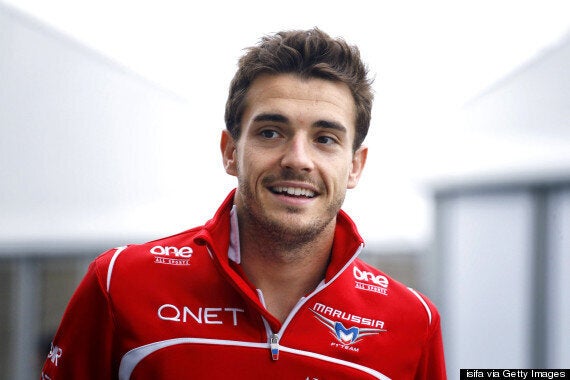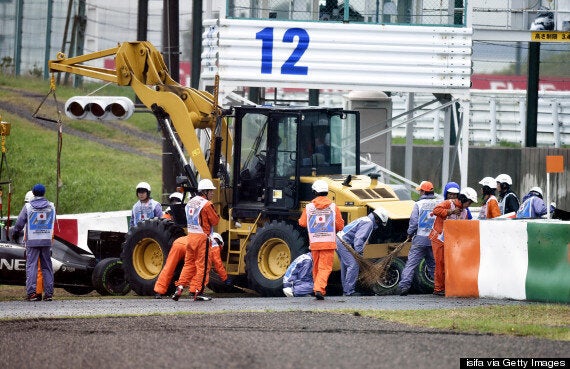 The scene of the crash on Sunday
DHL has now deleted the post and released a message on its Facebook page on Monday morning, saying: "Based on feedback we've received about a post on Sunday regarding Jules Bianchi, we have removed the post and would wish to apologise for any offence caused.
"To clarify the matter," the DHL statement continued, "we were not asking people to like our page, only the photo, and it was never our aim to promote the site or DHL but was meant simply as a gesture of support for Jules Bianchi, based on our longstanding involvement in the F1 world.
"Taken out of context, we accept that it could be interpreted as inappropriate or cynical, but this was definitely not the intention of our social media team."