Long before he became the world's most popular film action man, Robert Downey Jr was a master of character acting, something he brings to bear in his latest film 'The Judge', of which we have an exclusive clip above.
WATCH ABOVE: Robert Downey Jr and Billy Bob Thornton Discuss Father Issues In Our Exclusive Clip From 'The Judge'
A classic father-son struggle drama, 'The Judge' sees Downey Jr playing a hotshot city lawyer, Hank Palmer, whose mother's death forces the return to his childhood town, where his estranged father Joseph is the local judge. When Joseph, played by Robert Duvall, is accused of murder, Hank must work out how he should best defend his father, or if he even wants to.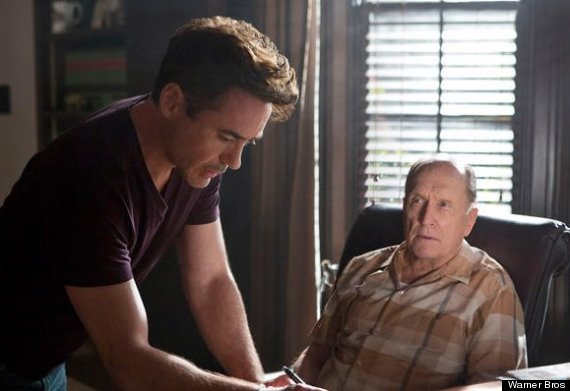 Robert Downey Jr and Robert Duvall are a father and son at odds in 'The Judge'
22 years after his portrayal of silent movie star Charlie Chaplin won him his first Oscar nomination, it is a blessing to see Robert Downey Jr on the screen, without any of the Marvel wizardry with which he's become associated. 'The Judge' is the first film from the production company the superstar runs with his wife Susan, and is an unashamedly sentimental family drama in between the mysterious elements.
The actor told Vanity Fair of the project, "I'd find myself tearing up during every work session, because of constellations being lit by the subject matter, this idea of going home, what it is to return, fractured relationships, the drama of it. It was a big experiment."
Fans of his 'Iron Man' look needn't despair, however, with the actor revealing this week that he's in talks for a fourth screen outing of his Marvel superhero. He broke the news on Ellen DeGeneres' chat show, saying, "I know there's going to be a bunch more Marvel movies, and they have big ideas of how to do it best, and we're in the middle of negotiations."
'The Judge' is in UK cinemas from Friday 17 October. Watch the trailer below...
LIKE US ON FACEBOOK | FOLLOW US ON TWITTER