 SWNS
It's taking pimp my ride to a whole new level - one Russian student who encrusted her Mercedes with one million Swarovski crystals is now attempting to sell the car on eBay, and she looks to make a rather large profit.
London-based student Daria Radionova has already received 29 bids on the CLS 350, which retails at around £25k, totalling more than £152k. As the crystals cost £20k, the student has already made more than £100k - although she says it cost her £15k to fly her "team" in from Russia to apply the sparkle.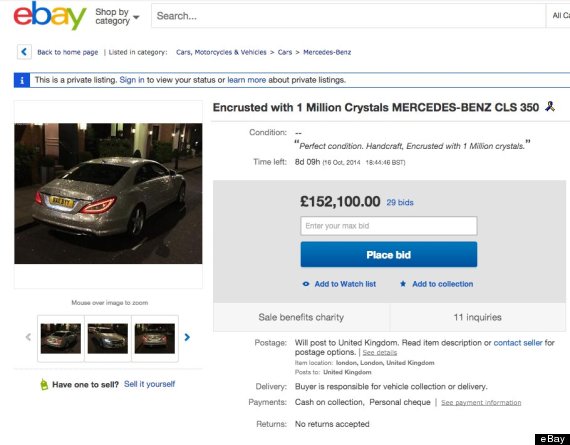 The car's eBay listing
Radionova, whose family live in Europe's poorest country Moldova, says she'll be giving 10% of the final sale price to Manchester & Cheshire Dogs' Home, which was destroyed by fire last month, the Daily Mail reported.
The car was an early gift from her parents for her 21st birthday, while the unique number plate was a present from her brother "to make sure my car was extra unique".
The unusual vehicle first came to the world's attention last month, when it was spotted outside the Levin Hotel near Harrods.