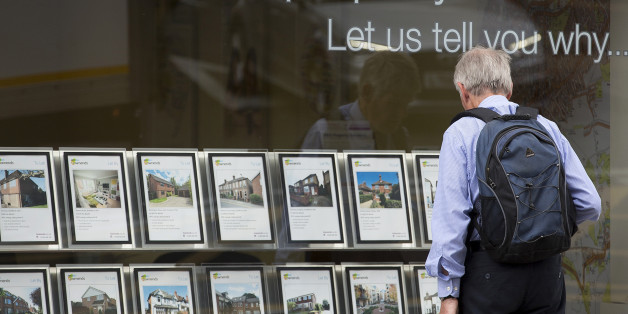 Bloomberg via Getty Images
The housing market showed further signs of a cool-down in September and the trend towards softer property price growth is likely to continue into 2015, Halifax has reported.
Property values lifted by 9.6% year-on-year to reach £187,188 on average as the annual pace of growth continued to drift downwards from a seven-year high of 10.2% recorded in July.
On a month-on-month basis, prices edged up by 0.6%, compared with no monthly change in August.
Halifax said that house price changes on a quarterly basis tend to give the clearest indication of market trends, as they smooth out any monthly volatility.
On a quarterly basis, the pace of price growth is also drifting downwards. House prices in the three months to September were 2.7% higher than the previous three months, down from a quarterly increase of 2.9% in August and of 3.5% in July.
Halifax housing economist Martin Ellis said the rapid rises in house prices seen earlier this year, relatively slow earnings growth and the speculation over the prospect of interest rates rising all appear to have tempered housing demand.
He said: "Annual house price inflation may have peaked around 10%. A moderation in growth looks likely during the remainder of 2014 and into next year as supply and demand become increasingly better balanced."
A lack of homes for prospective buyers to choose from had been one of the reasons given for the strong house price growth seen in previous months. But more recently, estate agents have been reporting fewer prospective buyers registering with them, creating a more even balance between the supply of homes and demand.
Story continues below...
Yesterday, a Bank of England report said that mortgage availability shrank back "significantly" in the three months to early September as lenders adjusted to stricter mortgage lending rules which came into force in April.
Lenders have said that they expect availability of mortgages to pick up again in the coming months, which will be driven by them looking to hit their market share targets now that they have got to grips with the new lending rules, which force them to question mortgage applicants more thoroughly about their spending habits.
Halifax pointed to figures showing that house sales have eased slightly in recent months. HM Revenue and Customs (HMRC) figures showed that house sales fell below 100,000 in August for the first time since November 2013, with 99,930 transactions recorded.
Howard Archer, chief UK and European economist at IHS Global Insight, said: "The bulk of the evidence suggests that housing market activity and buyer interest has eased back from the peak levels seen earlier this year."
But he said buyer interest in the housing market is likely to remain "reasonably healthy", amid growing consumer confidence and the continued availability of cheap mortgage deals.
He predicted that house prices will increase by around 5% across 2015, adding: "Appreciable support to housing market activity and prices is likely to come from higher employment and improving earnings growth. Meanwhile, interest rates will still be relatively low.
"In addition, there will likely still be a relative lack of available properties in some areas, which remains a long-term structural problem exerting upward pressure on house prices."