To be fair, if you've spent £1.5 million on a Bugatti Veyron you probably should put a bit of thought into where you leave it.
But that's still no excuse for this...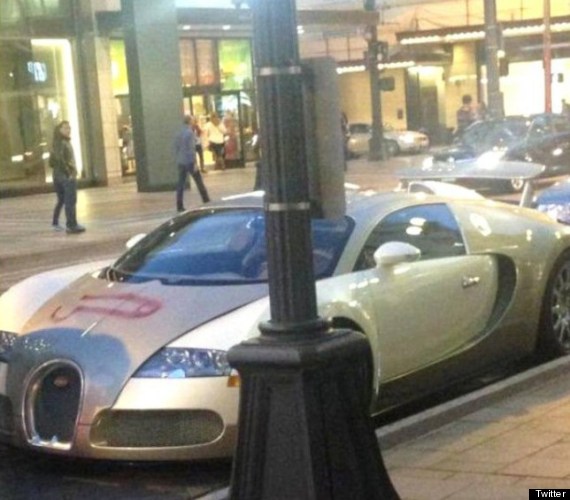 Yup, a big old cock and balls was apparently spray-painted on the bonnet of one of the 1200hp supercars in Seattle.
Reaction has been mixed to say the least.
Some were filled with praise.
vandal painted a brilliantly simple penis on a $2 Million Bugatti Veyron pic.twitter.com/oKrCZRt5u0 (via @digg)

— Stef Stivala (@stefstivala) October 9, 2014
More of this kind of thing please http://t.co/j4mQhispYe

— Toby Amies (@TobyAmies) October 8, 2014
Others horrified.
You've taken it too far this time @Phishtitzhttp://t.co/entLDNIcJgpic.twitter.com/wN5I3iMN0w

— Adam Morland (@adammorland) October 8, 2014
best believe if someone spray painted a penis on my 2.4 million dollar bugatti veyron BITCHES WOULD GET SWUNG ON QUICK AF JUST KNOW

— Haley. (@haleythoe) October 8, 2014
Accusations abounded.
Clarkson again? http://t.co/4DZT7oTuHY via @MetroUK

— Emmarse (@Ganninforrit) October 8, 2014
While others thought it was part of a bigger plan.
Humble beginnings for a war on the rich. http://t.co/9fxsgJx4Iy

— Michael J Dolan (@MichaelJDolan) October 8, 2014
Although this is probably pushing it a bit far...
Whoever Spray-Painted A Penis On This $2.5 Million Bugatti Veyron Should Be Charged With Treason --- http://t.co/5x4gAgpu7B

— BroBible (@BroBible) October 8, 2014