If James Norton stole the screen as Happy Valley's resident villain Tommy Lee Royce, he's completely owning it as Grantchester's resident vicar-turned-sleuth Sidney Chambers, in ITV's latest period crime drama series.
"The hardest part was having to censor myself. For some reason I just kept swearing," he tells HuffPostUK.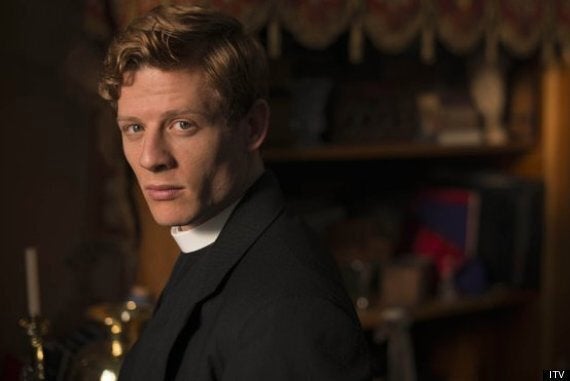 James Norton plays vicar Sidney Chamber's in ITV's 'Grantchester'
It could all be quite ridiculous, of course – a vicar as telegenic as Norton, interrupting his weekly sermons only to play jazz, drink whisky and comfort the young widows of the parish, but somehow James makes it all work. He agrees he's been lucky to avoid the cliché…
"It all might seem a bit chocolate box, a vicar solving crimes just like Father Brown did, but it's more textured and gritty than that," says James, who, despite being only 29, comes across as much older and wiser on screen - or "the smoking vicar" as he has been dubbed by some, happy to find another TV heartthrob in this quiet parish.
"It's the 1950s, and a lot of Sidney's character traits are informed by horrible experiences, and romantic entanglements.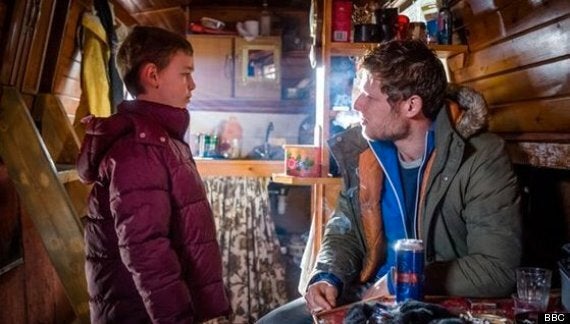 James Norton proved his versatility with a villainous turn in 'Happy Valley'
"So he has depression and self-loathing, and doesn't shy away from the big issues of recovering from war, or homosexuality in the 1950s. There's a lot bubbling away under the beauty of this little village."
To suit the demands of the crime drama narrative, though, Sidney uses his position to gain people's confidences, and hence solve crimes. Is that really on?
"He shouldn't be doing that," agrees James. "But in the series, his faith doesn't become an obstacle. Often these days, faith can be perceived as a prejudice – something sanctimonious or uncomfortable – but I think Sidney's faith is rooted and real, and his faith just makes his dilemmas more acute. I think it adds to the depth of him."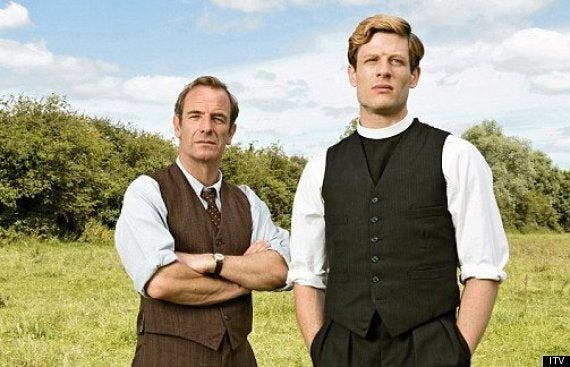 James Norton shares the screen with Robson Green
James Norton, who also appears in Mike Leigh's forthcoming biopic 'Mr Turner' with Timothy Spall, is grateful to share the load of 'Grantchester' with a pair of very popular, reliable shoulders, those of housewives' enduring choice Robson Green.
"He arrived on set, and I was so aware that the chemistry had to be right between us for it all to work on screen. I was really feeling the pressure, so I completely overcompensated and gave him this big hug right out of nowhere. Fortunately, he hugged me back.
"He was just a complete joy, a big, old star who's worked for years and years, and yet couldn't be more lovely. He's a complete example to a young actor."
'Grantchester' continues this evening on ITV at 9pm. Pictures below...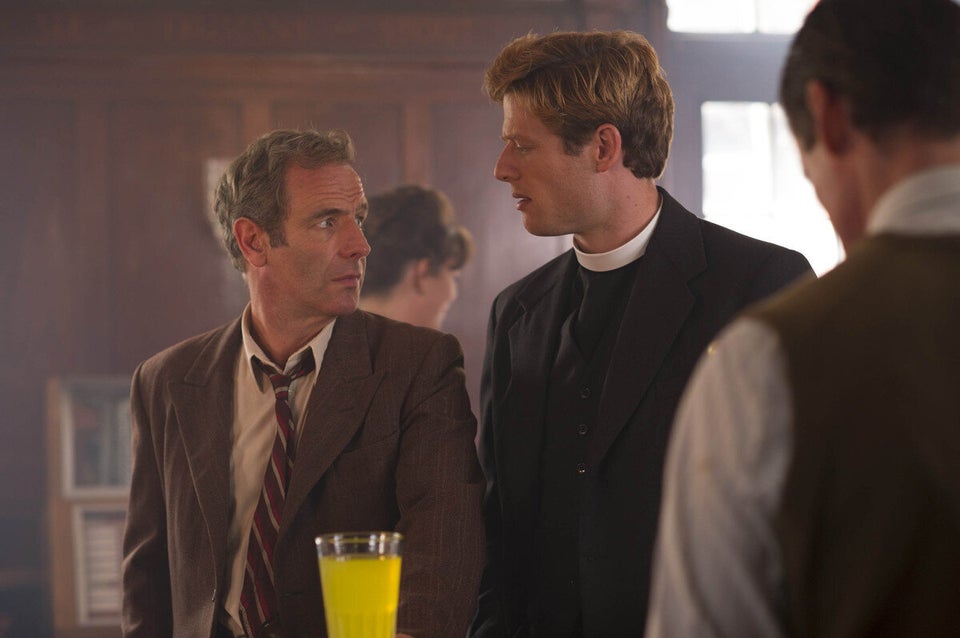 Grantchester
Related