The Motorola Moto X is available now from Motorola starting at £419.99.
Customisable with Moto Maker
5.2-inch Full-HD AMOLED Display
Gesture control
Customised voice-control
Android 4.5
13MP Camera
The Pitch:

"Featuring a curved metal frame, vivid 5.2" HD display, and thousands of ways to make yours unique. A pure Android experience delivers the best performance, and enhanced voice control lets you use your voice to do just about anything."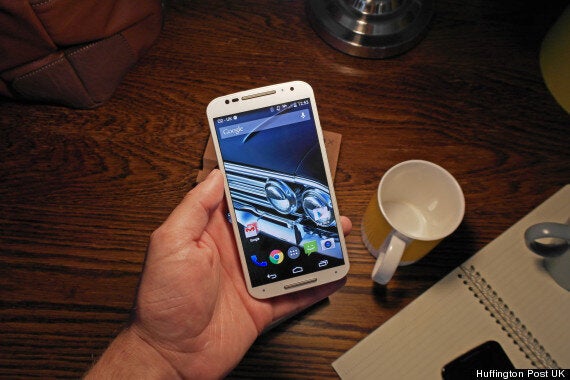 If the first Moto X almost entirely passed you by, then you're forgiven. Moto Maker -- its show-stopping feature -- allowed you to design your own Moto X and then have it delivered straight to your door already signed into your Google account. At the time, we thought it was pretty neat.
Unfortunately, we didn't get to try it: when it launched in the UK the Moto X was only available in either black or white. Darn.
Well the second generation Moto X is here, and yes, the model we got was black, but that doesn't mean it's a write-off by any stretch.
For starters, Moto Maker has arrived in the UK so if you have both the inclination and just under £500 then you can build your very own smartphone.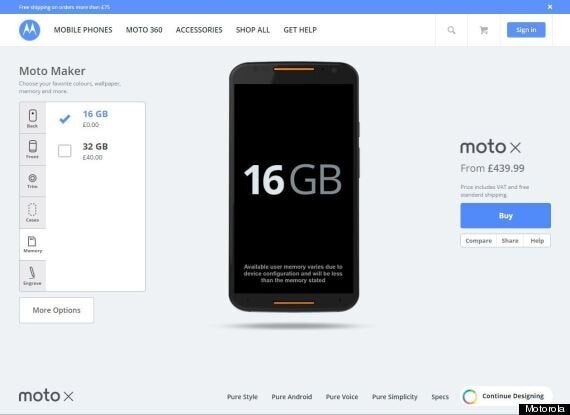 The options are numerous and wide-ranging from the backplate to the colour of the speaker grills and despite its simplistic appearance you can lose entire 30 minute chunks just building and experimenting. If you're a person that struggles with decisions, this may not be the phone for you -- you'll spend more time designing it than you will actually using it.
Once you've created the perfect phone then you can finally get to grips with the hardware.
The new Moto X is a template for almost every major Android smartphone. It's stylish but not extroverted and it's big but not too big.
The 5.2-inch AMOLED display is clear and colour reproduction is good. If we had one complaint it'd be that the white balance feels a bit off, but that might be a personal preference.
Powering the Moto X is a powerful 2.5GHz quad-core processor and there's 16GB of storage as standard -- which is low, considering there's no SD card slot (you can upgrade to 32GB for an extra £40).
Picking it up and holding it you immediately get a sense of how well-built the phone is. As we mentioned in our hands-on, Motorola has opted for a metal band that gives it a feeling of solidity. None of this '#bendgate' nonsense here. It's solid and reassuring. In fact it can feel a little heavy and it might even be a little thick if it weren't for those tapered edges.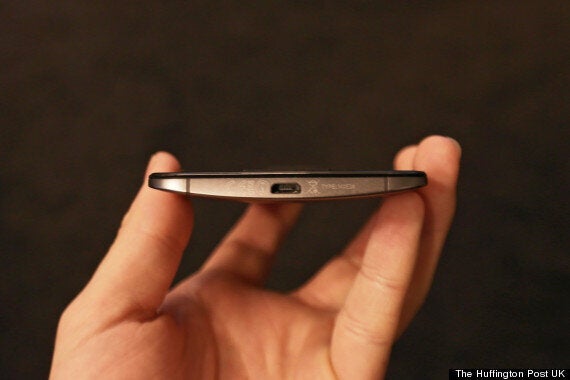 Motorola proudly points out that the Moto X runs pure Android with none of the overlays you'd find on the Xperia or Galaxy smartphones.
While that does mean you get the latest version of the software there's a drawback, which is that you actually can't do as much as you might be used to on other variants of the OS. You can't re-arrange home screens, and creating and deleting them are only possible when you'd added apps to them, meaning you have to pre-plan any organisational restructuring.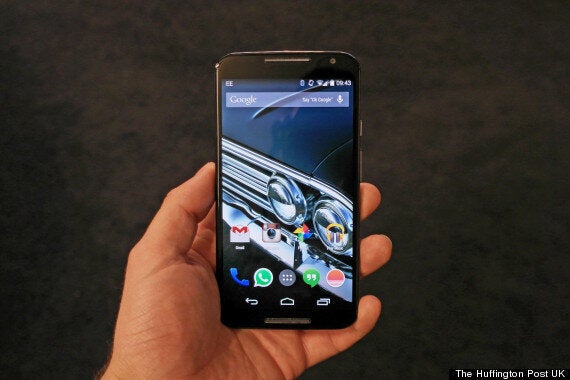 The camera is a 13MP affair and follows in the same vein as the rest of the phone: simplicity first. The quality is actually pretty good, although low-light images suffered heavily. It'll be fine for Snapchats and WhatsApps but we probably wouldn't enter any photography competitions with it.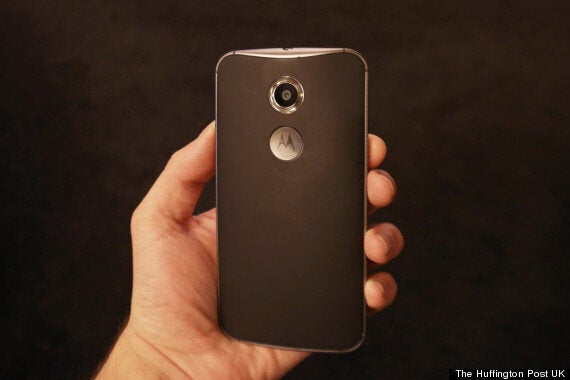 All-day battery life, too, is now a thing on Motorola devices. Well it was a thing before but ever since phones started to feature more than just 'Snake', battery life has been declining steadily. Not so with the Moto X. We powered through a full day's use with a bit to spare, and that's all you can really ask for with this generation of lith-ion batteries.
Putting the camera aside the Moto X is a really solid proposition, Motorola have built a powerful bedrock on which you can build your very own house.
It's well-built, looks good and runs everything you'd need all day. and combined with Moto Maker it has the capability of finally being the phone you always wanted.
What we've realised though is... that might be the problem. Here at our desk, Moto Maker sounds like the future of smartphones: it's simple, powerful and can create a phone that we think finally represents the stylish, well-dressed person we'll never be.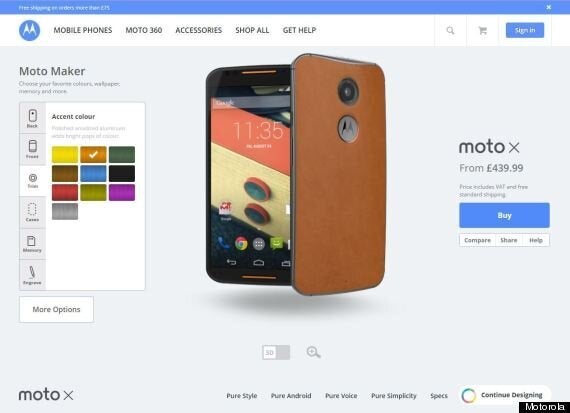 What happens when you drop that phone though? I have insurance on my phone and thanks to the fact almost everyone else has one, I can get a replacement by tomorrow morning if I break it. That's not true with the phone I made myself.
Then there's the emotional attachment. Your phone is already dangerously tethered to your emotions, it has all your photos, all those texts you wish you'd never sent but that you'll never delete. Now imagine doubling that emotional attachment because you designed the outside as well, you picked that leather back, the red trim.
The Moto X then feels stuck between a rock and a hard place. With Moto Maker it's the phone you always wanted -- but if it gets broken it'll break your heart.
Without that feature, though, it's just another well-priced Android phone. And as we know by now, there are more than enough of those.

Popular in the Community