As a child, Naji Abu Nowar would catch the train from his hometown of Oxford to London's West End to soak up all that his beloved film industry had to offer.
Today an award-winning filmmaker, he has premiered his first feature in the very same arena where as a wide-eyed boy he tended his own cinematic education.
A coming-of-age 'Bedouin Western', Theeb follows the life-changing journey of a young protagonist living in the Arabian desert during the First World War.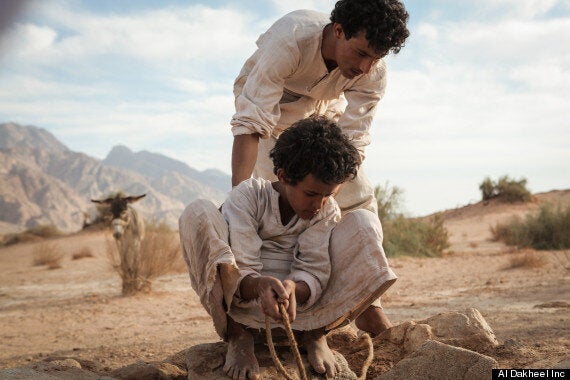 Theeb is a coming-of-age story about a young Bedouin boy (played by Jacir Eid) being raised by his older brother Hussein (Hussein Salameh)
Theeb, played by newcomer Jacir Eid and his brother Hussein (Hussein Salameh), embark on a treacherous journey with a British Army officer (Jack Fox), encountering drama, betrayal and tragedy on the way.
The film is shot in various desert locations in Naji's homeland of Jordan, and with the exception of Jack, features an entire cast of Bedouin non-actors.
Naji spoke to Huffington Post UK about how Theeb's premiere in Leicester Square's Vue cinema has been a homecoming for him.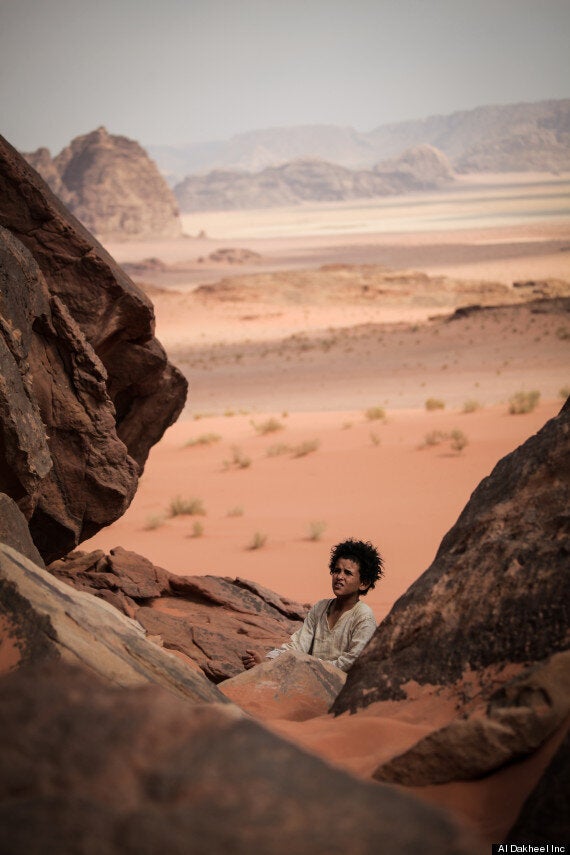 Filming took place in Jordan's panoramic desert locations including Wadi Rum and Wadi Araba
"Firstly it makes me proud as someone who is half English (and half Jordanian) to be playing at the biggest film festival in the UK and secondly because I am playing in Leicester Square, where I used to watch movies during my childhood.
"It's very special, this is where I dreamed of making films."
British-born Naji's story is indeed one of dreams coming true.
The 31-year-old began his filmmaking career in 2005 when he was accepted into the RAWI Screenwriters lab held in association with the Sundance Institute to develop his first screenplay, Shakoush (Hammer).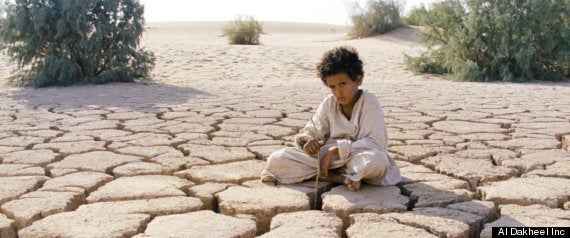 The film captures Theeb's departure from the innocence of childhood
He wrote and directed the short film Death of a Boxer (2009), which screened at international film festivals including Palm Springs, Dubai and Miami.
Currently in London to promote Theeb, Naji explains: "As well as a homecoming there's definitely a 'rites of passage' feeling about being here for me too.
"This is where I saw Orson Welles' films, it's where I saw David Lynch's Blue Velvet and I could swear to you I saw Peter O'Toole in a crushed velvet suit in the corner sipping on a gin and tonic… I don't know if that's conjured up in my mind, perhaps it's a manufactured memory."
Four years in the making, Theeb saw Naji and his crew set up camp in the desert in a resolute effort to live as the Bedouin do and capture life through their eyes.
Much of the dialogue was unscripted and the team went to great lengths to faithfully observe Bedouin etiquette and laws, while simultaneously lending a platform to their centuries-old vein of oral storytelling.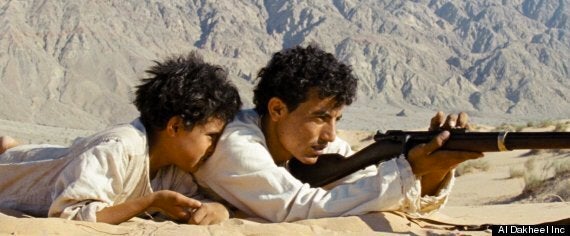 Theeb and Hussein lead a quiet existence until the arrival of a British Army officer whose mission changes both of their lives
The Bedouin are traditionally leery of the performing arts (indeed given their unflattering portrayal in Arab soap operas it comes as no surprise), thus Naji had his work cut out for him in convincing them to take part in the project.
He said: "We came to their village and talked and said we want to understand their lives. It was a slow process for them, they were indulging us because they are so hospitable, but really they were thinking we were crazy.
"Slowly they became intrigued and then started to respect the fact that we were including them in the process.
"Finally they became passionate that they were finally being given the opportunity do something that is authentic and true to them.
"The longer the process went on the more seriously they took us."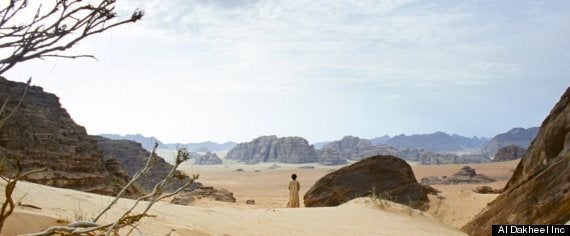 The shoot saw the entire cast and crew decamp to the Jordanian desert
Indeed those appearing in Theeb are among the last Bedouins to have lived a nomadic life in Jordan. Whereas the elders still know how to ride and track, the younger generations are rapidly embracing a modern way of life.
"The next generation will probably be completely mobile-phone orientated," Naji said, adding: "That's very sad and I'm very glad we got a chance to meet these people and to capture that information from their perspective before it disappears."
Having interviewed nearly 250 people during initial calls, Naji and his crew whittled that number down to 11 and then set about creating acting workshops for a cast, the majority of which are illiterate or have had little formal education.
Naji explained: "The workshops started off as fun games to try and entice the Bedouin into enjoying them and then as they developed as actors they became more and more passionate about the craft of acting and took increasing ownership of the film."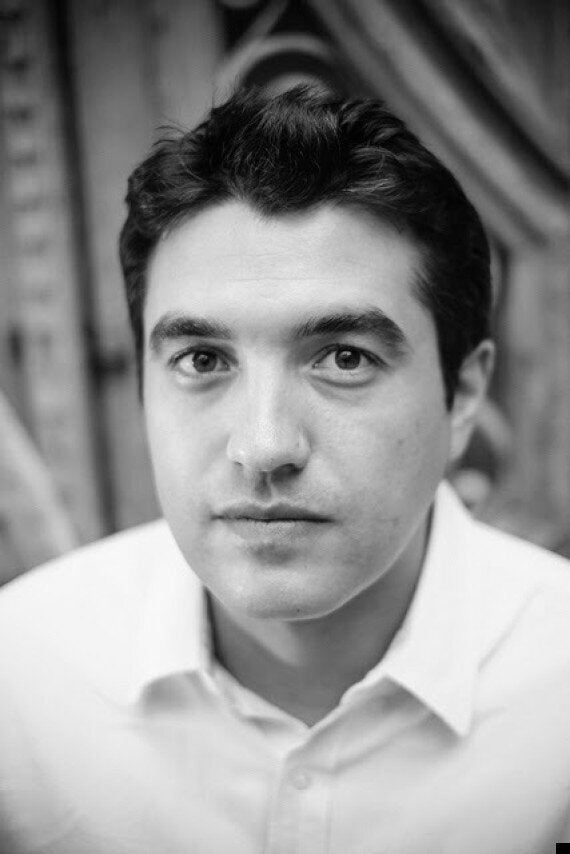 Theeb is Naji Abu Nowar's first feature film
Though Jack was the only trained actor on set, he revealed: "The Bedouin understand timing, they understand pauses, lighting, I mean, the hardest thing they always say about acting is just turning up and they did that day after day, and they were definitely moaning less than anyone else was.
"They weren't non-actors to me. They were actors and I would work with them again happily."
Shooting took place in Jordan's Wadi Araba, Wadi Rum and Daba'a and often saw the cast and crew off-roading into remote regions of the desert for hours at a time.
Jack, who plays a British Army officer on a mysterious mission, was forced to master the art of camel-riding.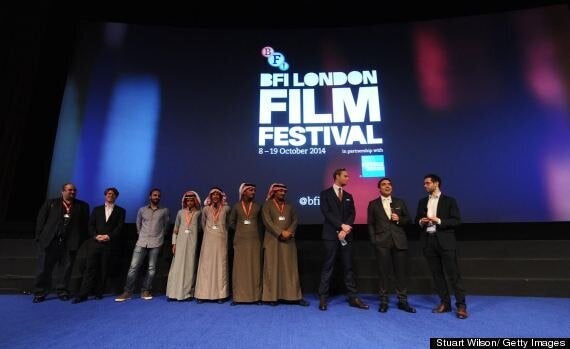 The Theeb cast and crew at the Leicester Square Vue screening
He said: "Naji asked me 'Why don't you come over two weeks before you're due to start and you can hang out with everyone and learn how to ride a camel'. I turned up and he wasn't joking, I had to get straight on a camel."
Jack, who has also starred in Beast, Kids In Love and Fresh Meat, tackled the challenges of living in the desert with relish, likening them to the swashbuckling experiences of Indiana Jones.
He said: "Spending time in the desert, you get to live like a real man should in in your own mind.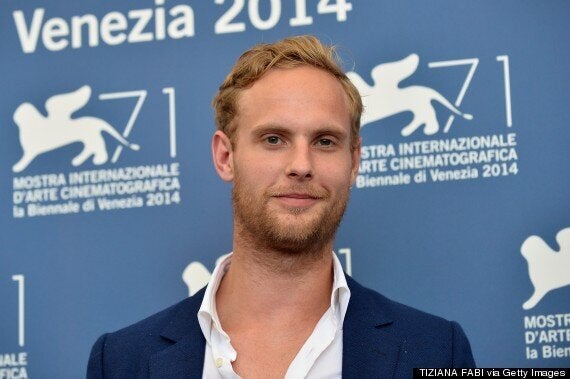 Jack Fox (pictured at the Venice Film Festival) plays the British Army officer who changes Theeb's life forever
"Not the weird twisted Western view of ourselves where we get around on our Oyster cards… I got to gallivant around the desert and spend time with the local people. Our jeeps would get stuck in sand dunes and it would take someone an hour to drive over and come and get you, it's not like the AA where you're like 'This is a bloody nightmare I'm stuck on the M1.'
"It's a real experience to go out there and be doing something which you love. To be able to relax around the campfire with people like Naji and the Bedouin is like a dream isn't it? I mean, I don't think even Indiana Jones had it as good as I did."
As well as getting stuck in sand dunes, the crew faced further challenges including teaching Theeb to swim for a tense scene in a well – for which Naji himself stripped down and got into the water too – to being bitten by camels and enduring perilous sandstorms and flash floods.
Theeb
Jack said: "The sandstorm was amazing and this crazy bastard (Naji) was saying 'Get the cameras out, we should film this' while everyone else is cowering and hiding – he was the real Indiana Jones!"
Though the shoot had its hardships, Naji describes the experience of living and working with the Bedouin as "joyous".
He said: "It was a lot of fun, living with them was a joyous experience.
"Initially it was quite difficult, their pace and rhythm of life are very different to what we are used to – we would say: 'Right, we're going to make a film, let's go get locations, let's do something', while they're preserving their energy – quite rightly – because it's so very hot (even in Autumn, temperatures in Wadi Araba can top 40 degrees).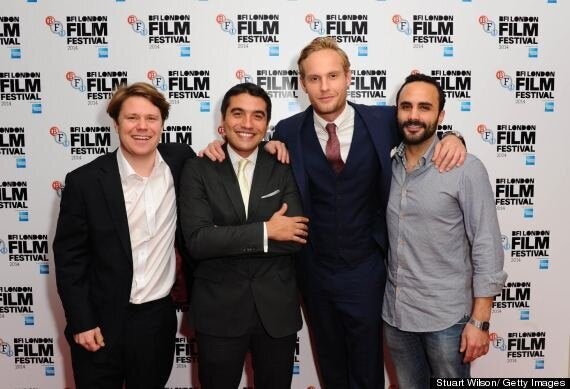 Naji and Jack joined by producers Rupert Lloyd and Bassel Ghandour
"They're informed by their environment so it takes a while to be in synch with that but once you are it's a wonderful experience and then it becomes very strange leaving and coming back to real life.
"I remember arriving back in Amman and it felt crazy with all the traffic and horns blaring."
As Naji and his crew promote the film, the Bedouin cast have given the project a resounding thumbs up and swapped the desert for the red carpet to accompany their director to Venice, where they witnessed him win his first major award.
"I'm really happy they liked the film. That was the most scary moment for me, so I'm very pleased," Naji said.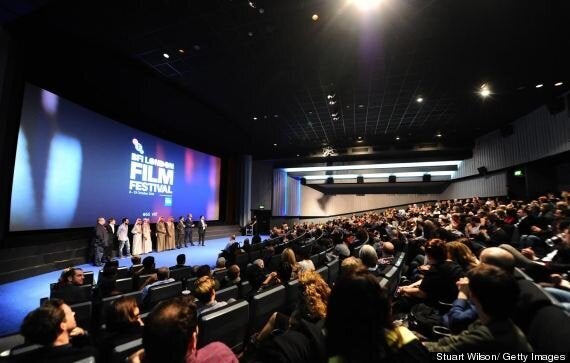 Theeb played to a sold-out theatre at Leicester Square's Vue cinema
The cast are currently in London as they await their second screening on Friday.
Naji explains: "We got them their first passports, which was very difficult as it was the first time they had left the country.
"They went from Wadi Rum to Venice, it's insane. And they loved every second of it.
"They are loving London. They love St James's Park with the ducks and geese. Jacir (Theeb) has been chasing squirrels."
"They're actually at London Zoo right now to see the lions… Abu Jacir (Jacir's father) just likes looking at things he can hunt, ha ha!"
Popular in the Community