A shocking video shows six Hong Kong police officers apparently leading a handcuffed pro-democracy protester to a dark corner and kicking him repeatedly while he is on the ground.
The violent footage was captured on Wednesday after cameras from local Hong Kong station TVB followed the police during the mass protests against China's interference in Hong Kong's first elections, which are promised in 2017.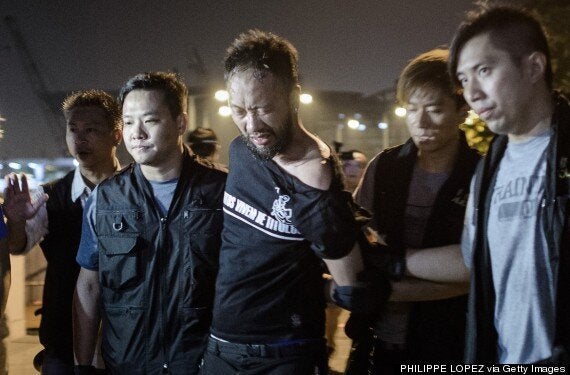 Ken Tsang pictured before he was allegedly beaten up
The film shows a man in a black T-shirt being led away by the officers in black police vests, outside the central government offices in Hong Kong. His hand are tied behind him.
The six men then appear to push him onto the ground and take turns kicking and hitting him.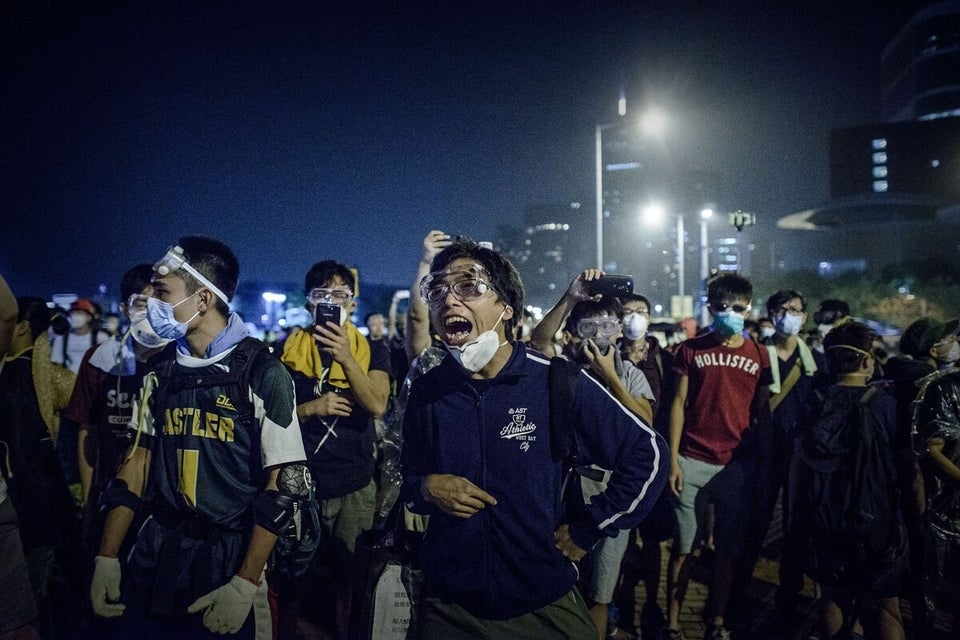 Hong Kong Protests
The video quickly spread online and sparked condemnation and concern from the public and lawmakers in Hong Kong and beyond.
A Hong Kong security chief said the six police officers seen in the video have been reassigned.
The protestor has been named as Ken Tsang, a member of pro-democracy group Civic Party. The Civic Party said he was a party member and volunteer social worker, who specialises in helping street children, The New York Times reported.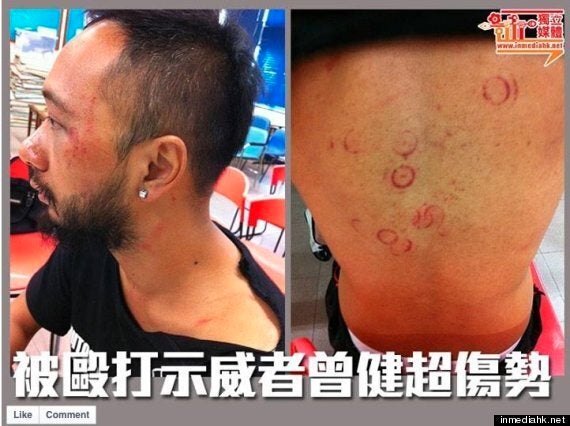 The photo was originally from media organisation inmediahk.net
According to the NYT, Tsang's lawyer says he has been taken to Ruttonjee Hospital for examination because he believes he has suffered internal injuries.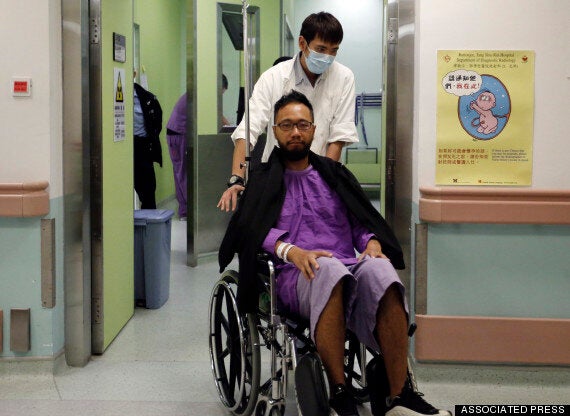 Ken Tsang appears at a hospital to examine his condition
Hundreds of Hong Kong police officers drove protesters from an underpass in the dead of night Wednesday, the worst violence since the street demonstrations for greater democracy began more than two weeks ago.
Officers, many with riot shields and wielding pepper spray, dragged away dozens of activists, tore down barricades and removed concrete slabs the protesters used as road blocks around the underpass.
Beijing issued its harshest condemnations yet of the protests, calling them illegal, bad for business and against Hong Kong's best interests. The central government has become increasingly impatient with the demonstrations, the biggest challenge to Beijing's authority since China took control of the former British colony in 1997.
A front-page editorial Wednesday in the People's Daily, the ruling Communist Party's mouthpiece, condemned the protests and said "they are doomed to fail."
Related