Chelsea Manning, the former US soldier who leaked classified documents to WikiLeaks, is currently serving 35 years in prison. Mordechai Vanunu, who leaked details of Israel's nuclear weapons, served 18 years and still has his movement restricted. Julian Assange may never leave the Ecuadorian embassy. And, though not comparable in his intentions, one of the most famous defectors who ended up in Russia, Kim Philby, died an alcoholic, in poverty and under virtual house arrest.
But Edward Snowden, 31, is taking his girlfriend on romantic dates to the Moscow ballet.
So does the life of the former NSA analyst, who revealed the shocking reach of government surveillance, blow the theory out of the water that whistleblowers always end up worse off?
Snowden's girlfriend, Lindsay Mills, who he was said to have "abandoned" in Hawaii when he first fled to Hong Kong with the classified documents, was revealed to have moved to Moscow to be with the whistleblower in a film by Laura Poitras.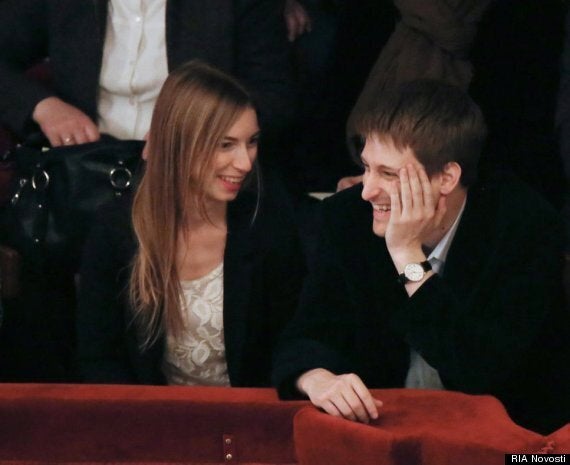 Snowden with his girlfriend Lindsay Mills at the theatre in Moscow
The pair are seen cooking pasta together in Snowden's wood-panelled Moscow home, which the former analyst has decorated with pot plants.
Poitras' documentary 'Citizenfour' shows the moment he breaks the news to her on the phone, telling her he "may not be coming back".
"She has no idea what I'm doing," he is heard saying to the journalists in his hotel room in Hong Kong, adding that he had decided to leave while she was away on holiday in order to protect her from suspicion.
They are smiling and laughing as they lean over the red velvet balcony, and dressed in matching smart black blazers, ready for a night on the town.
The details of what the pair saw, or when the photograph was taken though, have not been disclosed, but it is believed they were at the famous Bolshoi. Russia Today claim Snowden saw The Tsar's Bride in August this year but made no mention of Mills, who is herself a professional dancer.
"That's the key to their attempt to deter unwanted disclosure: the message that doing so will result in the full-scale destruction of one's life.
"The reality is that none of that has ever applied to Edward Snowden.
"He speaks, and writes, and is interviewed, and has become an important voice in the global debate he triggered.
"But the fact that he is now living in domestic bliss as well, with his long-term girlfriend whom he loves, should forever put to rest the absurd campaign to depict his life as grim and dank."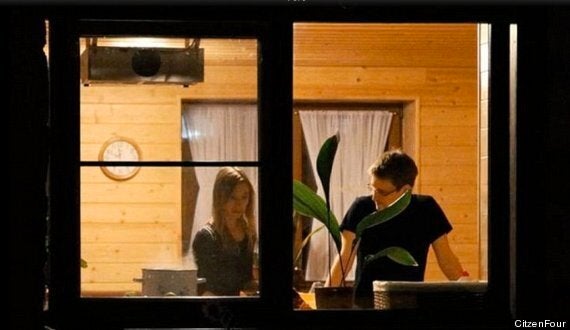 The pair are cooking together in Moscow in the film CitizenFour
"Yes, she was not entirely pleased," he said. "But at the same time it was an incredible reunion because she understood—and that meant a lot to me.
"She had a very, very challenging year... It was a meeting I'll never forget."
He added that Mills does not have a permanent visa, only a tourist permit, but Kucherena said he would be willing to help her apply for a longer-term visa. Snowden received a three-year residency permit at the beginning of August.
Kucherena added that it was "hard to predict" whether a wedding would take place, but hinted Mills is likely to spending a lot more time in Russia.
Snowden has been careful to portray his life in Russia as normal, boring but contented. "You know, I think there are guys who are just hoping to see me sad," he told the Guardian in July. "And they're going to continue to be disappointed.
"I don't live in absolute secrecy. I live a pretty open life. But I don't want to be a celebrity, I don't want to go somewhere and have people pay attention to me, just as I don't want to do that in the media.
"There are much more important issues in the world than me and what's going on in my life and we should be focusing on those.
"I don't detect surveillance oppressively, actively, but I think it's reasonable to assume that I am under surveillance. Anyone in my position surely is subject to some surveillance but you take the precautions you can to make sure that even if you are under surveillance, there's no sensitive information for you to expose.
He did not mention Mills in the interview, though she is believed to have already joined him in Russia by the time that interview took place.
But he said he was able to spend time doing normal things, taking a tourist boat around Moscow, or shopping for food. "What I buy at the grocery store shouldn't really be of interest to anyone. I get recognised. It's a little awkward at times because my Russian's not as good as it should be. I'm still learning."
Popular in the Community