WARNING: This story contains graphic images of medical injuries. Reader discretion is advised.
A man was left with three of his best friend's teeth embedded in his leg after a bizarre trampolining accident.
Daniel Rigby was lying on his trampoline while using his iPad when he was approached by his friend Peter Walsh.
Rigby said: "He jumped on and jokingly tried to kick me, I pulled his leg away and his face smashed into my knee and he blacked out."
Daniel Rigby and Peter Walsh will probably never share a trampoline again
"He was probably out for a couple of minutes. He was face down and I saw blood coming out of his mouth and teeth missing so I thought it was quite bad.
"I tried to stand up and then collapsed because of my leg."
After his friend came-to he managed to drag them both into a cab, which rushed them to Accident and Emergency at Croydon University Hospital.
But Rigby is now suing the hospital, claiming it failed to remove the teeth – leaving him with an infection and debilitating swelling since the incident in March.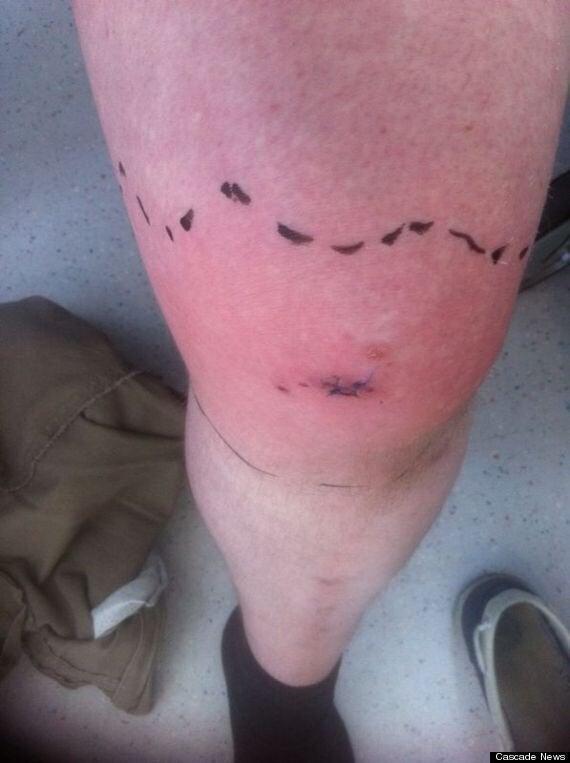 The teeth were eventually removed by staff at St George's Hospital in Tooting
He said: "I had teeth stuck in my leg but I was taken off for an X-ray and was told there was only a bit of bone cartilage, nothing to worry about.
"They gave me two stitches and sent me on my way."
Afterwards the men went to Walsh's house where his grandmother inspected the knee and said she thought it was infected and he should return to hospital straight away.
The following day Rigby went to A & E at St George's Hospital, Tooting, where doctors opened the wound and cleaned out parts of the teeth which were embedded in his leg.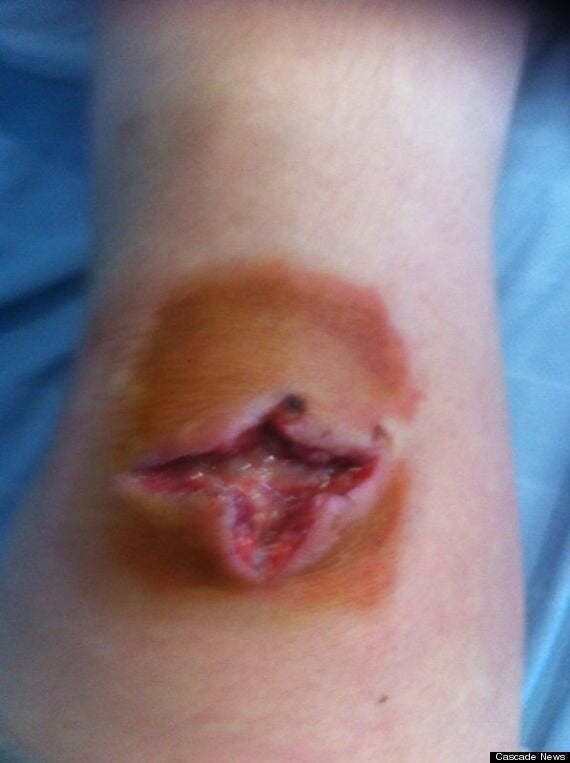 Rigby says he has been left in debilitating pain since the accident
The scaffolder has employed a solicitor to file a negligence claim against the hospital for failing to spot that parts of the teeth remained in his leg.
A Croydon Health Services NHS Trust spokesman said: "We cannot comment in detail on individual cases due to patient confidentiality.
"Patients in our care are advised to contact us again after treatment if their condition persists or worsens. We would encourage Mr Rigby to contact us if he has any concerns about his care."
Rigby said: "It's really bad. Since it happened my legs stiffens up and I have to strap it up when it gets really bad. I'm very grateful for the treatment I got at St George's but not to the man who treated me at Croydon."