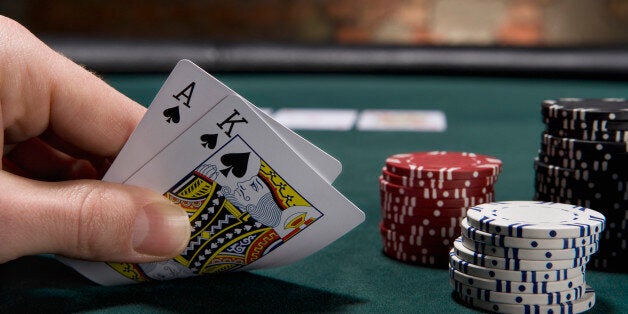 Meet Harry Lodge, the Exeter student who's earned enough cash playing poker to pay off his tuition fees three times over.
The third year Economics student got into poker while at boarding school, playing with friends who bet a pound coin each. "I immediately fell in love with the game," he said, "it spurred me on to doing some reading around the subject and soon I was consistently finishing in the top three or winning these tournaments.
"When I turned 18 I deposited £20 into an online poker site and with continued studying to this day, never looked back."
The 20-year-old poker ace has found success playing live and online, his career winnings totalling around $220,000.
A highlight of his young career was appearing at the final table of the televised PokerStars UKIPT Isle of Man tournament in 2013, in which he came fifth and pocketed a huge £27,600 – conveniently £600 more than the exact total of three years worth of tuition fees, earned in just a few days work.
"The experience of being on a televised table was something extremely exciting for me and I hope there will be more to come in the future," he commented.
Despite his mammoth winnings, Lodge's spending has been surprisingly modest. "Other than a fairly high end computer, the key usage of which being poker, I'm sorry to report that my earnings haven't been spent on anything too exciting. The majority is invested in the stock market," he said.
Just over a month into his final year of university, Lodge is hesitant to enter big live tournaments this year. "It's difficult for me as it involves taking one to three days out from uni around the weekend. Having said that, I'm planning on playing in the £2,000 GUKPT Grand Final in London in November, workload permitting."
While he's not playing live, Lodge competes regularly in online tournaments and studies poker diligently to stay on top of his game. He says that playing live and online have their own positives, saying: "I enjoy the social aspect of live tournaments and playing just the one table really allows me to evaluate every situation all be it at a much slower pace."
Lodge has played more than 8,000 online tournaments this year, often averaging around 22 tables at a time, and has attended 13 live tournaments.
But can anyone rise through the ranks and achieve the same level of success as this high-earning player?
"That's a tricky question," he says. "It is definitely an exciting job and way of life that lends itself to lots of travelling to tournaments around the globe, meeting many interesting personalities along the way."
Strong emotional intelligence, a strong work ethic, the ability to remain focused for long periods of time and a willingness to study constantly are important traits of a poker player, he explains.
"Poker can be a very mentally draining game... I can't think of any other job where you can go to work 8 eight hours a day for a week, work extremely hard and end up with less money than you started with. That's a tough but important concept that you need to be able to cope with mentally."
Talking about new players, Lodge is keen to highlight the risks. "If you don't know what you are doing in poker the risks can be extremely high," he adds. "Operating a strict bankroll management regime in crucial. This involves setting aside a portion of your money solely for poker that in the worst case scenario you can afford to lose.
"It's important to play within your bankroll. For example, at any one time I will be risking a small percentage of my overall bankroll. This allows you to scale upwards and downwards in stakes (buy in level of game) as your bankroll grows or shrinks.
"It boils down to making sure you are controlled and sensible with your money. If you stick to a good set of bankroll management rules it is impossible for you to lose more than you can afford to."
"I want to give poker a shot," Lodge says when asked about his plans for the future. "My plan out of uni is to pursue poker as a profession. Ideally I'd like to be based in London, which gives me the option to play both online and live.
"I'm in a situation where I am earning more than I would be in a graduate job doing something that I love doing. Whether in a few years down the line I decide that it's no longer for me is a possibility but I will have my degree to fall back on."
If you're worried about the risks of playing poker visit the Gamble Aware website for clear advice and guidance.
Popular in the Community