The Islamic State have released yet another propaganda film featuring the kidnapped journalist John Cantlie.
Cantlie appeared in the film wearing the same Guantanamo Bay-style orange jumpsuit as in the previous footage.
In the latest video, which appeared on YouTube but was later deleted, Cantlie, speaking under apparent duress, warns of a "third Gulf war" and said the media had learnt nothing from previous wars in Iraq and Afghanistan.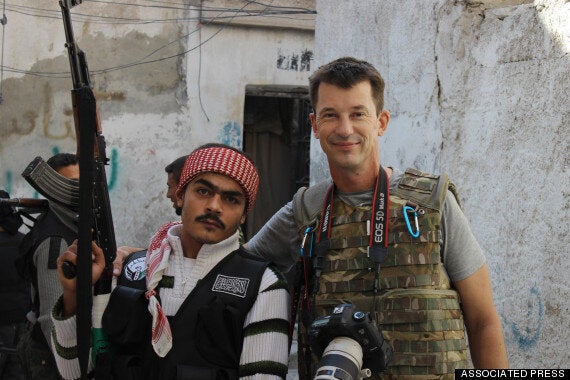 Freelance British photojournalist John Cantlie poses with a Free Syrian Army rebel before he was captured
"It's not to hard to see where this is headed. The western media are drip-feeding the public until, what a surprise, we're embroiled in a full-scale war.
"Here we are, gearing up for Gulf War III.
"At the first sniff of something they don't like, the American war machine springs to life, whipped along by the western media, as usual.
"History repeatedly demonstrates that every leader of a country likes to have their own war – and this, now, is Obama's."
"Those who have read the Qur'an, even among Christians, know there is only one sharia law, there are no different brands," he continued, making the somewhat outlandish claim that the Islamic State have around eight million people under their control.
Islamic State published a longer article, purportedly written by Cantlie, titled, "Hard Talk –- The Real Story Behind My Videos." The article, in the group's magazine Dabiq, blames Western governments for the execution of journalists, in particular for not negotiating with the Islamic State for their release.
It also hints at the conditions of his captivity, which includes "a dark room with a mattress on the floor. It is clean and comfortable; for a man in my position, it is enough."
The freelance journalist from Haslemere, Surrey, has worked for news organisations including the Sunday Telegraph and Sunday Times in Syria. He has been held by jihadists since his kidnap in November 2012.
Related