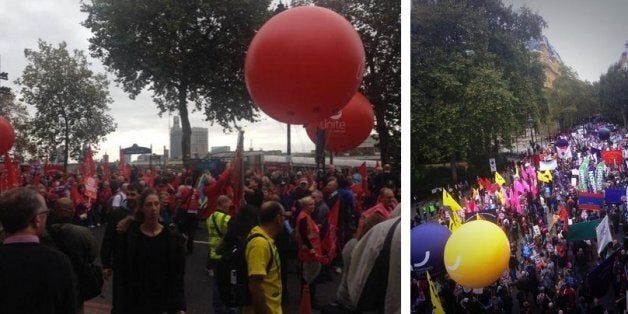 Tens of thousands of workers, including many who have been on strike this week, took part in noisy protests today to call for an end to austerity and to highlight the need for pay to increase.
Public sector workers including teachers, nurses, civil sevants and hospital cleaners marched alongside railway workers, postmen and others from private firms.
Families, pensioners and anti-nuclear activists also took part.
The main rally was in London but protests were also held in Glasgow and Belfast, with #BritianNeedsAPayrise trending online.
The TUC organised the demonstrations under the banner Britain Needs A Pay Rise, following days of industrial action by public sector workers ranging from nurses and midwives to civil servants.
Marchers held up giant Union balloons and blew horns and whistles, giving a carnival atmosphere to the protest.
A band played at the head of the London march, followed by stilt walkers.
The march was going past Westminster ahead of a rally in Hyde Park which was being addressed by union leaders, with many taking to Twitter to post pictures of the event.
Midwives went on strike for the first time in their history in protest at the government's controversial decision not to pay a recommended 1% increase to all NHS staff.
Hospital radiographers and prison officers will take strike action in the coming week over the same dispute.
The TUC said people are facing the biggest squeeze on their incomes since Victorian times, adding that average wages have fallen by £50 a week in real terms since 2008.
TUC General Secretary Frances O'Grady said there was a massive turnout, sending a strong message to the Government that wages have to increase.
Ms O'Grady and other union leaders posed with a giant 175 figure - the amount the TUC says the average company chief executive earns as much as the average worker.
The TUC leader said: "Our message is that after the longest and deepest pay squeeze in recorded history, it's time to end the lock-out that has kept the vast majority from sharing in the economic recovery.
"The average worker is £50 a week worse off than in 2007 and five million earn less than the living wage. Meanwhile, top directors now earn 175 times more than the average worker.
"If politicians wonder why so many feel excluded from the democratic process, they should start with bread and butter living standards."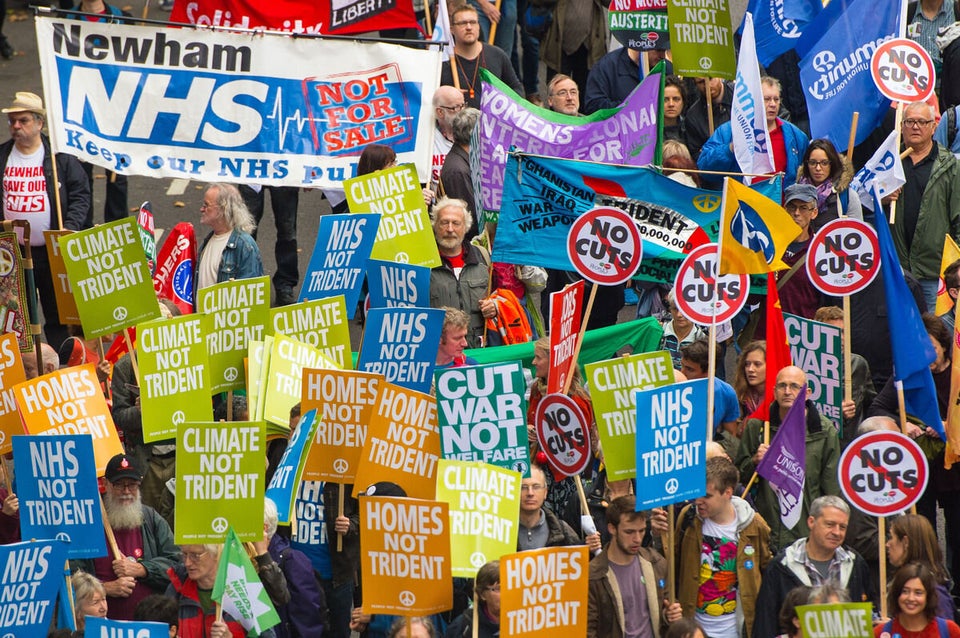 #BritainNeedsAPayrise
Popular in the Community