British trekkers still missing in The Himalayas are being urged to contact their families after days of horrific blizzards and avalanches led to the worst hiking disaster ever to hit Nepal.
The Foreign Office issued a plea to trekkers to get in touch, as some families are still awaiting news of their relatives following the unprecedented weather which has now killed at least 39 people.
The Foreign Office updated its travel advice warning against trekking on the Annapurna region in the mountains, which is regarded as one of the finest hiking routes in the world for its spectacular scenery.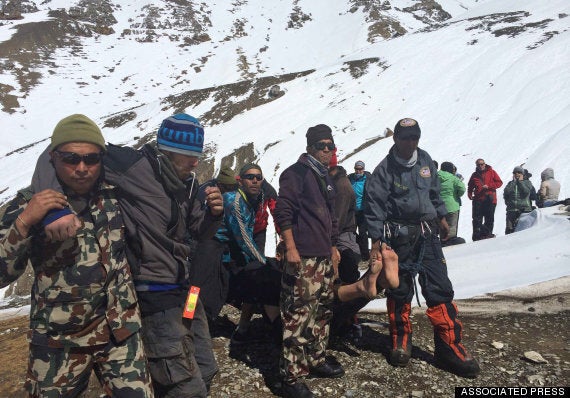 Rescuers carry victims to safety
Thirty-nine people, including people from Canada, India, Israel, Slovakia and Poland, died when the extreme weather conditions hit last week, leaving trekkers stranded in huts and lodges.
The UK has been working with local authorities in Nepal to account for every Briton believed to be caught up in the disaster, from which over 400 trekkers were rescued.
One British survivor said trekkers should have been prevented from going up the mountain, but were "herded to their deaths" by guides who he alleged were not carrying the correct emergency equipment.
A Foreign Office spokeswoman said it was not currently aware of any British casualties.
An unofficial list online has identified a number of Britons who are still unaccounted for but also those who have been deemed safe after making contact with their families.
The remoteness of the region can make it extremely difficult for trekkers to contact home.
One father spoke of the "tense and horrific" wait to hear from his daughter in northern Nepal following the disaster which has claimed the lives of 38 people.
Christopher Kneale said he spent days desperately attempting to contact his daughter, Clare Glazebrook, and her husband, Jamie, in the hope they had survived.
He told the BBC he finally received an email confirming they were safe from the trekking company the couple were travelling with but has still been unable to contact them directly.
Kneale said: "We've had to go through the trekking company who, I presume, have made contact with the Sherpas out there.
"It's been tense and horrific - not knowing was the worst."
Story continues below the video
Updated advice from the Foreign Office today warned people not to use the area. As the weather has cleared, new climbers were already making their way up the same trail despite obvious dangers, prompting the government to close the route.
"Over 30 people have died as a result of heavy snowfall in the Annapurna region and north Dolpa district since 14 October," sais the Foreign Office guidance.
"The weather is improving, but conditions at high altitude remain hazardous and light snow is forecast for the Dhaulagiri, Annapurna, Manaslu and Jomsom regions.
"The local authorities continue to advise against trekking in the area around Thorang-La pass on the Annapurna circuit because of heavy snow.
"To British nationals who have been travelling in the affected areas: you are encouraged to get in touch with relatives by telephone or social media.
"Please also contact the British Embassy consular section in Kathmandu to confirm your whereabouts.
"If you cannot phone internationally we can pass your message to concerned relatives."
It also encouraged travellers planning on trekking in Nepal to check conditions with local authorities and use reputable guide companies.
Paul Sheridan, a 49-year-old policeman from South Yorkshire, said walkers were left stumbling through "an abyss of nothing" as dense snow left them unable to orient themselves on the slopes of the Annapurna range in northern Nepal.
Most of the hundreds of trekkers who were stuck in the snow have been rescued and government official Yama Bahadur Chokhyal said rescue helicopters were winding down flights.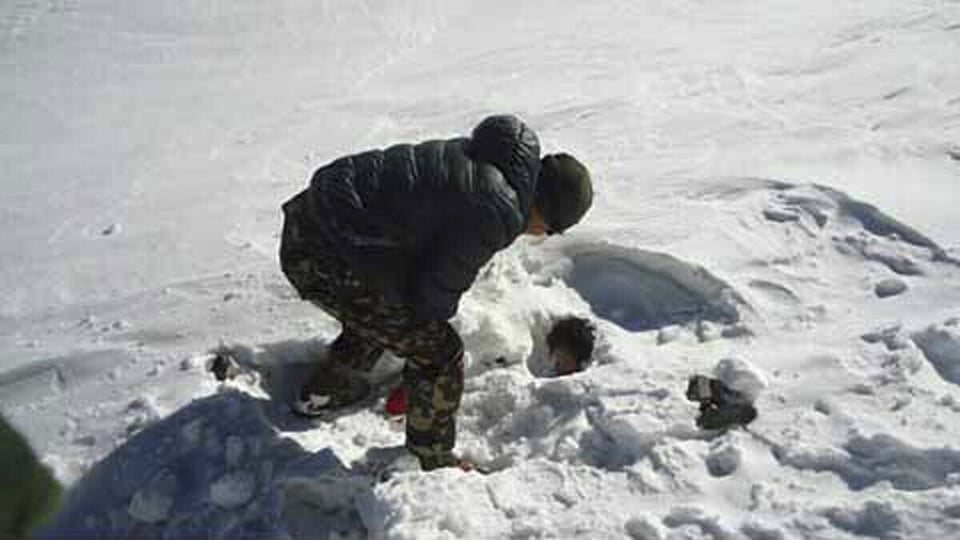 Nepal avalanches