An American entrepreneur has claimed that his iPhone 6 'caught on fire' in a 'surreal' accident, resulting in a second-degree burn on his leg.
We should say at the outset that we have no idea if this is (a) as it appears and (b) an issue that only affects the iPhone 6 specifically. It seems pretty likely that since other phones (read: essentially all phones) can bend, others might have done so to extremes, and with adverse consequences.
In any case, Lechter writes on his blog that he was riding in a rickshaw/pedicab in Arizona with his wife and child when the driver accidentally tipped the bike. Lechter was not thrown out and no one was hurt, but his phone apparently bent severely in his pocket. And then...
"While I was looking at them, I felt a burning sensation on my leg and then saw and smelled smoke from my pants. I surveyed the rickshaw quickly and could not find anything that could have set me on fire. Then it hit me, my phone was in my pocket. Somehow in the process of the tipping of the rickshaw my new APPLE iPhone 6 had bent in my front pocket and caught on fire."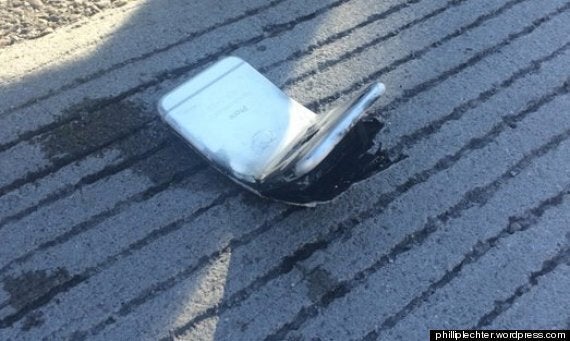 Lechter said someone from the crowd threw water on the phone, and the case prevented his fingers from burning.
"A bystander was not so lucky; he picked up the phone without the case and burned his fingers. With a crowd looming, another bystander then put Ice water on the phone to cool it off while a 3rd observer took the below video. Listen closely, you can hear the sizzling."
"My APPLE iPhone 6 burned through my jeans pocket, through my boxers and significantly burned my leg. In the process of removing the phone from my pocket I also burnt my hip.

"In the days since the event… include interruptions to my business, workout, and family life and the 'freak out' factor for all involved."
We have reached out to Apple with comment and will update the story when we have it.
The incident follows the widespread "bendgate" controversy which struck when the iPhone 6 Plus was found to bend under force shortly after launch. Apple said that it had received only nine complaints about the bending phone after tests on thousands of devices.