Smoke and flames continued to billow throughout the night from the besieged Kurdish town of Kobani, as Turkey signalled a significant shift in how it would allow the Kurds to fight the forces of Islamic State jihadists.
The militants are believed to have detonated a two-car suicide bomb, with enormous clouds engulfing the city and fire rising over the rooftops.
Turkey's top diplomat announced on Monday that his country is helping Iraqi Kurdish fighters cross into Syria to "give support" to fellow Kurds defending the border town of Kobane from Islamic State militants.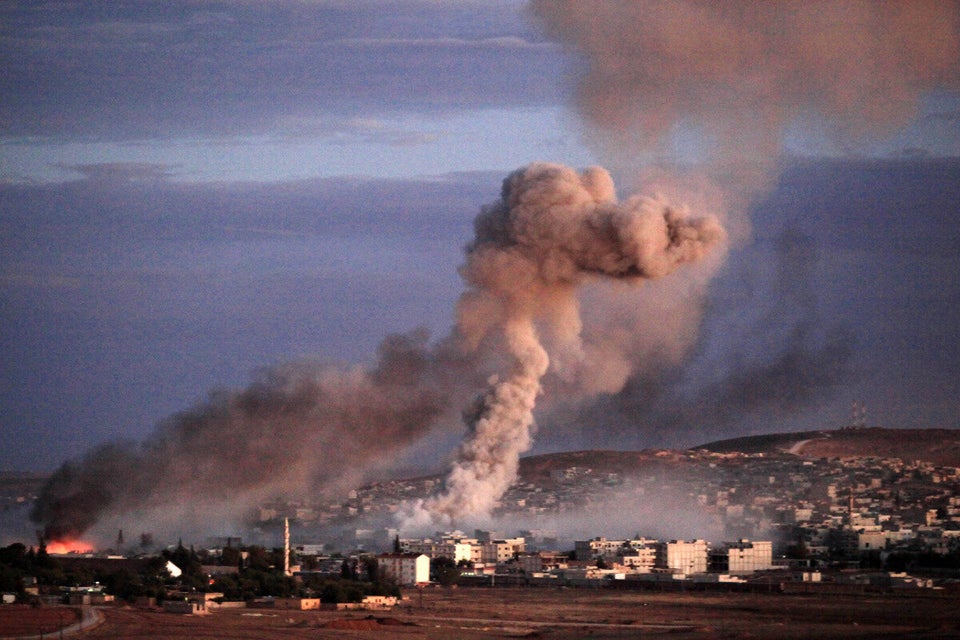 Explosions from Kobani
Turkey previously has said it would oppose any US arms transfers to the Kurdish rebels in Syriaa, whom it views as an extension of the Turkish Kurd group known as the PKK, which has waged a 30-year insurgency in Turkey.
Although a significant departure from previous positions, Turkey's decision to allow fighters to cross its territory is not a complete change of policy, since it involves Iraqi Kurdish peshmerga forces rather than the PKK.
US Secretary of State John Kerry said it would be "irresponsible" and "morally very difficult" not to support the Kurds in their fight against IS.
"Let me say very respectfully to our allies the Turks that we understand fully the fundamentals of their opposition and ours to any kind of terrorist group and particularly obviously the challenges they face with respect the PKK," Kerry said.
"But we have undertaken a coalition effort to degrade and destroy ISIL, and ISIL is presenting itself in major numbers in this place called Kobani," he told reporters in the Indonesian capital of Jakarta.
In Iraq, meanwhile, the local Kurdish government confirmed the weapons deliveries and expressed its gratitude to Washington. "Weapons and military aid were delivered to Kobani today from the Kurdistan Region of Iraq by American cargo jets," a statement issued Monday said.
Kobani-based Kurdish journalist Barzan Isso said no peshmerga fighters have arrived in Kobani. He added that the statements by the Turkish foreign minister were "a Turkish political maneuver that has nothing to do with reality."
Isso, who said he saw the airdrop, said the bundles included "modern weapons" such as anti-tank missiles, sniper rifles and large amounts of artillery shells in addition to medicines.
He said the Americans dropped two bundles in areas held by the Islamic State group but Kurdish fighters were able to retrieve one of them while the other was blown up by the Americans from the air.
In recent days, much of the coalition strikes have focused around Kobani, which Islamic State group militants have been trying to seize since mid-September. Turkey has so far provided sanctuary to an estimated 200,000 Syrians fleeing from Kobani and dozens of nearby villages that were captured by the IS group.
At today's meeting of the EU Foreign Affairs Council, foreign ministers have agreed a raft of new sanctions on the Assad regime and Syrian government forces. The sanctions will target several individuals and companies supplying President Bashar al-Assad's forces with oil, including one "notorious" regime military commander who ordered Sarin gas attacks that killed hundreds of innocent civilians in Syria. A ban on jet fuel exports to Syria has also been agreed in principle.
"The EU has sent a clear message to the Syrian regime and those who keep Assad in power: your actions will not go unchallenged," Foreign Secretary Philip Hammond said.
"The cause of instability and conflict in Syria is Assad, and sanctions are a key part of our strategy for weakening the regime and limiting its ability to perpetrate more barbaric acts against the Syrian people."
Popular in the Community