While Lynda Bellingham may be most well-known for her time as the Oxo Mum, or as a 'Loose Women' presenter, her career in showbiz goes far beyond these two roles.
As well as these appearances, Lynda also graced the stage and screen on a number of other occasions, from the early 1970s onwards.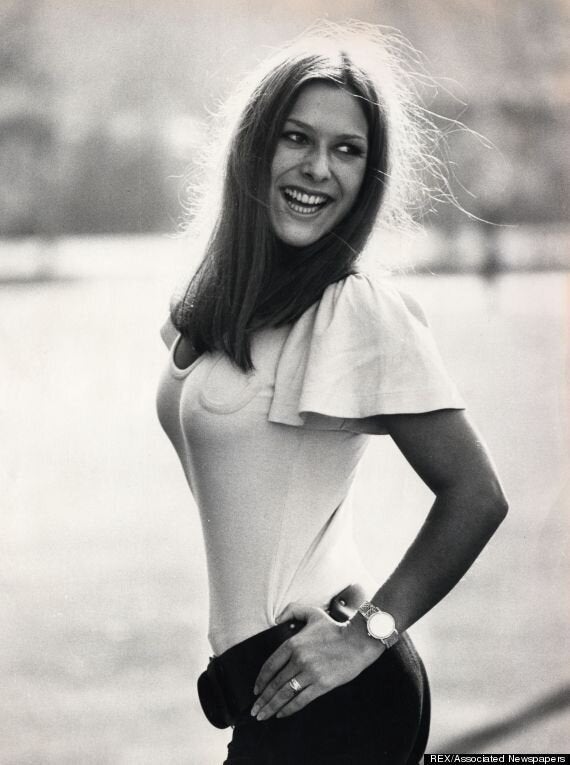 Lynda, real name Meredith Lee Hughes, was born in Montreal and adopted shortly after, by a British couple, who decided to raise her in Buckinghamshire.
After a quiet childhood on a farm, Lynda trained at London's Central School Of Speech And Drama and after this she starred in a number of small-scale stage productions, before accepting small television roles.
The role of Hilda Price in ITV's 'General Hospital' was Lynda's first taste of fame and her big screen debut came a few years after in 1976, when she appeared in 'Confessions Of A Driving Instructor'.
It was here that Lynda met her first husband, the movie's producer Greg Smith, though the marriage lasted just one year.
Lynda continued starring in various TV series, but it was in 1983, when she was offered the Oxo role, that things began to change.
For a whopping 16 years, Lynda played the mother in the Oxo ads, a role which - in her words - "no self-half-respected actor would take", however Lynda triumphed and became a national treasure.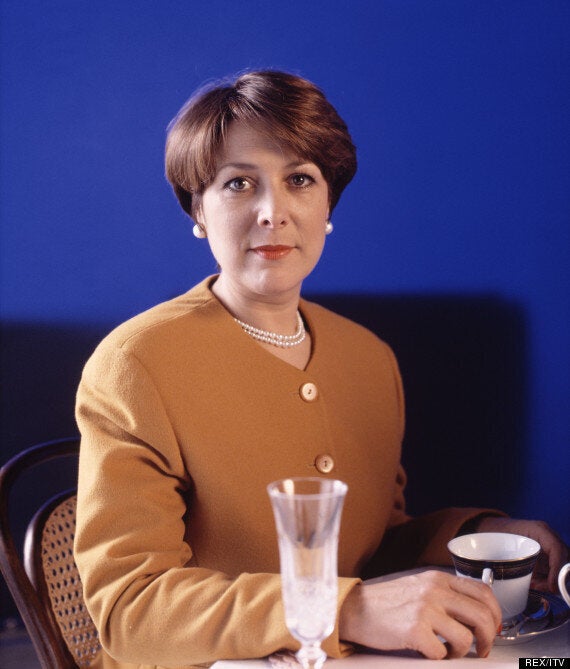 Lynda in the TV series 'Second Thoughts'
In 1981, Lynda married for the second time, and while her 16-year marriage to Nunzio Peluso saw the couple have two children, the relationship was abusive and Lynda later courageously opened up about the mental and physical abuse she had endured.
"Nothing could have been further from the truth than my image on those adverts," she stated years later. "I would keep everything from the press because I was terrified of losing my contract with Oxo."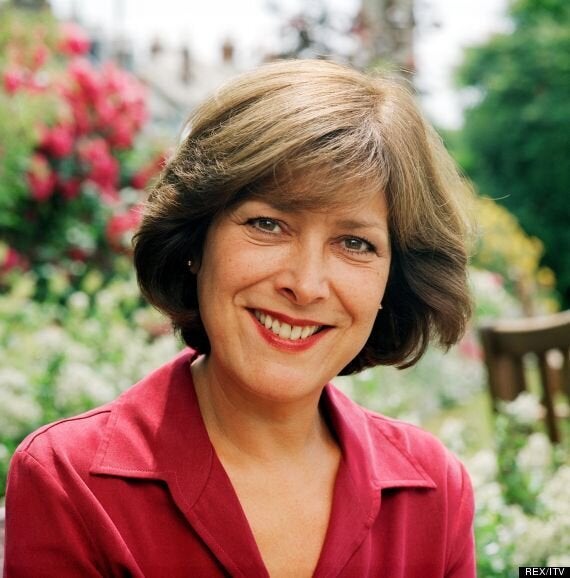 While appearing in the Oxo ads, Lynda also landed a number of other roles, starring in a 'Doctor Who' series, 'Trial Of A Time Lord', and accepting a part on 'All Creatures Great And Small', replacing Helen Herriot.
Lynda also appeared in 'Faith In The Future', 'At Home With The Braithwaites', 'Reach For The Moon' and 'The Bill'.
However, while she flourished on the small screen, Lynda never quite managed to make it in movies, something she blamed on the Oxo role, stating that it made it easy for directors to typecast her as the TV mother.
In 2008 though, Lynda landed one of her biggest roles yet, playing Chris Harper in the West End production of 'Calendar Girls'.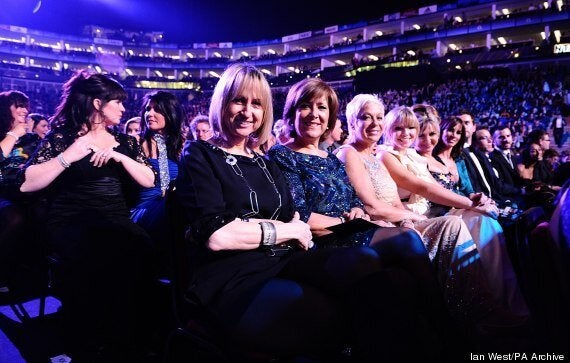 Lynda with her fellow 'Loose Women' presenters in 2010
During her time in the play, Lynda led a star-studded cast, which included Gaynor Faye, Patricia Hodge and Sian Phillips.
Lynda also married her third husband Michael Pattermore, who she affectionately referred to as 'Mr Spain' while chatting live on 'Loose Women', in 2008. Lynda was diagnosed with colon cancer just five years later.
In 2009, Lynda showcased her dancing skills on 'Strictly Come Dancing', where she was partnered with Darren Bennett.
As a panelist on 'Loose Women', a post Lynda held from 2007 to 2011, Lynda's upbeat personality and witty comments saw her become a fan favourite.
After marrying Michael, Lynda managed to contact her birth mother, and the pair enjoyed numerous phone calls before she sadly passed away in 2012.
In September 2014, Lynda revealed that, despite initially remaining optimistic, her cancer was terminal, giving her just months to live.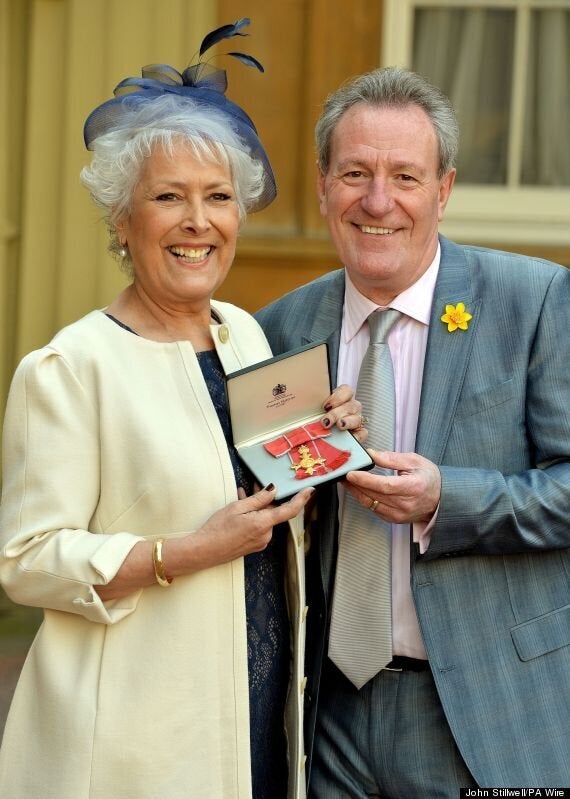 Michael was by Linda's side when she collected her OBE in March 2014
"It's scary and it's going to create the biggest hole in my life. I just don't know what the next few weeks will bring or how I'm going to cope.
"The only thing that's giving me comfort is that Lynda is very much at peace with everything – we've managed to sort everything out."
Lynda's courage and bravery saw her dedicate the final weeks of her life to raising awareness of colon cancer, appearing on shows including BBC Breakfast and 'This Morning' to discuss her diagnosis, before filming one, final episode of 'Loose Women'.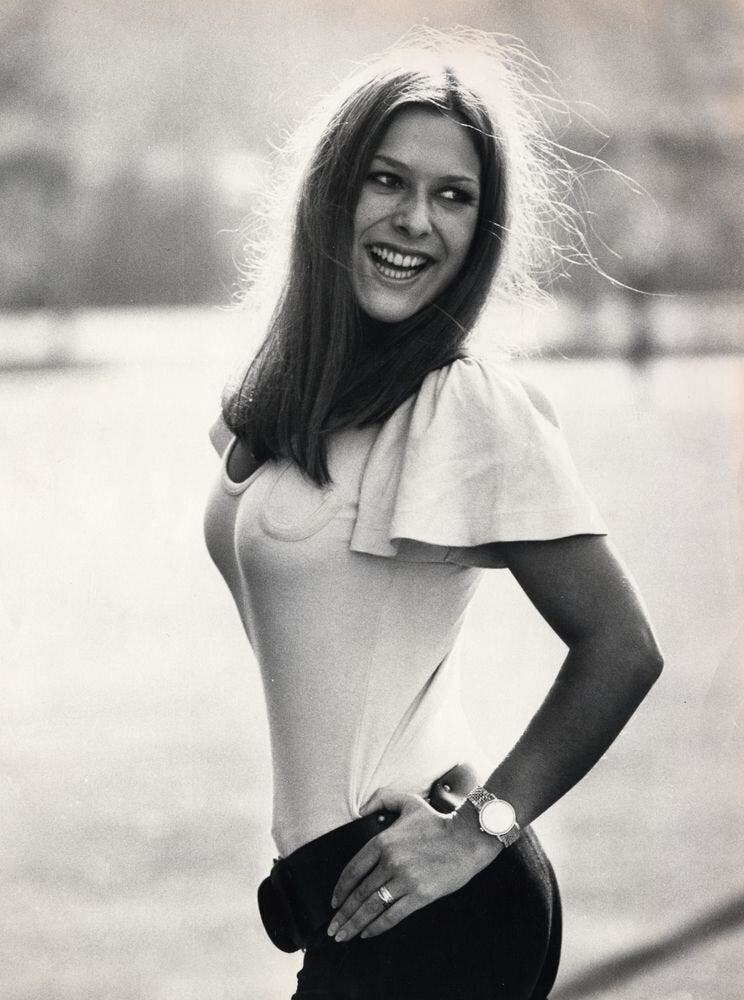 Lynda Bellingham (1948-2014)