A mum-of-three has turned her children's face-painting hobby into a Halloween horror show.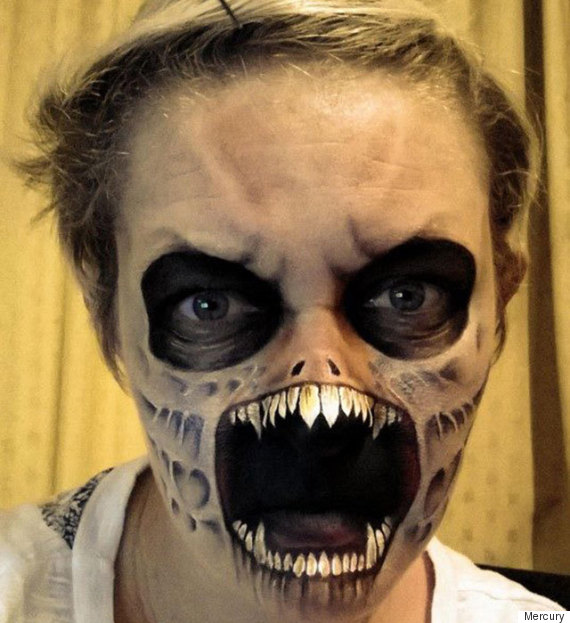 Nikki Shelley, 33, started by painting her kids for Halloween and then moved on to create monsters, zombies and ghouls.

Her terrifyingly impressive work has gone viral on Facebook and has won praise from the special effects guru behind BBC science fiction shows Doctor Who and Torchwood.

Nikki, from Rugby, Warwickshire, said: "I didn't think anything would come of it but the reaction to my work has been incredible. I don't really have an idea in mind when I start to paint. I just start and see what happens."

Nikki, who is married to Craig, 37, started by painting her children Taylor, 13, Leah, 11, and Kaiden, nine, for Halloween, but they are so impressed by her work they want the self-trained artist to turn professional.

Nikki said: "I started painting my kids' faces for Halloween, then I asked Craig if I could paint him as well. But I knew I couldn't paint on them all the time so I started painting my own face.




"I started to think of ways I could make my work different. I wanted to stand out and try new things. Luckily it has paid off."

She said she is inspired by prosthetic designer Neill Gorton, who has now asked her to be a teacher at an industry conference in Birmingham next month called The Prosthetics Event.

Nikki added: "The last 18 months have just been incredible. I now want to learn the prosthetics side of things and hopefully one day I might get the opportunity to work on TV shows and movies."

You can see Nikki's amazing designs below:

More:

The most impressive pumpkin carvings ever