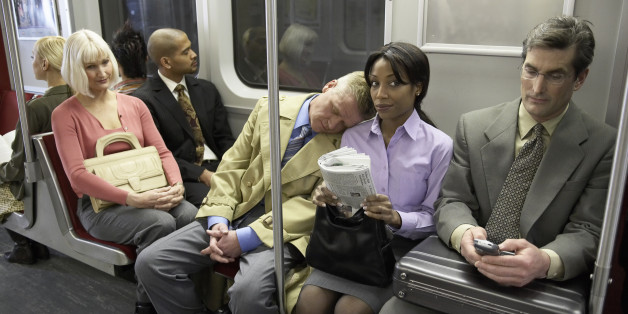 Darrin Klimek via Getty Images
Hell hath no fury like a commuter scorned.
But what's an angry person to do when they see something truly ludicrous on their travels?
They get mad and then they get even.
SEE ALSO:

Woman Spotted Walking A Man On A Leash Through London
Well, that's what commuters in Sydney have been doing anyway.
After witnessing multiple social injustices on their way to work, hundreds of commuters have turned to Twitter, Facebook and Instagram to have a good moan. With a truly appropriate hashtag, of course... #cityfail.
Here's the lowdown:
It all began with a few angry tweets about public transport provider, City Rail...
#Cityrail is a world-class public transport operation. Said no-one. Ever. #Cityfail

— Jarrod Green (@jargreen) May 5, 2013
They put their signs upside down.
You Had One Job. #cityfail pic.twitter.com/zXaQL43MYk

— palace films (@palacefilms) June 24, 2014
They rarely arrive on time.
Ugly morning on the trains again. #cityfail #cityrail pic.twitter.com/tFfkKQnCDG

— KevinWilde (@KevinWilde) May 5, 2013
They make people late for work.
I didn't get fired today! #cityrail #cityfail pic.twitter.com/5f8lAqDV

— Sydney Trains (@city_rail) October 21, 2012
But this City Rail-induced anger soon became focused on fellow commuters...
Inconsiderate commuters with large bags on seats #cityfail pic.twitter.com/pJR6VKZFGf

— kitty (@themangopudding) March 27, 2013
The foot-on-seat offenders...
Someone should get his feet off the seat, and buy some socks while he is at it!! #shittyrail #CityFail @angrycityrail pic.twitter.com/PtB8x2NUHe

— Leo (@r00tcracker) May 17, 2013
The open-legged offenders...
The most awkward of all train interactions my legs inside his spread legs. Ewww. Keep your knees together! #cityfail pic.twitter.com/o29Rnl1L2T

— Brigitta Ryan (@brigittaR) April 24, 2014
The nail clipping offenders...
Yet another idiot cutting nails on the train. Who does that?!? This guy. #cityrail #CityFail pic.twitter.com/aj3toksa

— wednesday3101 (@wednesday3101) December 17, 2012
The shoulder sleepers...
Why do people always fall asleep on me on trains... 💤🚂😝 #trains #cityrail #cityfail #commuterproblems #sneakyself... pic.twitter.com/uvO7P2DKji

— R. Hobo (@RailYardHobo) March 20, 2014
The double-seat sleepers...
And the piss-taking sleepers...
A drunk couple started dry humping.
These drunks can't go a train trip without a fag and a grope. Where are the transits? @angrycityrail #cityfail pic.twitter.com/YfbCpewp0j

— Andrew Scott (@AndrewJohnScott) May 13, 2013
Somebody took up yoga.
Late night commute home, perfect time for some yoga...#cityrail #cityfail pic.twitter.com/XFKZq0BU

— mlo55 (@mlo55) November 27, 2012
A smoking pirate came along.
Then this guy went and got naked.
The suffering has since spread...
Lets play a game. How many people can you fit on a train platform? #cityfail pic.twitter.com/jkafHOWV

— MC D (@MCD4thltr) July 22, 2012
Train station queues in the Philippines. Suddenly Cityrail isn't so Cityfail anymore #iknowitsydneytrainsnowbutmeh pic.twitter.com/8zw9iQGz7i

— Jillian Agatha (@jbel7510) October 24, 2013
The general consensus.
Sentiments from an unknown scribe I'm sure we can all relate to. #cityfail FYI: today's a bad day for fare dodging pic.twitter.com/8k4XNMynMh

— Cathie McGinn (@acatinatree) December 6, 2013
The London Underground doesn't seem so bad, after all.
What's your worst commuter nightmare? Tweet us @HuffPoLifestyle.