A graphic designer has been left paralysed from the neck down and fighting for his life - after catching a common cold.
Derek Ledingham, 41, has spent the past seven-and-a half months in hospital after developing the rare Guillain-Barre syndrome.
The condition, which only affects one in two million people, attacks the body's peripheral nervous system off the back of a viral or bacterial infection such as the common cold. He has only recently taken his first steps and has set his sights on being back home in Aberdeen by the end of the year.
"This year has been a write-off for me," he said. "I came into hospital and it was winter time and I'll leave in winter time."
Derek came down with a severe cold last New Year and was unable to shake it off for months.
But after playing in a football match for his team Shirlaws FC in March he woke the following day unable to move his legs.
When he finally arrived at Aberdeen Royal Infirmary for emergency treatment, doctors were initially baffled.
He had the symptoms of a severe stroke, but his heart was fine.
Within days he had lost control of his arms, was struggling to breathe and was transferred to intensive care, where his condition worsened until he was almost totally paralysed.
It was then that specialists realised he had Guillain-Barre syndrome.
Derek said: "I had a cold last New Year and I couldn't shake it.
"Eventually my runny nose stopped, but I kept on coughing. I started to feel really tired every single day and couldn't place why.
"I thought I maybe just needed a good weekend to catch up on my sleep. On the Sunday morning it started I woke up and felt like I had a dead leg. It was bizarre, but I didn't think anything of it."
Story continues below the slideshow: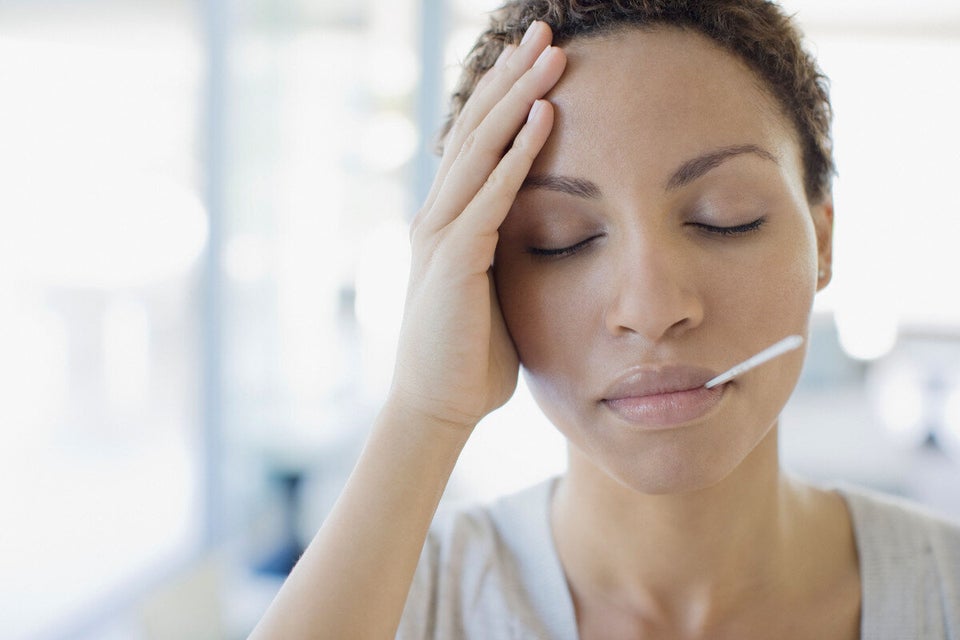 How To Tell If You've Got Flu, Rather Than The Common Cold
He went to his football team's match and pulled on his kit and played, despite feeling under the weather.
The next day he was an invalid.
He said: "On the Monday morning I woke up and both my legs were just gone.
"On the Tuesday morning when I woke, I couldn't get out of bed. I couldn't move my arms, I couldn't eat.
"They said you're going to get worse before you get better, but by mid-afternoon, I was struggling to breathe and I was hiked up to intensive care."
About 80% of people who contract Guillain-Barre syndrome do recover, but the process can take anywhere between several weeks and a year.
Derek said: "The first week or two I was saying 'why has it happened to me?' and then it was a case of saying 'it has happened to me and I'll fight it'.
"I'm quite determined - in this situation, you have to be. If you feel sorry for yourself you'll never get out of it.
"Now I can walk, I can feed myself. Every day I'm getting stronger and stronger."
The die-hard Aberdeen FC fan fears he will never play his beloved sport again.
Battling through the condition- he has made it to nearly every Dons home game with his pals. He said: "I hope that everything heals to a point where I can live my life as normal and find a way to adapt, and lead a regular life, go to work Monday to Friday, and have a beer at the weekend.
"There's no reason why I shouldn't be able to do that in time and at least that is a positive thing.
"It's not the end of the world and my friends and family have kept me going."
Dad Alistair, 78, said: "He was pretty down for a while but things are looking up for him again now.
"His mates take him down to Pittodrie in a wheelchair taxi, I think that's been really good for him. It usually cheers him up - if they win of course."